Williamstown, Mass.
Poor Edvard Munch (1863-1944). A prolific artist—the Munch Museum in Oslo alone owns 1,200 paintings and thousands more drawings, prints and sculptures—he is known around the world almost entirely for "The Scream," that haunting image of human angst. First painted in 1893, it has forever linked Munch to expressions of despair, suffering, grief, torment and isolation, all of which figured heavily in Munch's life story.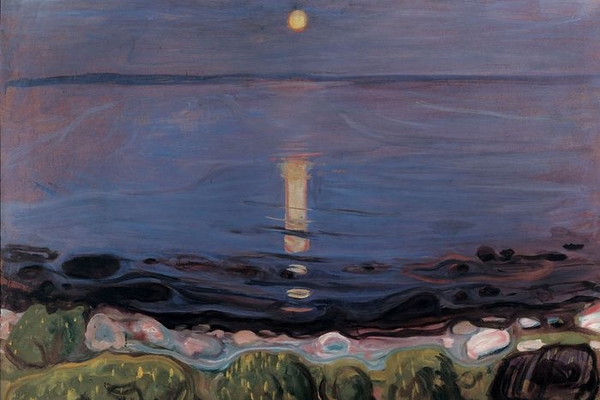 "Summer Night by the Beach"
"Edvard Munch: Trembling Earth" at the Clark Art Institute attempts to change the subject. Munch revered the splendor and the mystery of nature and believed that humanity, the Earth, the cosmos—everything—were interconnected, ever affecting one another. He embedded these ideas in his landscapes, both pure and with figures, which constitute more than half of his output. "Trembling Earth," a collaboration of the Clark, the Museum Barberini in Potsdam, Germany, and the Munch Museum, is the first major exhibition to delve into this territory.
In the more than 75 artworks in the show, Munch limns the natural world in intense colors: lush green trees, deep blue skies, rich red earth and radiant white snows. He has many expressive modes, motifs and moods. Calm and wonder are more prevalent here than anxiety and distress, though there's a little of that, too—as well as plenty of beauty.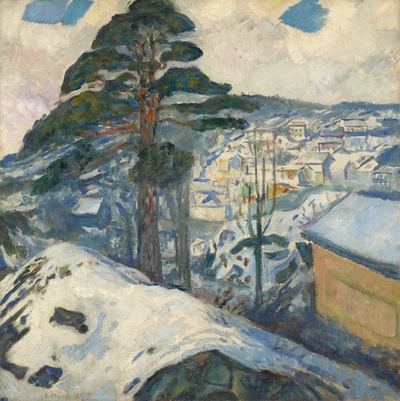 "Winter in Kragerø"
On that score, the tranquil, meditative "Summer Night by the Beach" (1902-03) stands out. A white moon, rising just above the horizon in a fading blue sky, cuts a dazzling white reflection on the blue-and-purple waters below—a strong vertical column at first, dissolving into puddles of white that match rocks on the shore below. Munch used this same reflected moon in prints and other paintings, like "Moonlight" (1895) and "Summer Night's Dream (The Voice)" (1893), evoking the awe inspired by nature and the emotions it can summon.
"The Sun" (1912) also startles, but for its exuberance. Munch believed in pantheism, identifying God as one with the universe, and he thought that the sun had healing powers. Here his bold brushstrokes form a white-hot sphere that emits rays in shades of blue, yellow, orange and green, bestowing energy and beneficence to the trees and the earth below. In other works portraying the sun (or sunlight), Munch has placed people reaching up toward it, sunbathing, and frolicking on the shore, sometimes in the nude, as in "Bathing Men" (1907-08).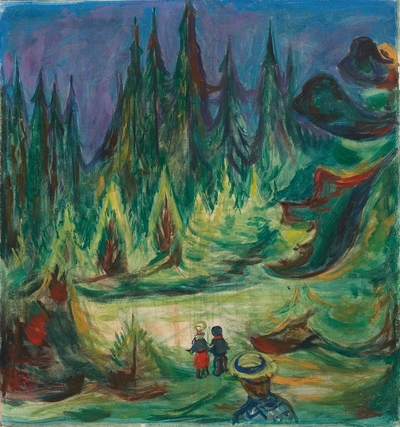 "The Fairytale Forest"
Munch frequently painted woodlands. Sometimes, he anthropomorphized trees, suggesting arms or mouths—maybe a little menace. He used forests as settings for romance, seen in several prints, or adventure. In the imagination-inducing painting titled "The Fairytale Forest" (1927-29), one of many versions of this scene, a group of children approach an opening among the towering trees, with an adult not far behind. What lies ahead, pleasure or danger, is left unclear. And at a time when increasing modernization, industrialization and tourism were damaging the landscape, Munch highlighted the darkness, stillness and majesty of forests when left undisturbed by man. For example, "The Yellow Log" (1912), an eye-level view of purple-barked conifer trees, focuses on a felled spruce pointing to a bountiful stand of untouched trees in the distance. It's the cycle of
life, death and, one hopes, renewal.
Munch exemplified positive interaction with nature in other works. He esteemed family farms, orchards and gardens, and endorsed the beneficial aspects of small-scale cultivation by making his figures larger than life in "Digging Men With Horse and Cart" (1920) and "The Haymaker" (1917). His approval shines through, too, in "Apple Tree in the Garden" (1932-42), the loveliest of several orchard pictures on view. Dominated by a tree laden with ripe fruit, with his yellow house on a hill beyond, it captures a scene at the beloved 45-acre homestead at Ekely, outside Oslo, that he bought in 1916.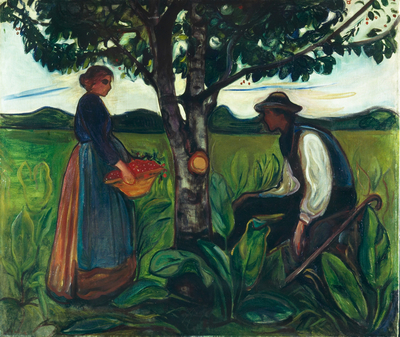 "Fertility"
"Trembling Earth" displays many more gems, including three paintings—two from private collections hung alongside one borrowed from the Kimbell Art Museum—depicting women or girls gathered on the bridge to the coastal town of Åsgårdstrand, where Munch loved to paint (especially its beaches). And Munch didn't neglect Norway's long winters, seen in marvels like the sunlit "Winter in Kragerø" (1912), which depicts in icy blue tones the snow-covered town where Munch briefly rented a cottage, and "Starry Night" (1922-24), which sketches figures on a snowy path, under a glowing sky, with a brightly lighted town in the background. (The title is apt, as Van Gogh inspired Munch. Elsewhere in these galleries, Munch's affinities with other artists, from Austrian Gustav Klimt to Canadian Emily Carr and fellow Norwegian Nikolai Astrup, are also unmistakable.)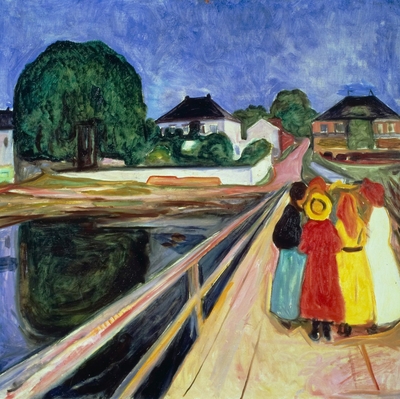 "Girls on a Pier"
Curated at the Clark by Jay A. Clarke, who began working on the exhibition before moving to the Art Institute of Chicago in 2018, "Trembling Earth" showcases Munch as a multidimensional, wide-ranging artist. And for those who need to see "The Scream," know that it is here in an 1895 lithograph that very much aligns with his attention to his surroundings; beneath the image, he wrote "I felt the great scream through nature." Coming full circle (which Munch would have liked), it was that image, too, that gave the exhibition its title. Munch placed his wailing person in an agitated landscape, or a "trembling earth."