Baltimore and Washington, D.C.
Nearly 50 years have passed since "Women Artists, 1550-1950" opened at the Los Angeles County Museum of Art. It was a sweeping attempt to insert female artists into the art-historical canon. But little changed, and recently a new generation has organized a spate of exhibitions devoted to redressing past disregard.
"Making Her Mark: A History of Women Artists in Europe, 1400-1800" at the Baltimore Museum of Art may well be the most impressive effort—and the most powerful. It brings together esteemed paintings and sculptures by Lavinia Fontana, Sofonisba Anguissola, Andrea de Mena y Bitoria, Rosalba Carriera and Adélaïde Labille-Guiard, among others; adds in manuscript illumination, silver, tapestry, cabinetry and works in other mediums; and introduces (or reintroduces) several artists. The curators, Andaleeb Badiee Banta in Baltimore and Alexa Greist at the Art Gallery of Ontario in Toronto, where the exhibition opens next March, believe that chronicling female creative achievement in full—from times when they faced entrenched barriers—requires that broad definition. (And if you've ever marveled at the way Frans Hals, say, painted intricate lace cuffs, why not acknowledge as art the real thing, which was also handmade?)
The Opening Gallery, with tapestry from the Barberini Workshop, lace, Roldan's heads and both paintings of Judith
The installation begins with an immersive gallery anchored by an epic tapestry, "Apollo and Attendants Flaying Marsyas" (c. 1662), finely woven by Maria Maddalena della Riviera and the famed Barberini Tapestry Workshop. Fede Galizia's stellar, dignified "Judith With the Head of Holofernes" (1596) hangs near Artemisia Gentileschi's impassioned Caravaggesque "Judith and Her Maidservant With the Head of Holofernes" (c. 1623-25). They flank realistic polychromed severed heads of John the Baptist and St. Paul (both c. 1692-1706) attributed to Luisa Roldán. Choice examples of lace from France and Italy, engravings, ceramics, glass, miniatures and other paintings complete this dazzling start.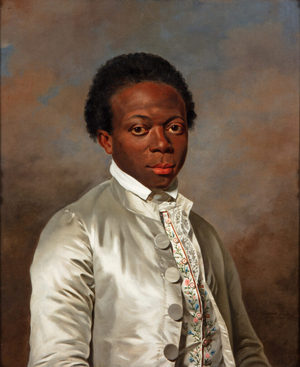 Lemoine's "Youth"
The quality of the 235 works on display continues with nary a miss. Women excelled in portrayals of nature like Louise Moillon's elegant "Still Life With a Basket of Fruit and a Bunch of Asparagus" (1630) and in 17th-century floral arrangements by Clara Peeters, Maria van Oosterwijck and Rachel Ruysch that include reflections, illusions and allusions. Maria-Theresa van Thielen's striking "Still Life With Parrot" (1661) combines jewel-toned berries and flowers with architectural features, then adds a flourish with the bird, whose shape and colors echo those of the urn and flowers.
Botanical watercolors like the delicate "The True Saffron" (c. 1762-66) by Dame Ann Hamilton are joined by beauties by Giovanna Garzoni, Barbara Regina Dietzsch, and others. Maria Sibylla Merian's images were so scientifically accurate (especially her life cycles of insects) that Carl Linnaeus used them, not actual specimens, in devising his binomial nomenclature system.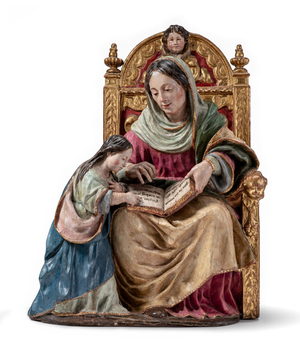 Sculpture of Mary and St. Anne by Roldan.
As for portraiture, the talent is undeniable in gorgeous paintings like Marie Victoire Lemoine's poignant "Youth in an Embroidered Vest" (1785), with its satiny sheen, and Catherine Lusurier's "Portrait of a Woman Drawing" (c. 1770-81), with a diaphanous frill on her dress.
Numerous genre scenes and history paintings demolish the notion that still lifes and portraits were the only subjects women could—and should—paint. Angelica Kauffmann's neoclassical "Telemachus Returning to Penelope" (c. 1771) sympathetically shows the mythical youth who tried but failed to find his father, yet is welcomed by his hand-wringing mother. Louise Adéone Drölling's fetching "Interior With Young Woman Tracing a Flower" (c. 1820-22) deftly blends portraiture with botanical with landscape with narrative—notice the crumpled paper on the floor and the squirrel distracting the artist.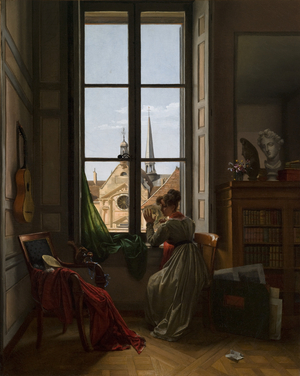 Drolling's Interior
The curators took care to offer surprises and grace notes. Both Elisabetta Sirani's tender "Virgin and Child" (1663) and Élisabeth Louise Vigée Le Brun's "Princess Anna Alexandrovna Galitzin" (c. 1797) are reunited with preparatory drawings; exquisite, intricate reliquaries made from paper, wood, velvet and metal wire (17th or 18th century) were borrowed from an Ursuline Monastery in Quebec; a paper filigree cabinet (c. 1789) made by Sophia Jane Maria Bonnell and Mary Anne Harvey Bonnell is accompanied by Mary Anne's self-portrait (1789) embroidered with the hair of her friends.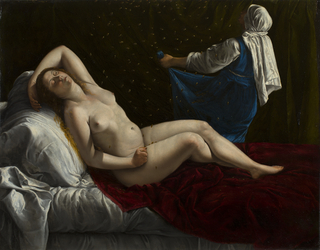 Gentileschi's "Danae"
The list goes on. And that's the point. Sirani, to name one, was considered so unusual that people came to watch her paint. Visitors to "Making Her Mark" will see that artistically accomplished women were far more common than has generally been recognized.
***
In the 1970s, some 40 miles to the south of Baltimore in Washington, Wilhelmina Cole Holladay did respond to the talk about the dearth of art by women in museums. Starting with the purchase of Peeters's "Still Life of Fish and Cat" (after 1620), she amassed a collection and founded the National Museum of Women in the Arts, which opened in 1987 and now owns some 6,000 works spanning six centuries. It has just completed a two-year $67.5 million renovation that restored its exterior, created a new gallery layout and added about 15% more exhibition space.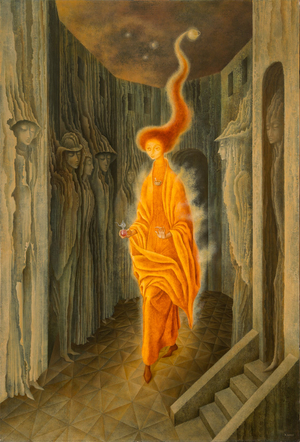 Varo's "La llamada"
The new installation, "Remix: The Collection," which occupies the building's third floor, prioritizes modern and contemporary art: Of the 133 works on view, only 19 pre-date the 20th century. That's disappointing because recent artists are receiving a fairer showing than their predecessors, whose works were often lost, forgotten, or reattributed to men. (It also explains how the museum lent eight works to "Making Her Mark.")
The curatorial team, led by Kathryn Wat, decided on a thematic installation, an approach whose success hinges on the chosen themes. Perhaps unsurprisingly, those that work best tend to focus on traditional categories. "Objectified" presents still lifes by artists who "pushed the genre beyond its once narrowly defined scope," the wall text says. Along with paintings by Moillon, Garzoni and Berthe Morisot, it features alluring photographs by two artists who reimagine traditional works: "Early American, Tea Cakes and Sherry" (2007) by Sharon Core riffs on a still life by Raphaelle Peale, and "Dutch Plate" (2010) by Petrina Hicks reduces Old Master banquet paintings to two lemons on a Delft plate, perhaps a comment on materialism.
"Land Marks" unites a brilliantly colored autumn scene (1923) by Gabriele Münter with "Red Shack in Yellow Field" (2004) by Beverly Buchanan. It places a gleaming, distant Hudson River view (1852) by the little-known Abigail Tyler Oakes opposite another distant landscape, an etching and aquatint, all billowy clouds, titled "Suspended Sky" (2005), by April Gornik, and a luminous watercolor of a tangled tree, "Barbados" (1995), by Patricia Tobacco Forrester.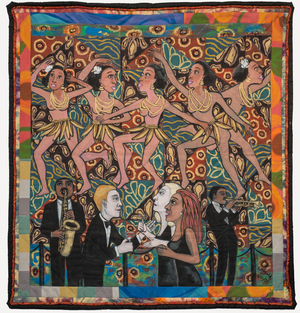 Ringgold's "Jo Baker's Bananas"
But "Seeing Red," chosen for the color's ability to evoke emotions, seems forced, with few connections among the selections. Also less compelling are "Home, Maker," a mix of silverware, porcelain and ceramics with various portraits, and "Heavyweight," a group of oversize sculptures and paintings meant to "confound expectations" that women make smaller works than men.
This presentation unquestionably exhibits the collection's depth, with wonderful works by Remedios Varo, Alma Thomas, Faith Ringgold, Lalla Essaydi, and Marisol, among others. But one wonders if they are shown to their best advantage.