ELIZABETH GLASSMAN likes to call the Terra Foundation for American Art, which she heads, a "museum without walls," but it wasn't supposed to be that way.
Before its founder, Daniel J. Terra, died in 1996, he opened not one but three museums to house his collection of 700 works of American art from the late 18th century to 1945. A son of Italian immigrants who made a fortune selling inks and chemicals, Mr. Terra believed in the transformative power of art in general and of the narrative told by historical American art in particular. He wanted to spread that word, nationally and internationally.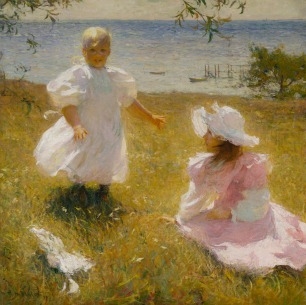 "The Sisters," by Frank Weston Benton, lent by the Terra to "Americans in Florence"
But by 2004, his museum in Chicago — which had replaced his first, in Evanston, Ill. — had closed, racked by governance squabbles and poor attendance. In recent years, his Musée d'Art Américain Giverny outside Paris has been transformed into a museum about Impressionism and is now run by French authorities without Terra's involvement.
Yet rather than being a cautionary tale of a founder's overreach, a reconfigured Terra Foundation has emerged as an alternative model for collectors contemplating museums of their own. In its new guise, the foundation has probably had more influence than Mr. Terra ever imagined.
The foundation still celebrates American art, lending works from its collection; giving exhibition grants; supporting scholarship through fellowships, residencies and academic programs; and maintaining a 9,000-title research library in Paris that it says is the only one in Europe devoted exclusively to American art.
In the last six years, the Terra Foundation has showered $40 million on more than 380 projects in more than 30 countries, starting in Western Europe and branching out to Russia, Mexico, Australia and beyond. In 2007, it teamed with the Solomon R. Guggenheim Foundation to take "Art in America: 300 Years of Innovation" to Beijing and Shanghai.
Last year the foundation "agreed to make a real push into South America and Asia," Ms. Glassman said, adding, "We are reaching out to institutions in those areas with projects, with ideas, and we are building our list of people doing research or dissertations on American art."
Right now, more than 20 exhibitions supported by the Terra Foundation are on view, including "Encounters with American Art: Thomas Cole" at the Louvre, "Lyonel Feininger: From Manhattan to the Bauhaus" at the Montreal Museum of Fine Arts, and "Americans in Florence: Sargent and the American Impressionists" at the Palazzo Strozzi in Florence, Italy.
"The Terra certainly helped significantly in fostering American art recognition in Europe," said Max Hollein, the director of the Städel Museum in Frankfurt. "Its activity is very visible these days." Mr. Hollein received Terra funding for a symposium about women Impressionists and for an exhibit featuring the works of Edward Kienholz at the Schirn Kunsthalle, a gallery in Frankfurt that he also heads.
James Bradburne, director general of the Palazzo Strozzi, went further: "Wherever you see American art in Europe, you can almost be sure that the Terra Foundation is supporting it somehow."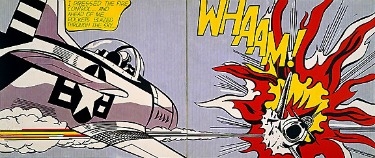 "Whaam!" by Roy Lichtenstein, which will be in a retrospective sponsored by the Terra at the Art Institute of Chicago
At this point you may be wondering, Why does American art need an evangelist?
In the traditional view of art experts around the world, American art sprang to life only after World War II with Abstract Expressionism, Pop Art and all that followed. Of works created before that era — even by masters like Winslow Homer and Thomas Eakins — most know, or knew, nothing.
And while some contemporary American artists like Jasper Johns and Cindy Sherman enjoy international reputations, many do not. "In the early 2000s, there were times when I would be talking about American art, and I knew it was falling on deaf ears, or there was interest but it was tangential," said Ms. Glassman.
Now, she added, "there's a hunger to know more."
Terra cannot, and does not, take full credit for the change. As the 21st-century art world has gone global, more museum professionals have spent time traveling the globe and learning more about art from other countries.
But the foundation brings to its task three formidable assets: an endowment of more than $250 million; a collection of 725 paintings and works on paper by 235 American artists, about 20 percent of which is usually on loan to museums around the world; and curatorial expertise that can inform exhibitions. In this fiscal year, Terra will give away $7.6 million, with exhibitions receiving 60 to 70 percent of the money.
Nearly 35 percent of exhibition grant requests win approval, but "they have a very rigorous application process," Mr. Bradburne said, adding: "It's not a cup of coffee and 'yes.' There was a long discussion, and we had to defend the choices we made."
Over the last decade, the foundation has become increasingly ambitious, forging more long-term partnerships. Ms. Glassman said she believed that a run of exhibitions, even if small, would have a greater impact on audiences than a one-off.
"Almost all American art collections are in the United States, so my idea was to have sustainable partnerships so that they get a memory of American art," she said.
So 2010 brought, for example, a three-year partnership with the National Gallery in London for annual exhibits focused on 19th- and early 20th-century American art.
The first — "An American Experiment: George Bellows and the Ashcan Painters," featuring 12 paintings never before shown in Britain — was on view last spring. It gave Britons a taste of Bellows that, Terra hopes, will whet their appetites for a much larger Terra-supported exhibition of Bellows that will open at the National Gallery of Art in Washington in June and travel to the Royal Academy of Arts in London in 2013.
Last fall, Terra joined with the Louvre; the Crystal Bridges Museum of American Art in Bentonville, Ark.; and the High Museum of Art in Atlanta in a four-year collaboration that will stage annual, similarly focused shows at all three museums. The Cole show is the first.
Even more enterprising is a traveling exhibition set for 2015: a survey of landscape painting across the Americas, from Hudson Bay to Tierra del Fuego. With the Pinacoteca do Estado in São Paulo and the Art Gallery of Ontario, Terra has engaged specialists from Canada, the United States, Mexico, Peru, Argentina and Brazil to organize this view of the way each country's culture shaped its look at the land.
"That's never been attempted," Ms. Glassman said. There will be, she said, an exhibition site in the United States, and perhaps sites in other countries, too.
This spring, Ms. Glassman will return to China to lay the groundwork for more involvement there. And this summer the foundation, with the Henry Luce Foundation, will bring 19 Chinese art historians to the United States to see American art in collections in the Northeast.
There will be more. In the next two fiscal years, Ms. Glassman said, the grant awards have been budgeted for a 15 percent increase. How could Mr. Terra, were he still alive, not be pleased?