Salem, Mass.
Quietly, the Peabody Essex Museum here has undergone a remarkable transformation. In 1993, when Dan L. Monroe arrived to become director, the Peabody (dating to 1799) and the Essex (1821) had recently merged with a yet-to-be-determined mission; much of their far-ranging collections, which included maritime art, American Indian objects and natural-history specimens, had never been on view. Now the Peabody Essex ranks among the top 20 art museums in the U.S. by measures including gallery space and endowment, and is known for its Asian art and Americana, among other things, and for exhibitions that range from 15th-century European tapestries to Surrealist art to hats.
Perhaps even more notably, the Peabody Essex has been retooling the traditional business model for museums. As Mr. Monroe sees it, "the entire financial equation for museums is going to change significantly over the next decade and a half."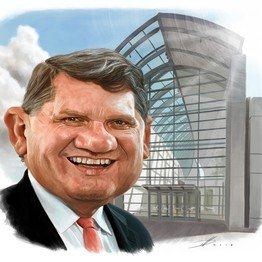 Currently, while some American art museums receive some government support, most depend on three main sources of money: earned income from admissions, retail, restaurants and the like; revenue drawn from their endowments; and annual contributions, which too often provide the largest part. In lean times, those donations tend to drop or level off—forcing cuts in staff, programming and other costs or, sometimes, an increase in debt—and if Washington ever caps the tax-deductibility of charitable donations, as many politicians want, it will make matters worse. The tendency among today's younger generations to be less supportive of museums than their parents is also worrying.
To ensure a sustained future, "we said we need to move from a model that disproportionately depends on annually raised money," Mr. Monroe explained.
So, since 2006, the museum has raised more than $570 million toward a $650 million goal, with the bulk, $350 million, earmarked for the endowment, not—as in most large campaigns—for a building expansion. (An additional $100 million will support "creative new installations of the collection" and infrastructure improvements, leaving $200 million to finance a building expansion and renovation.) Combining the new $350 million with the museum's existing endowment will give PEM a healthy $630 million nest egg. By 2017, when the campaign is complete, the Peabody Essex expects to finance 58% of its annual budget (projected at $35 million, up from $23 million in 2012) from the endowment. That compares with 25% in 2011.
It sounds simple enough. But conventional wisdom in the museum world dictates that raising endowment money is too tough to tackle. "It's a self-supported vicious circle that we have gotten ourselves into as a field," Mr. Monroe says, "that people will only give to a new building where they can put their name on it." When annual contributions come up short, both museum staffers and trustees tend to look first at ways to increase earned income—raising the price of admission; staging blockbuster exhibitions to draw more visitors; building destination restaurants; renting out event spaces and "renting" works from their permanent collections to other museums. Some have taken to consulting on art for airports and hotels, offering website-design advice to their peers, and talking about developing apps to sell to visitors—in vast numbers, of course.
The Peabody Essex is doing some of those things, too, but as Joshua Basseches, PEM's deputy director and chief operating officer, who was invited by Mr. Monroe to join our lunch in the museum's restaurant, says, "To dramatically increase earned revenue from sources other than admissions and retail is hard to do."
Mr. Monroe says that the Peabody Essex has been able to go its own way because it has tightly linked its financial game plan with the museum's strategy, which is founded on insights that date to the 1990s. Salem is a historic town, and the museum used to depend on attracting 65% of its audience from tourists and 35% from the local population. By the time Mr. Monroe arrived, however, historic sites were losing their appeal to Americans. The Peabody Essex decided to stress art and culture, instead of history, and to reverse its visitor targets: 35% should be tourists and 65% should come from the area. "That gives you a dynamic relationship with the community and the capability to develop a support base," Mr. Monroe says.
To draw more local visitors, the museum had to turn them into repeat visitors. So, over the years, its collections have evolved to include more art, its programs to offer more changing exhibitions, and its buildings expanded twice to provide more space for galleries, programs, a bigger gift shop, a glass-enclosed atrium where visitors may rest their eyes between gallery visits, and so on. Annual attendance is now about 250,000, double the total in 2002, before the last expansion.
Mr. Monroe still talks a lot about "improving the visitor experience"—now the subject of a regular survey—and advancing the museum's mission, which has also evolved. It now includes a line that he believes is a key to its fundraising success: "Through its exhibitions, programs, publications, media and related activities, PEM strives to create experiences that transform people's lives by broadening their perspectives, attitudes, and knowledge of themselves and the wider world."
Donors, Mr. Monroe says, have been receptive to the idea that it's far more important to have an impact on people's lives than it is to put their name on a building. His evidence for life-changing experiences is anecdotal—more repeat visits, changing attitudes toward art, and so on. But it's convincing enough for Mr. Monroe to say, "We raise money around our mission, and not around buildings."
With that in mind, PEM was also able essentially to flip the proportions of two of the three sources of income. In 2017, earned income will continue to provide about 24% of the budget, but just 18% will have to derive from contributed income, because 58% will come from the endowment. Very few other museums come close to that—with Alice Walton's Crystal Bridges Museum of American Art being a notable exception. The lucky ones might be striving toward a model that equalizes the share contributed by the three money pots.
Mr. Monroe readily admits that the fundraising dynamic is different in New England than it is in New York or on the West Coast. "New Englanders understand endowments better," he says, and they seem to be less interested in the naming game. Among the most adamantly anonymous is Edward "Ned" Johnson III, who owns Fidelity Investments. He is widely assumed to be the Peabody Essex's biggest donor—among his gifts, according to published reports, was the purchase, importation and restoration of a complete Qing dynasty merchant's house, which sits on the museum grounds as it was in southeastern China in the 1980s. But Mr. Monroe's face goes blank when I ask about Mr. Johnson. He is bound to secrecy.
Other museums may not be able to attain the PEM model. But it has a certain undeniable logic.