New Haven, Conn.
When I lived in London many years ago, I sometimes walked past Thomas Goode & Co., the famous Mayfair china emporium, where two stunning, 7-foot-tall gilded Majolica elephants, set on carved, tile-trimmed ebony stands and topped with gold-and-green howdahs, stood in the windows. Said to be for sale, they were bait for buyers and browsers alike. Imagine my surprise when I entered the Yale Center for British Art here recently to see "Sculpture Victorious: Art in the Age of Invention, 1837-1901" and found one of these grandiose decorative specimens in the lobby, billed as a centerpiece of the exhibition.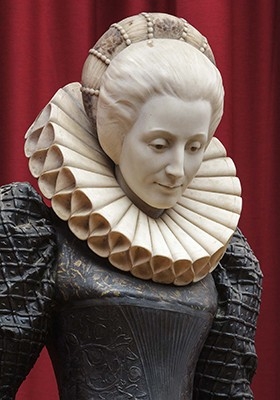 Dame Alice Owen (detail)
"Sculpture Victorious" offers many such surprises. The 135 works on view include a fair share of marble figures. But they also run the gamut from that elephant, which Minton & Co. created for a joint commercial display with Goode at the 1889 Exposition Universelle in Paris; to three gold, gem-encrusted jewelry pieces—a coronet, comb and stomacher (adorning a lady's bodice)—that Lady Granville, representing Queen Victoria, wore to the coronation of Czar Alexander II in 1856; to the "Eglinton Trophy," an 8-foot-tall piece of silver bling commemorating a medieval jousting tournament that took place in 1839, which portrays (among other things) the Earl of Eglinton receiving a wreath of victory from the tournament's Queen of Beauty.
Some are spectacular to see.
But this exhibition, which the Yale Center says is the first major museum show to focus on sculpture during the reign of Queen Victoria, is less about the art, which to a modern eye is often sentimental and kitschy, than about history, craft and even morality.
Co-organized by Tate Britain, where it will go on view in February, "Sculpture Victorious" demonstrates how the British used sculpture—as public monuments, in public institutions, at exhibitions like those in the Crystal Palace at Sydenham (a reconstruction of the building that housed the 1851 Great Exhibition), and in coins, medals and other popular reproductions—to proclaim their political power and industrial prowess. Experiencing an "efflorescence" on an unprecedented scale, "sculpture proclaimed its own victory," curators Michael Hatt, Martina Droth and Jason Edwards write in the catalog.
Indeed the lenders include not just museums like the British Museum and the Ashmolean Museum at Oxford University, but also Dame Alice Owen's School, the Army & Navy Club in London, the Representative Body of the Church in Wales, the House of Lords, and the local council office in North Ayrshire, Scotland, where the current Earl of Eglinton & Winton has deposited his trophy. Were it not for this exhibition, most people would never get a chance to view many of these objects.
The theme is introduced with a gallery devoted mostly to Victoria. She is depicted both young, at age 19, simple and shawl-draped in a marble bust (1840) by Francis Legatt Chantrey, and old, in a masterfully carved marble bust (1887) by Alfred Gilbert that shows her decked out in silk, ruffled lace, pearls and a cameo of her and her beloved, dead husband, Albert. A replica of that cameo is on view nearby, as is Chantrey's rendition of Victoria carved in ivory (1842) by Benjamin Cheverton. Victoria is also here in bronze, silver, bisque porcelain, brass and on various medals and coins. The variety of material, scale and bearing underscores the ubiquity of three-dimensional images in the 19th century.
In this queenly gallery, one pivotal figure stands out: a life-sized, imaginary, highly idealistic portrayal of the first Earl of Winchester, one of the nobles who forced King John to sign the Magna Carta in 1215. Normally, he is one of 18 barons and bishops set in niches some 25 feet above the floor of the House of Lords. Here, visitors can view him up close, in a long tunic and chainmail, wearing a crown and holding an ax. Designed by James Sherwood Westmacott in 1848-53, freshly regilded and restored to a sparkling patina, this fine figure reminds peers and viewers alike of the longevity and evolution of the British state.
Just as important, the earl demonstrates British innovation for the first but not the last time in the show. Originally conceived as bronzes, all but one of these Lords figures were instead cast in zinc, electroplated with copper and chemically tinted to save money. (The elephant also set a technological precedent: it, minus the howdah, was fired in one piece, an astounding feat at the time. And George Frampton's larger-than-life Dame Alice Owen, from 1897—a marvelous confection of marble, alabaster, bronze, paint and gilding--provides an example of how these sculptors frequently mixed materials in unusual ways.)
Meanwhile, in mid-1840s America, Hiram Powers was sculpting his most celebrated work, "Greek Slave." He made six versions of his neoclassical marble girl—four for British patrons, one of whom lent it to London's 1851 Great Exhibition. By then, Britain had abolished slavery throughout most of the empire, and Powers's graceful, idealized work triggered a debate over its meaning: a symbol of injustice or of American disavowal of slavery's brutalities?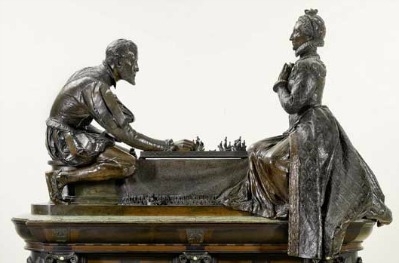 A Royal Game (detail)
The piece also sparked a morality tale, re-created at Yale, when the sculptor John Bell delivered a riposte with his bronze "American Slave" (1853). She is more vulnerable, her nubile body, draped only around her loins, wearing gold drop earrings and silver chains. Her downcast eyes betray fear and resignation. She stands on the shore of Africa, set to be shipped to the U.S. Now owned by Britain's National Trust, she is here side-by-side with a version of the Powers slave borrowed from the Newark Museum.
In the last gallery, the curators placed the "best" piece: "A Royal Game" is an enchanting fantasy, an imaginary game of chess between Elizabeth I and Phillip II of Spain in 1588. She deploys six ships of her fleet, commanded by Sir Francis Drake, while he controls eight ships from the Spanish Armada. Made in 1906-11 by William Reynolds-Stephens of electroplated bronze and wood, plus stone, abalone and glass, it conveys in great detail the politics of the period—a discarded church, for example, lies at her feet, and her lavish costume is embellished with embroidered Tudor roses.
Even more interesting is the interplay between the two. She, upright and regal, dressed in jewels and ruffled collar, holds up her hand ready to pounce, and watches the board. He, in a comparatively simple outfit, leans forward to make his move, eyeing her. Is there any doubt who won this war?
"Sculpture Victorious" itself is more ambiguous and presents something of a paradox: How could an age of sculpture produce so little of lasting aesthetic interest or influence today? While many sculptures in the exhibition are fascinating and beautifully executed, they seem to me to be most interesting as a reflection of a bygone era. The curators were wise to focus more intently on "the cultural and political roles [sculpture] was given to play."
The exhibition remains on view through Nov 30.