As visitors strolled through a recent display of Madame de Pompadour's coffee grinder, an 1840s Sèvres porcelain coffee set, tea canisters, sugar bowls and other European decorative arts at the Detroit Institute of Arts, the scent of roasted coffee beans arose in one room. Bach's "Coffee" Cantata played in the background.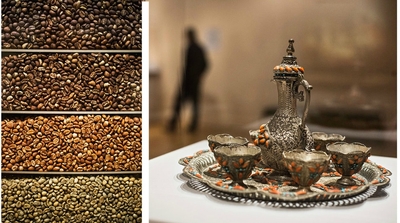 Not far away, cocoa pods were not only on display but also meant to be touched. In the final gallery, a tasting station offered two kinds of liquid chocolate, one adapted from an Aztec recipe and the other from an 18th-century French formula.
Museums usually aim to offer a feast for the eyes, but this Detroit museum had much more in mind for "Bitter|Sweet: Coffee, Tea & Chocolate," which just closed at the institute (shown in the top two pictures here). Officials, who used art objects to illustrate how the introduction of those beverages to Europe in the 16th century from Africa, Asia and the Americas changed social and consumption patterns, wanted the exhibition to be a banquet for all five senses.
So did the Walters Art Museum in Baltimore and the John & Mable Ringling Museum of Art in Sarasota, Fla., with their collaboration, "A Feast for the Senses: Art and Experience in Medieval Europe," on view at the Ringling through April 30. Along with viewing 100 or so ivories, stained-glass pieces, paintings, illuminated manuscripts and other artwork, visitors are invited to touch a modern reproduction of the 16th-century gold-and-enamel Langdale rosary, which belonged to an English family. In a gallery evoking a church nave, where a 15th-century gilded silver German censer is displayed, they smell the ecclesiastical incense it would have dispensed.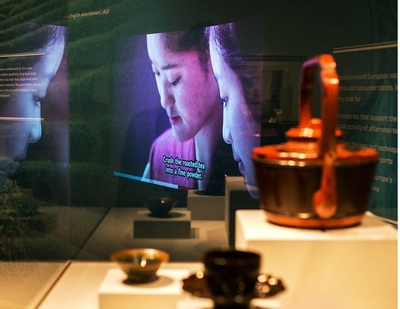 And where "Tapestry With Narcissus at the Fountain" is on view, they hear bird song, the tinkling of a brook and the rustling of trees, and they smell the scent of flowers depicted in the tapestry. At the Ringling, they can sit on a nearby bench and look into a mirror for their own Narcissus moment.
"We're interested in multisensory exhibitions because people come to a museum not just with their eyes but with their whole bodies," said Swarupa Anila, head of interpretation at the Detroit Institute. She labeled them an "experiment."
Other art institutions are experimenting, too. For instance, when the Peabody Essex Museum in Salem, Mass., presented "Asia in Amsterdam: The Culture of Luxury in the Golden Age" last year, visitors were invited to touch a fine translucent porcelain piece imported from China, and to imagine the novelty that the 17th-century Dutch must have experienced. And when the Worcester Art Museum in Massachusetts reinstalled its medieval collection last year, it incorporated "hands-on touch stations" for reproductions of the tools used to make the metalwork, carved stones and enamels in the galleries.
Such efforts are being closely watched, from differing perspectives.
Some museum leaders view these offerings as a way to attract younger audiences who are steeped in multisensory experiences and to deepen the engagement with the art objects for everyone. But others see them as distractions.
"Any human being can respond to great works of art," said Gary Tinterow, director of the Museum of Fine Arts, Houston, speaking not about those specific exhibitions but the phenomenon in general. "We do not need intermediaries. We can augment the experience for children. For adults, I believe it isn't necessary."
Natural history and science museums have long offered opportunities for visitors to do more than look. On occasion, art museums have, too. As long ago as the 1970s, Diana Vreeland, as special consultant to the Costume Institute at the Metropolitan Museum of Art, put perfume in the air of her exhibitions. In recent years, several museums have piped in background music at some exhibitions. Last summer, for instance, the Art Institute of Chicago played songs by Woody Guthrie and Sarah Vaughn and other period pieces in its "America After the Fall: Painting in the 1930s" exhibition.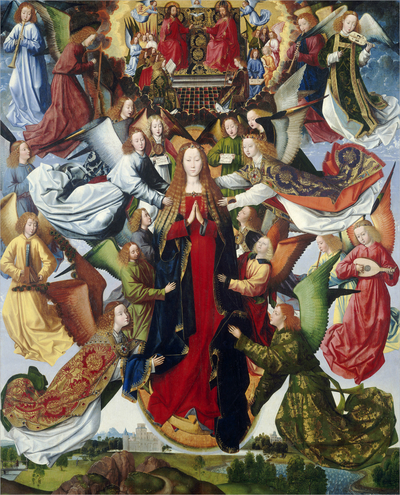 Coronation of the Virgin by the Master of the St. Lucy Legend, at the Ringling
Going further takes much more thought, and many agree that the decision is best driven by an exhibition's subject.
For Martina Bagnoli, the former curator of medieval art at the Walters and the current executive director of the Galleria Estensi in Modena, Italy, who organized "A Feast for the Senses," a multisensory installation was a natural. "Medieval images and objects were made to speak to all the senses — not sight alone," she wrote in the show's catalog, adding, "They were not only seen, but also, and at the same time, touched, tasted, smelled and heard."
At the Ringling, Virginia Brilliant, the curator of collections, agreed that it seemed essential to show how art objects engage the senses. "There's only so much a curator can say — sometimes you just have to experience an object," she said. In a prime example, when people viewed musical manuscripts in the exhibit, they could hear that very music--a much richer experience.
Touch and taste are the most difficult senses to engage. Touch can sometimes be sated with replicas, but in "A Feast for the Senses," taste was invoked only in labels about festivals and the sacrament of the Eucharist. On the other hand, "taste was a perfect fit" for "Bitter|Sweet," Ms. Anila said — though it is likely to remain rare at art exhibitions.
Visitors seem to like these extras, the museums say. By watching people in the galleries and in videos and by conducting surveys the Detroit museum has found that they were looking at the objects for long periods, which is not typical. Ms. Anila described their "stopping at almost every work of art, leaning in to look."
Museum officials say they will resist the temptation to make every exhibition multisensory, though. "We don't want to do it just because we can," Ms. Anila said. Neither the Detroit Institute nor the Ringling is planning to use a multisensory approach for any shows on their current schedules, which are planned years in advance. But that may well change, even at other museums.
"I like the art to do its job, and I like to get out of the way," said Ms. Brilliant, who calls herself a traditional curator. "But this exhibition has opened up my mind and made me aware that there are lots of ways we might do things like this in the future."