Denver
In cultural histories of late 19th-century Paris, artists from Van Gogh to Munch to Whistler converge on its academies, salons, galleries and cafes, joining with their French confreres to make it the undisputed art capital of the world. But as "Her Paris: Women Artists in the Age of Impressionism" illustrates, many women—though largely unaccounted for—were also part of that extraordinary mix.
Organized by independent French curator Laurence Madeline, "Her Paris" presents works made between 1850 and 1900 by 37 women from 11 countries. Beautifully installed at the Denver Art Museum, it begins with a few blown-up period photographs, including one of male artists with a nude model, and an 1878 quote from the journal of Ukrainian artist Marie Bashkirtseff, who was turned away from the Ecole des Beaux Arts: "It is enough to make one cry with rage....Why cannot I go and study there?"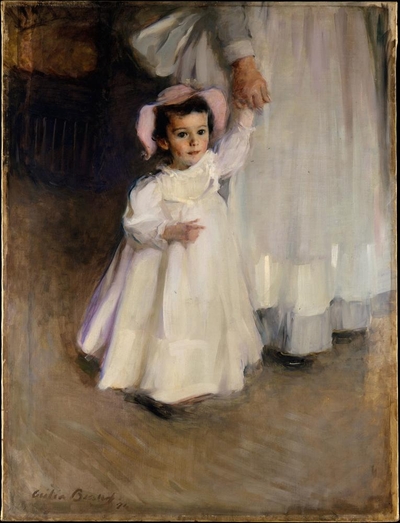 "Ernesta"
Nevertheless, she persisted. So did others. Setting the scene in the first gallery, Bashkirtseff's "In the Studio" (1881) depicts in academic style more than a dozen women at work with a clothed model at the Académie Julian, one of the few studios that did teach females, but in separate classes after protests halted mixed ones.
Her picture is surrounded by portraits and self-portraits by others, a few set on easel-like structures that help transport visitors to that era. These paintings, such as Anna Elizabeth Klumpke's gleaming " Rosa Bonheur " (1898), an artist whose work appears later in the exhibit, and Mina Carlson-Bredberg's backlighted "Self-Portrait" (1889) at her easel, testify not only to the talents of their creators but also to their seriousness. They were not making watercolor bouquets to demonstrate feminine skills; they were artists, venturing where women rarely went and at times knowingly endangering their marriage prospects.
Displayed thematically, the works in "Her Paris" portray women's everyday lives—pouring tea, reading or, as in Anna Ancher's luminous "Young Woman Arranging Flowers" (c. 1885), at other chores; the rituals and results of dressing to reflect social position; motherhood and children; and the passage of young girls into adulthood—all subjects, incidentally, taken up by contemporary male artists—as well as landscapes and history, the highest category in the academic hierarchy.
Ms. Madeline said she chose works that could not be immediately identified as being created by a woman, and mostly she has. But perhaps it is no surprise that the most affecting paintings here deal with childhood, a high point of the exhibition. Several achieve a tenderness that seems, to me, to betray a woman's touch. Among them are two decidedly different looks at nursing mothers: Elizabeth Nourse's realistic and romantic "A Mother" (1888) and Paula Modersohn-Becker's modernist "Nursing Mother in Front of Birch Forest" (1905). Two of Mary Cassatt's well-known works, "Children Playing on the Beach" (1884) and "Spring: Margot Standing in a Garden" (1900), show why she, unusually, was accepted by her male peers.
The undoubted star of this section is Cecilia Beaux's dazzling "Ernesta (Child With Nurse)" (1894). The painting, of a self-possessed, rosy-cheeked toddler dressed in white, refers back to Velazquez's Infanta and also, with its daring cropping of the nurse at her waist and an empty floor in the foreground, appears fresh, innovative, modern. Two other beautiful paintings here by Beaux underscore that she should be better known.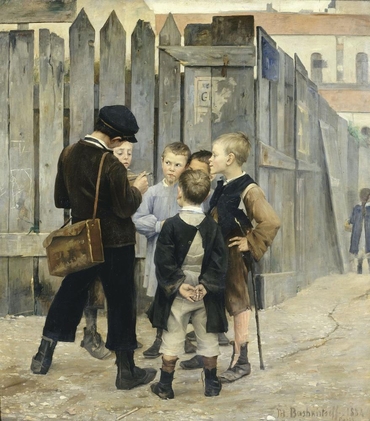 "The Meeting"
Yet these artists also acquit themselves well elsewhere, including at history paintings, contrary to expectations of the time. Because women could not study nude models—essential to learning the human anatomy that makes for fine history painting—some hesitated to try. But just take a look at Annie Louisa Swynnerton's life-size, full-frontal nude "Mater Triumphalis" (1892); it is bold, sensuous and brilliant. Lady Elizabeth Butler excelled at realistic military scenes like "Balaclava" (1876). And Bashkirtseff's sensational "The Meeting" (1884)—if more a genre scene—captures the dynamics of six young working-class boys eyeing an unidentified object in the hands of the eldest, some with suspicion, one with a smirk. At the right edge in the background, a little girl walks away, excluded.
As for landscapes, the dozen here reveal that Scandinavians were particularly strong. Kitty Kielland's moody sunset, "Stokkanannet" (1890), Harriet Backer's melancholy "Autumn at Stralsjoen" (1894) and Helene Schjerfbeck's stark "The Door" (1884) are among the standouts.
As this exhibition opened, DAM museum director Christoph Heinrich sheepishly admitted that he did not know many of these artists beforehand. That's not necessarily his fault. As Ms. Madeline researched and conceived the show, she discovered that many museums had stashed these paintings in storage, rarely if ever putting them on view. Some did not know where paintings she requested were. Still other works were neglected, in too poor condition to be lent.
Yet a few of these artists ( Marie Petiet and Ellen Thesleff, for example), having recently been rediscovered, are now difficult to borrow because they are too popular. "Her Paris" tells us that more of these artists deserve that second, and even third, look.