Toledo, Ohio
'Frans Hals Portraits: A Family Reunion," at the Toledo Museum of Art, might just as easily have been subtitled "An Art History Mystery." Or "The Secret Life of a 17th-Century Masterpiece." Or "A Lesson in Connoisseurship." Or—let's just say the exhibit has many stories to tell.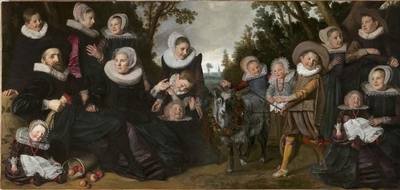 Proposed reconstruction
It began when curator Lawrence W. Nichols saw Hals's "Family Portrait in a Landscape" (c. 1623-25) at a London gallery in 2010 and immediately worked to acquire it for the Toledo Museum. Knowing that it was a fragment of a larger painting—its unfocused composition and unmet glances among the subjects are telltale signs—he set out to organize an exhibition that would reunite it with the artist's "Three Children With a Goat Cart" at the Royal Museums of Fine Arts of Belgium. As early as the 1920s, art historians had noted similarities between the pair, which had been split by the end of the 18th century (why is a matter of conjecture). Some experts had also proposed that a small portrait in a private collection, "Head of a Boy," belonged to this sprawling painting, but others disagreed.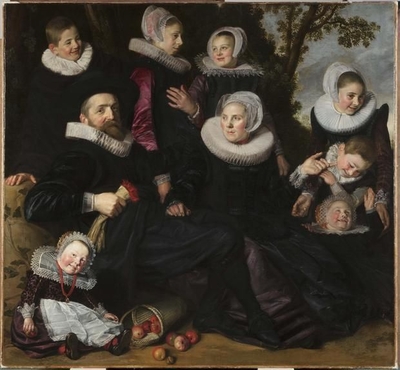 The Toledo painting
Separately, about five years ago, the Dutch art historian Pieter Biesboer had identified the subject of the work as the large Van Campen family.
Then the discoveries, presented here for the first time, began. Belgian conservators—cleaning their painting for this exhibition—discovered the presence of about half of a girl on the far right of their canvas who had been painted over. Adding to the excitement, her lace collar matched a fragment visible in "Head of a Boy," cementing his presence as part of this family portrait. Cleaning also revealed two hems on the left of the Belgian work that complete the dresses of two girls on the right of the Toledo painting—leaving no doubt that these paintings were all once part of a whole.
The Belgian painting
And what a whole it is. Hung here so that each work occupies the same place it would have in the intact work, the paintings show the great portraitist at his best. Rather than depict the sitters looking at the viewer—only three of the 14 figures stare out, one being the obviously proud patriarch—Hals creates a lively scene of merry faces, twinkling eyes, and dynamic hand gestures that signal family interactions. In this relatively early painting by Hals—the first of his four known family group portraits—he deploys a more controlled style of brushwork than the thick, bold strokes that made many of his portraits famous, but it's never stilted. It's lifelike. As usual, Hals made his changes right on the canvas—not a single drawing by him survives—and he did it with care as well as flair.
But the Toledo painting, now renamed "The Van Campen Family in a Landscape," has an anomaly: the baby on the lower left. Connoisseurs—and viewers—can clearly tell by the differences in style (its rigidity, the too-obvious shine on her cheeks) that it was by another hand, not Hals. On the baby's right shoe is confirmation: It's signed by Salomon de Bray and dated 1628. With additional archival research, Mr. Biesboer determined that the Van Campens had 14 children—six boys and eight girls—including a daughter born after this painting was finished. Art historians theorize that the Van Campens, thinking their family was complete, commissioned the painting at some celebratory moment, but later were compelled to add their new child. Hals may have been too busy to do the job.
The three fragments account for 12 children, but what of the other two, both girls? They must have occupied the lost, lower-right corner. In Toledo, a freestanding panel illustrates an educated possibility: a sitting girl with a youngster on her lap. This piece may still exist, somewhere, but it's more likely that it was destroyed by fire or flood—damage that may also have caused the 11-foot-long painting to be divided.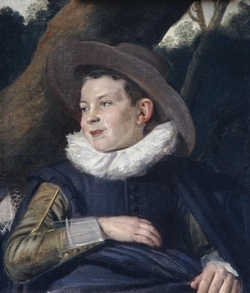 The "Boy"--in private hands
Impressively, the exhibition includes all three of Hals's other family groups; his stunning portrait of a newly married couple; and a pair of single portraits of a couple by Hals, as well as several Dutch paintings by others and decorative-art objects from the 17th century. They create the Hals milieu beautifully, but cannot compete with this fascinating reunion of three works that have not been seen together for more than 200 years.
Those galleries contain the splendid core of this exhibition. In an attempt to make it more "relevant," the museum has wrapped them with two others. A large initial gallery questions the meaning of family and displays other family-related artworks from the museum's permanent collection; these range from an Egyptian pair-statue of Reramu and his wife Ankhet (c. 2400 B.C.) to five photographs of contemporary anthropological groups, like "Goth Girls" and "sports fans," by Ari Versluis and Ellie Uyttenbroek (2004). At the other end, a family activity room allows visitors to reflect on the meaning of family with others in the room, aided by puzzles, games and books. Both were superfluous to me and, I suspect, will be for others. Fortunately, they did not subtract from the edifying exhibition at the center.