Paul Gauguin (1848-1903) always seemed to be striving. He aimed to be a different kind of artist, connected to past masters but determined to strike out on his own. Lacking formal training, he tried out several artistic approaches and experimented with many materials before devising the bold, colorful painting style that secured his place in art history. He famously left his family behind in Europe, struggling financially, while he went off to Tahiti and the Marquesas Islands in pursuit of new cultures, new imagery and new freedoms.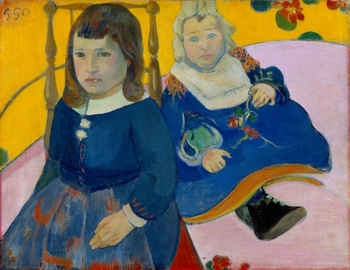 Two Children
This restless artist also had a restless soul. Educated in a private Catholic school, he constantly sought an understanding of faith, belief and the divine.
"Gauguin: A Spiritual Journey" at the De Young Museum explores those intertwined themes, examining the relationships Gauguin established as he developed his artistry and his search for his own and others' spirituality. It pairs just two collections: that of the Ny Carlsberg Glyptotek in Copenhagen, whose large Gauguin trove originated in the holdings of his Danish wife, Mette Gad, with whom he left works once he departed for the South Seas, and that of the De Young, whose Gauguin drawings and Oceanic objects lend context.
From that small universe, curators Christina Hellmich of the De Young and Line Clausen Pedersen of the Glyptotek have chosen 85 works that present—almost—a mini-survey of Gauguin's career. Notably missing examples of Gauguin's most sensuous, paradisiac paintings that encouraged his reputation as a "savage" libertine, the selection pushes viewers toward the more mystical elements of his works.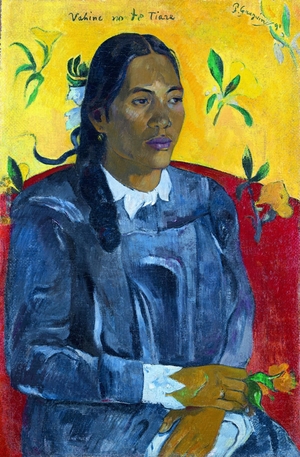 Tahitian Woman With A Flower
This mix of paintings, drawings, ceramics, wood and stone works first stresses Gauguin's relationships. It begins in the 1870s, when he is working for a stockbroker but trying his hand at painting. The results, works like "Waterside Houses" (1874) and "Garden in Snow" (1879), are undistinguished, often tentative. Many resemble paintings by his friend Camille Pissarro, two of whose landscapes hang here for comparison. Gauguin also looked to art by, among others, Manet, Degas and Cézanne. Sometimes Gauguin paid overt homage, as in a stoneware vase (1886-87)—one of the odd vessels he called his "monstrosities"—with an image inspired by Delacroix's Arab horsemen pictures.
Already, spiritual elements had begun to creep into his works, as seen in his brushy "Still Life With Flowers" (1882). On its far right is an odd carved post, possibly depicting idols.
And then, in 1886 and again in 1888, Gauguin went to Brittany for months at a time. Before visitors' eyes, he becomes the Gauguin who changed art history. His compositions, like "Two Children" (c. 1889), grow daring, his shapes sharpen and flatten, and his colors turn brighter, imaginative, sometimes unnatural. Now he is distilling what he sees, not copying it. The assured "Still Life With Onion and Japanese Woodcut" (c. 1889), for example, stands in marked contrast to his 1882 still life, which seems stilted.
In Brittany, too, Gauguin is fascinated by the inhabitants' pious religious practices that were part of their daily life, and his references to Christianity become more overt. Examples here include "Landscape From Brittany With Breton Women" (1888), portraying two women in headdresses that harken back to medieval days (and nuns' garb).
Still seeking, Gauguin moved to Tahiti in 1891, finding his more exotic subjects in his surroundings and especially in the local women. "Tahitian Woman With a Flower" (1891), one of the first paintings Gauguin created on the island, depicts a strong-featured native girl, set against a bright yellow, flowered background and wearing a blue dress—not unlike his "Two Children," which hangs nearby.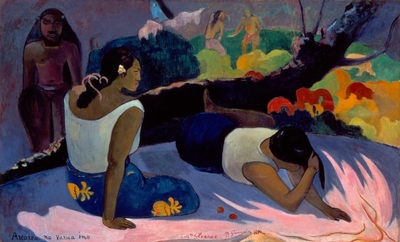 Reclining Tahitian Women
His glorious "Reclining Tahitian Women," from 1894, epitomizes Gauguin's spiritual and ingenious sides. It shows two jet-black-haired women, dressed in blue and white, stretched out on a beach bordered by a brilliant pink swoosh of paint. A downed tree slashes diagonally across the canvas. Behind it, on the left, stands a dark, evil totem figure. An odd couple dances in the center, possibly in a ritual. Completing the picture are amorphous swaths of color and a floating blue mask. In the foreground, Gauguin wrote, in Tahitian, "The Amusement of the Evil Spirit," leaving some to interpret the picture as a portrayal of both earthly and spiritual realms.
Gable Figure, 1902
With Pacific Island objects interspersed among these Gauguin paintings and drawings, visitors are given a taste of his southern milieu. The museum contends that he viewed objects like them on the islands or at international expositions. Some certainly are impressive—especially two 1902 tall gable figures. But, rightly, curators make few direct connections to Gauguin's works. Only a few labels, such as those for a stern ornament (c. 1830-1850) and a stone tiki figure (late 19th century), include reproductions of drawings Gauguin made of similar objects. The rest they leave to visitors' observations and imaginations.
By the end of the exhibition, the curators have made their case, though I couldn't help feeling that, limited by the contents of their two collections, they could not produce their best evidence. "Gauguin: A Spiritual Journey" could have been so much better if just a few masterpieces from other collections had been borrowed.