Want to take a walk but cloistered inside because of the pandemic? You can still visit gardens virtually. And there's good reason to do so. Scientific studies have found that exposure to parks and gardens raises our spirits, improves our mental and physical health, and may even lower mortality—sometimes even via passive exposure, as through a window.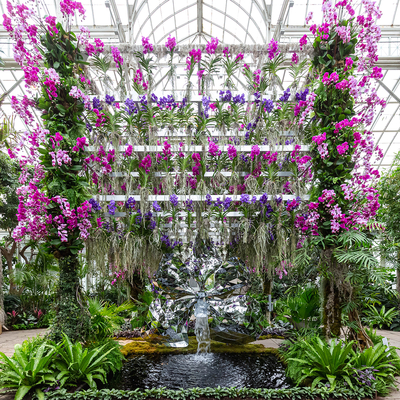 NYBG's Orchid Show
Every year, the New York Botanical Garden in the Bronx stages a spectacular Orchid Show, each one created anew by a guest designer, in its conservatory. This year, Jeff Leatham, a "floral designer to the stars," used thousands of blue, purple, red, orange, pink, green and white orchids to fashion a series of "rooms" festooned with orchid-laden arches, vines, hanging baskets, grids and columns. And then it closed on March 15, never to reopen again.
The garden's 21-minute, narrated orchid show tour steers viewers through this kaleidoscopic exhibition, stopping at times to explain a design feature or tell stories. You hear how Charles Darwin, upon seeing what is now named the Darwin star orchid, predicted the existence of a moth with a tongue lengthy enough to reach nectar through that orchid's long tubular nectar spur. Sure enough, about 40 years later, scientists found the moth. Then there is the tale of the bizarre butterfly orchid, which kicked off the Victorian mania for collecting orchids from all over the world.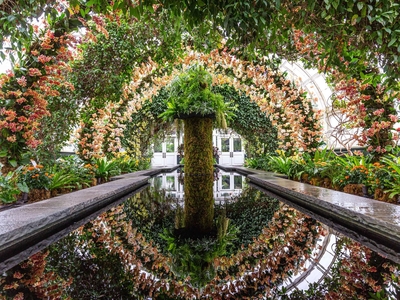 NYBG's Orchid Show
On the hub called
NYBG at Home,
you'll also find webinars, musical compositions, plant talks and other videos, mostly short, unnarrated "pretty picture" trips through the daffodils, cherry trees and magnolias. It's what many other gardens do as well. The Phoenix Desert Botanical Garden regularly posts short, beautifully produced videos of its blooms on
its YouTube channel,
for instance, and the Brooklyn Botanic Garden recently posted
a virtual tour of its famed Japanese Garden.
You'll see vistas and skyward glances, flowered branches that bend to and are reflected in the ponds, and come so close to pink and white blossoms that you can almost smell them, all to the calls and soothing songs of birds. The BBG plans a series of similar videos this spring, including one on its cherry blossoms.
Other gardens are reaching even higher to serve patrons. You can take a long walk in the Atlanta Botanical Garden via a 24-minute video tour uploaded in early April. It's not narrated, but it captures the sounds of nature and sometimes provides information in captions or panels. As you traverse its 12-foot-wide, serpentine canopy walk, suspended 40 feet above the land, you get a bird's-eye view of a woods "teeming with oaks, hickories and tulip poplars"; then journey through the flower walk, teeming with more than 36,000 specimens of anemones, hyacinths, tulips, daffodils and crocuses, and over the flower bridge, overflowing with bright, orange-red El Nino tulips. For those who are cooped up yet eager to see spring, this video does the trick.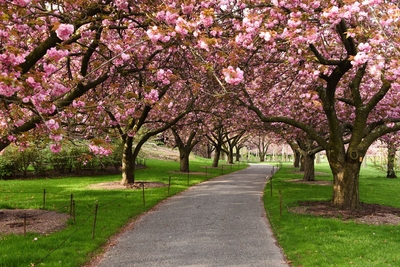 BBG's Cherry Blossoms
The
Atlanta Botanical Garden's YouTube channel
is frequently updated with substantive videos offering tips for gardening, conservation and plant science, as well as picturesque tours with information about the scenes you're watching.
"Native Plants in Bloom,"
made in March, reveals, among other things, a reason to plant phlox, according to the narrator: "It's got this amazing color and it flowers, flowers, flowers and flowers. If we keep picking the old flowers off, it just comes back with more...It's as tough as nails....And one other thing, these can come in 100 colors."
There's another flower that comes in even more colors and variations and has long since seduced the world—the tulip—and for them, there's nothing better than a visit to the famed, flamboyant Keukenhof gardens in the Netherlands. Its entire March-to-May season has been canceled, but Keukenhof is staying in the public eye with videos. A drone tour over Holland's massive tulip fields zooms over flatlands of boldly colored flowers, dotted with old and new windmills, and down for occasional close-ups. Elsewhere, sheer visual splendor is on view in a gardener's tour of the "Traditional Gardens," and practical information is relayed in other offerings—for example, how to make your hyacinth blooms last longer.
The very beautiful Longwood Gardens in Kennett Square, Pa., created by Pierre S. du Pont, regularly updates its YouTube channel, too, showcasing its 1,077 acres in short narrated videos. One reveals that Longwood pulled up the bulbs in its flower garden walk because of the pandemic, but left in place more than 50,000 tulips in its "Idea Garden" to give online viewers a taste of its allure.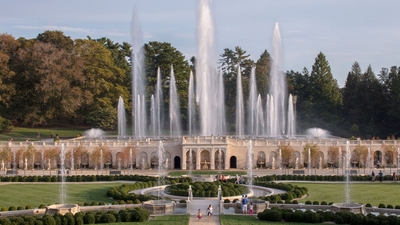 Longwood's Main Fountain
If you are not set on seeing spring, try
"Thousand Bloom Chrysanthemum,"
which explains how Longwood last fall achieved the stunning feat of growing 1,542 blooms on a single plant—a North American record—by bending stems into a plant cage, among other steps. And
"History and Tour of Longwood Water Gardens"
gives viewers rainbows, soaring fountains, water that spouts, rushes, cascades and drips over features including a water staircase, as well as looks at the linden-tree-flanked Italian water garden and the aquatic plants in the waterlily garden. There's also a peek at the colorfully lighted fountain shows and a snatch of a Gilbert & Sullivan performance at Longwood's open-air theater. When it's safe to go out again, you will want to visit Longwood—and any one of these gardens.