There's hardly a more rewarding aspect of travel than strolling a new locale, like a modern-day flâneur. The experience is especially sweet when you see something unexpectedly stunning, as I did some years ago in Riga, Latvia. I knew about its Art Nouveau district, yet when I came upon Albert Street, lined with pastel-hued buildings festooned with faces, figures, peacocks, flowers and other Art Nouveau motifs, I was stopped in my tracks by their beauty.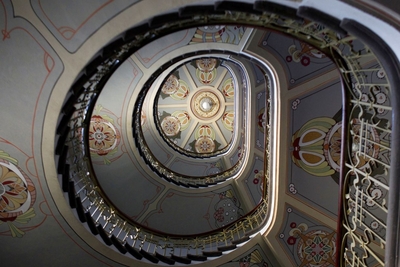 Riga Art Nouveau Museum (staircase)
Paris, Brussels and Barcelona are famous for their elegant, undulating Art Nouveau architectural treasures, but this style, which thrived from about 1890 to 1910, is prominent throughout Europe, in big cities and small towns alike. Many can be explored online—starting with Riga, which claims to have the largest concentration of Art Nouveau buildings in the world.
The Riga Art Nouveau Museum is particularly memorable. Once the home of architect Konstantīns Pēkšēns, it has a graceful façade decorated with plant and animal designs. The interior, including its spiral staircase—a delightful match of swirling and geometric patterns on the banister and the walls along the way—has been restored, room by room, to its glory days in the early 20th century, viewable in a photo gallery on the website. History tells us why that was needed: These beautiful rooms were requisitioned for communal housing during the Soviet occupation, each one assigned to a separate family.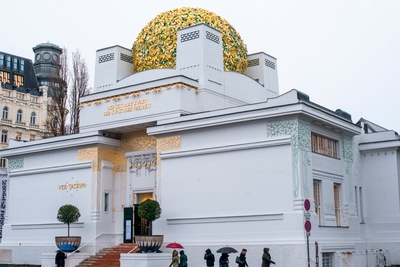 Vienna's Secession Building
To see other Art Nouveau edifices, you might start with a 55-minute documentary on YouTube called
"Art Nouveau Without Borders."
Partly funded by the European Union, this video focuses on cities in the Danube River basin, making stops from Vienna to Oradea, Romania. Well-narrated, the film briefly relates how Art Nouveau, which celebrates natural forms, originated in reaction and opposition to the stilted academic style of the 19th century. It also tells viewers the monikers used for the style in different countries, such as Jugendstil in Germany, Secession in Austria and Arte Joven in Spain; provides the names of leading architects; and showcases very impressive buildings, pausing at times for interviews with art historians.
The video visits well-known examples of Art Nouveau, particularly in Vienna. There's the white-cube Secession building, topped by a brilliant gold dome of laurel leaves, and the gorgeous Church of St. Leopold, whose white and gold interior is crowned by a mosaic depicting the ascension of souls into heaven.
Better yet, it highlights less-known sites, all in the former East Bloc. In Szeged, Hungary, Reok Palace is a curvy white building with columns, balconies, arched windows, and a façade decorated with a blue floral motif. In Zagreb, the Croatian State Archives building stands out for its exterior geometric ornaments and its rich interior, with colorful, lush murals. And in Subotica, Serbia, Raichle's Palace adds many folkloric touches, like a tulip-and-heart motif, to Art Nouveau conventions.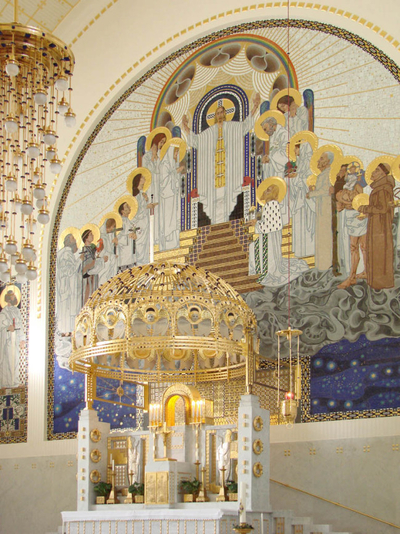 Interior, St. Leopold's Church, Vienna
You can also get glimpses of many fine Art Nouveau buildings, with their attractive, swirling details, in photographs by visiting just three good websites.
About 20 years ago, a group of local governments and cultural institutions formed the "Art Nouveau European Route" to promote this heritage. Its website offers a primer on this elegant style and a page linking to its 79 member cities, which now include some in the Americas like Cartagena, Colombia, and Havana.
Each one provides information and a photo gallery; a few also offer short videos dating to the 2014 World Art Nouveau Day. Click on Helsinki, for example, and a video takes you to an area of Art Nouveau residential buildings plus a six-photo gallery of examples. The page for Darmstadt, a charming small town south of Frankfurt, tells how in 1899 the Grand Duke of Hesse invited artists to form a creative colony there, thus becoming a center for Secession style. Along with nine photos, Darmstadt presents two 90-second videos, including one of aerial shots of the Mathildenhöhe area, where the artists worked, with especially good views of the unique five-fingered Wedding Tower, the Exhibition Building and the Russian church.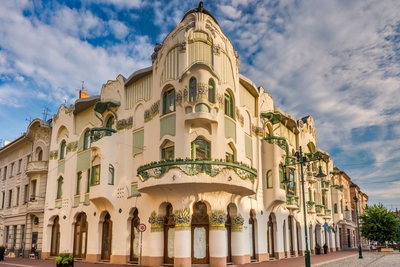 Reok Palace, Szeged
A smaller group of cities, the
Réseau Art Nouveau Network,
also has a website providing each member with a place for city information, photo galleries, and tourism information. Because the locations overlap, you can get a very good picture of Art Nouveau in, say,
Bad Nauheim,
a German spa town, by paging through the 30 photos on both sites combined. Many show the Fountain Court Bathhouse's richly decorated spa cells, waiting rooms and courtyards. The
Ålesund, Norway, pages
zero in on the Swan Pharmacy building in "perhaps Europe's most complete Art Nouveau cityscape," created after a fire completely destroyed a residential area.
Finally, you'll find panoramas of some buildings and cityscapes on 360 Cities. Searching "Art Nouveau" will call up plenty of results (Riga at the start). "Art Nouveau Barcelona" brings up a panorama of the glorious interior of the Palace of Catalan Music, as well as Antoni Gaudi's famed Casa Mila and Sagrada Familia, three stars among the many Art Nouveau examples that brighten our world.