The new San Francisco Museum of Art had recently opened on the fourth floor of the city's War Memorial Veterans Building with a tiny collection when, in March 1935, a founding trustee named Albert M. Bender wrote to his friend, the artist Diego Rivera, in Mexico City. Bender had donated 23 Rivera works on paper as part of his foundational gift and now, he said, the accession committee "would like one of your pictures." He asked Rivera to send him "a representation of your work at its finest and best" that Bender would then donate.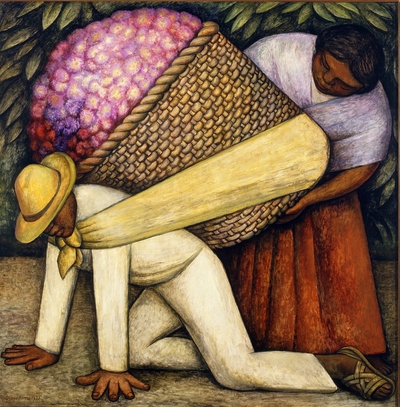 Rivera (1886-1957) chose "The Flower Carrier" (1935). Fresh off the easel, it became one of the first paintings to enter the collection of the first museum on the West Coast dedicated to art of the 20th century.
Today, what is now the San Francisco Museum of Modern Art ("modern" was added in 1975) owns more than 50,000 works, but "The Flower Carrier," which shows a peasant on his knees bearing a gigantic basket of flowers on his back, is still a star attraction.
Rivera's artistic talent was recognized early, and he learned academic art in Mexico as a youth. At age 20, he left for Europe, where he studied and met artists in Spain, France, Italy and elsewhere, discovering for himself art from Renaissance frescoes to modernism. He also painted, of course, and many of his Cubist works are striking. But he returned to Mexico in 1921 with something else in mind. The Mexican government wanted him to paint murals with nationalistic themes, and he wanted to develop and promote a Mexican style of art.
His approach was realistic, in its way. Especially early on, the influence of Cezanne, Gauguin and other Europeans on Rivera's work is sometimes apparent. But it also owes a debt to the flat, simple forms of pre-Columbian art and indigenous, folkloric art.
Before long, Rivera was famous, particularly for his murals, and despite his radical politics he was viewed in the U.S. as Mexico's greatest painter. In addition to the many mural commissions he gained here—including the ambitious "Detroit Industry" at the Detroit Institute of Arts and "Man at the Crossroads," slated for Rockefeller Center but destroyed because it contained a portrait of Lenin —Rivera was feeding demand for easel paintings. Some were portraits; many others involved peasants, especially indigenous women, and flowers, especially striking white calla lilies.
"The Flower Carrier" is different. It depicts a male peasant dressed in white, with a yellow hat, preparing to sell his flowers at a market. His bright pink and blue flowers are indeterminate and slightly abstracted; they exist elsewhere in Rivera's paintings only in small works, according to Maria Castro, an assistant curator at the museum. Unlike his sculptural lilies, they do not steal the viewer's attention—a choice that shifts the emphasis from the beautiful flowers to the people.
Rivera also decided to center the picture on the yellow flower basket, which is so large that the man can barely stand up. The woman in the scene, dressed like her partner in peasant garb, is ensuring that the yellow cloth holding the basket in place is secure. Both look down, neither meeting the eye of the viewer—a compositional decision that stresses their labor and their collaboration. Rivera reinforced that focus by monumentalizing these peasants, letting them occupy the entire frame except for a little foliage and bare ground.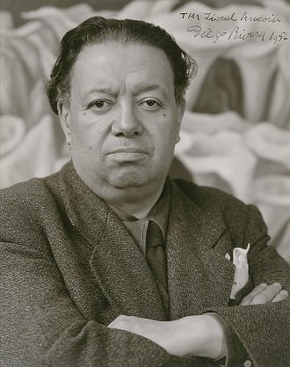 The painter
Nearly a perfect square, about 48 inches per side, "The Flower Carrier" was painted in oil and tempera on Masonite, giving it the feel of a fresco and linking it to those Rivera had studied in Italy.
"The Flower Carrier" typifies Rivera's mature style. He paints with earthy colors. His stylized figures are solid, very volumetric, in a scene that is nearly flat. His subjects are both real members of the working class and archetypes. Fittingly, his works are not majestic, not pretentious, but are nonetheless imposing, impressive in their simplicity.
To some, "The Flower Carrier" may seem less visually arresting than Rivera's works with calla lilies, but it better serves another purpose—carrying a strong message. Rivera strived to portray indigenous Mexicans sympathetically, capturing them going about their daily lives, with all its tedium and strain. He valorized their labor, highlighting their unheralded contributions to Mexico. He gave them dignity.
"The Flower Carrier" thus realizes Rivera's goal of communicating to Americans the beauty of Mexican society with margin to spare. There's little wonder why he sent it to the new museum via his friend Bender. In late August 1935, Bender sent a $500 check for it to Rivera, saying "I look upon it as one of your best panel pictures and worthy of a place in any museum in the world." A few days later, he wrote to Frida Kahlo, Rivera's wife, noting that it had been hung at the museum "where everyone who sees it is delighted with it." Many still are today.