By Her Hand: Artemisia Gentileschi and Italian Women Artists, 1500-1800 at the Wadsworth Atheneum Museum of Art in Hartford, Connecticut—an exhibition showcasing the talents of 18 under-recognised artists—just got a bit richer. Two pastels by Rosalba Carriera, one of the few women featured in the show who gained an international reputation while she was alive (1673-1757), were reunited with two more from the same series, creating the "only opportunity for the public to see an entire original set by the artist in the United States" said Oliver Tostmann, the European art curator at the Wadsworth. The quartet had been split apart a half century ago.
Carriera, initially a miniature painter, became famous for using pastels to create elegant portraits, as finished, nuanced and accomplished as oils. Kings and nobles commissioned works by her; Augustus the Strong—Elector of Saxony, King of Poland and Grand Duke of Lithuania—bought more than 100 of her works, many still part of the Dresden State Art Collections. Several museums own a work or two by her, though as light-sensitive pastels they are rarely on view.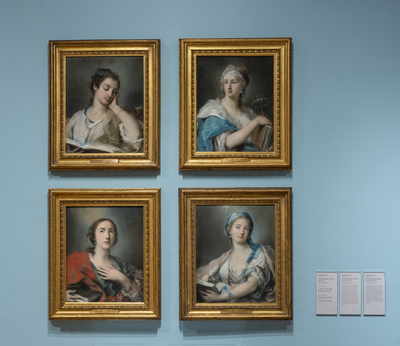 Usually her works are individual likenesses. But Carriera also occasionally created series of works, such as the four seasons. The quartet at the Wadsworth was created in the early to mid-1720s and depicts young, idealised women. The Muse Calliope (A Sibyl?) and An Allegory of Faith (A Sibyl?) were "rediscovered" in 1976 in the possession of a Venetian family. They were put up for sale at TEFAF-Maastricht in 2020, and sold to a Connecticut collector who wishes to remain anonymous. The Wadsworth borrowed them for By Her Hand and they are discussed in the exhibition catalogue.
When the two additional artworks—The Muse Urania (A Sibyl?) and The Muse Polymnia (A Sibyl?), which had been owned by another branch of the same Venetian family—were put on the market this past summer, the Connecticut collector bought them too. Soon, the loan for the Wadsworth exhibition was sealed, thus reuniting the set for the first time since the early 1960s.
According to Tostmann, "the complex iconography of the series is unusual and unique" and this mix of religious and secular figures deserves more study. "It is more likely that they depict four sibyls," he said. Yet there is little doubt that this is set, because the series was copied as such during the eighteenth century by an unknown hand, and the replicas are now in the collection of the Palazzo Ducale, Venice.