Chicago
The first painting visitors to "Cezanne" at the Art Institute of Chicago encounter is "Undergrowth (Sous-Bois)" (c. 1894), a pine-forest scene painted from a bit below the trees, gazing up, with a barely perceivable horizon, and formed from patches of distinct marks that suggest just a slight fluttering. Some elements, like a rust-colored mound on the left, take shape only from several steps away.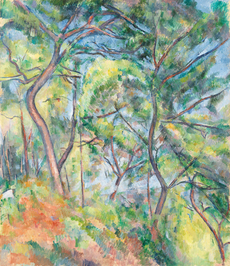 Undergrowth
It is an inspired choice. Unusually (then) for a landscape, it's a vertical canvas; it lacks a focal point; and it verges on being what later came to be called an "all-over painting," with the image spilling past the edges of the canvas. Every bit as perplexing as it is engaging, "Undergrowth" serves as an apt metaphor for Paul Cezanne (1839-1906) himself.
More than a century after his death, Cezanne and his art remain puzzling, often paradoxical. He created stunning landscapes, still lifes and portraits that are central to the story of modern art, yet he worked mostly in Provence, far in distance and spirit from the Paris art hub. He could, as two sketchbooks here demonstrate, render exceptionally skilled drawings, yet many works, particularly those portraying bathers, suggest otherwise. He left many works unfinished, deliberately skewed planes, and created compositions that can only be described as crude. How he used paint—the feelings evoked from brushstrokes on the surface—was more important to him than his subject. Subsidized by his banker father, Cezanne painted for himself, not patrons or the art market, yet he widely influenced other artists.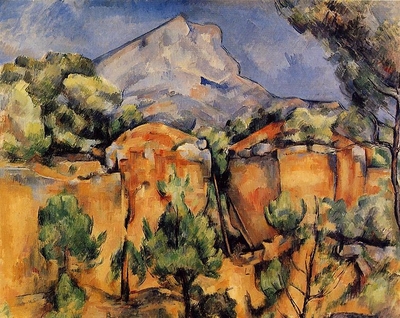 Mont Sainte-Victoire Seen From the Bibémus Quarry
"Cezanne," a retrospective of about 80 paintings, 40 works on paper, and two sketchbooks, presents him in all this complexity. The artist's first major retrospective in the U.S. in more than 25 years, the exhibit does not attempt to explain the unknowable but rather asks viewers to make their own judgments, to learn with Cezanne. What, for example, to make of "The Eternal Feminine" (c. 1877), which shows a faceless, deliberately badly painted nude woman surrounded by admirers, including an artist (possibly Cezanne himself) and a bishop? At a recent event for museum members, Gloria Groom, who curated the exhibition with Caitlin Haskell (and Natalia Sidlina, of London's Tate Modern, which will host the show beginning next October), called it "wackadoo" and deemed other works by Cezanne "deeply weird."
In fact, some of Cezanne's best-known paintings might fall into that category—like "The Large Bathers" (c. 1894-1905), on loan from the National Gallery in London, an imagined pastoral scene of 11 faceless female nudes at leisure on a beach, angled to align with their surroundings. Although their thick bodies seem distorted and are tinged with an eerie bluish tone, some scholars suggest that Cezanne was extolling our oneness with nature and cite it as one of his greatest achievements. Throughout his career, Cezanne experimented with this motif again and again; this exhibition alone displays 18 drawings, watercolors and oils of bathers—some powerful, some gauche, all enigmatic.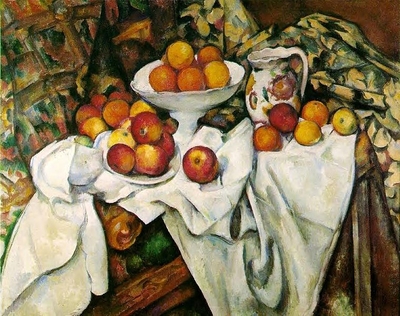 Apples and Oranges
But Cezanne, intentionally or not, also created many visually gorgeous paintings. "Apples and Oranges" (1899) ranks among his most impressive still lifes, even as it, too, breaks the genre's traditional mold. For his richly colored fruits, he staged an overflowing composition, arranged against a geometric-patterned carpet, leafy drapery and, between them, a snow-white tablecloth whose deep folds give it three-dimensionality. The pyramidal shape of the fruit display, underlain by the diagonal of the furniture, pulls the picture together. But this zingy, elaborate composition could not possibly exist in real life—some apples sit precariously on the edge of the table, the crockery tips unsteadily toward the viewer, and the tablecloth seems too sculptural no matter how much starch had been applied.
When he wanted to, Cezanne could also paint luscious portraits. "Madame Cezanne in a Red Armchair" (c. 1877)—a refined work with light that shimmers across her striped skirt—is one.
It would hardly be a Cezanne retrospective without some of his multitudinous views of Mont Sainte-Victoire, the peak that presides over Aix-en-Provence, Cezanne's hometown. Among the 11 on display, the best is the vibrant "Mont Sainte-Victoire Seen From the Bibémus Quarry" (c.1897). It's a bright sunny day and yet, while the quarry's richly hued orange and ocher rocks and emerald-green pine trees occupy more than half the canvas, Cezanne directs viewers to his subtle, reassuring blue-gray-pink mountain in the distance.
As part of the exhibition, the Art Institute has followed a recent trend by examining some of the paintings here scientifically, shedding light on Cezanne's work methods—for example, how he mixed and layered pigments to enliven the appearance of his paintings and how he made slight changes in various compositions.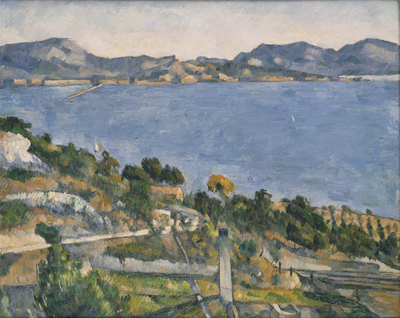 The Gulf of Marseille Seen from L'Estaque
The show also reveals how Cezanne attracted a following among fellow artists who didn't simply admire his works—they purchased them. His friend Camille Pissarro owned more than 30, according to the exhibition catalog, and Monet, 15. The curators have borrowed 17 works once owned by one artist or another—including Degas, Gauguin, Matisse, Picasso, Henry Moore and Lucian Freud. Seeing even this small sampling is fascinating. Jasper Johns, for example, owns a graphite, watercolor and gouache version of "The Eternal Feminine" (c. 1877); Gustave Caillebotte owned the very beautiful "The Gulf of Marseille Seen From L'Estaque" (1878-79), a harmony in cerulean blue and forest green, punctuated by tiny white sailboats. Many bought bathers or other nudes.
Exactly why artists, then and now, pay such homage to Cezanne relates to his devil-may-care attitude. His willingness to create art that is ugly, as well as art that is beautiful, and to defy other artistic conventions of the 19th century liberated them. Cezanne became known as an artist's artist. That same quality has made him a hard sell to much of the public. By acknowledging his mysteriousness, "Cezanne" may just bring more people around.