Hanover, N.H.
'MADAYIN: EIGHT DECADES of Aboriginal Australian Bark Painting From Yirrkala" presents artworks that are largely unknown in the U.S. While recent decades have cast light on the "dot paintings" made by Aboriginal people in Australia's western deserts, these works from northeast Arnhem Land in Australia's Northern Territory—also patterned, abstract, occasionally figurative, but visually very different—have had much less exposure. "Madayin" is the first major show devoted to them outside Australia, and is rightly proclaimed by Dartmouth's Hood Museum of Art as the "most important exhibition of Aboriginal Australian art mounted in the western hemisphere in over 30 years."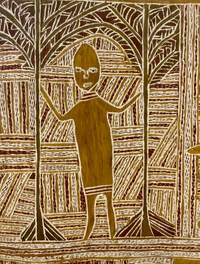 Detail
Nearly 90 works, painted on the inside bark of eucalyptus trees, line the galleries, grouped by each of the 16 clans represented here. As the wall texts explain, the artists are from the Yolngu people, and their paintings are considered to be family, part of a kinship system called
gurrutju
and linked by
raki
, which connects the land, sea, plants and all creatures. Within the Yolngu relational system are two complementary groups, called
moleties
, and people must marry someone from the other group. When they make art, each clan uses its own, distinct
miny'tji
, the design traditions that go back many millennia and that are deemed Madayin—both sacred and beautiful.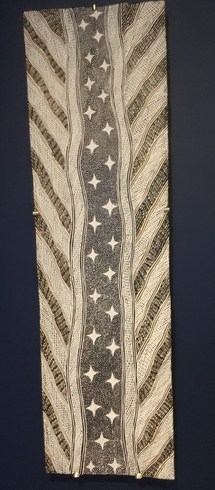 "Milky Way" (2003)
Perplexed? Don't worry. While these and other concepts are critical to Yolngu art, the curators offer help. Noting that they are sharing the paintings to provide an understanding of their world, Wukun Wanambi—a recently deceased artist who was part of the exhibition's large curatorial team—says in the opening wall text, "Like the surface of the water, beneath is an ocean of knowledge. We can only show you the surface."
The surface is spectacular. Ranging from 19 inches to 12 feet tall, these vertical paintings are rendered almost entirely in natural shades of white, ocher, gray, maroon, beige and black. Their fascinating designs draw in viewers, and their meanings—as inscrutable as they may be—cause observers to wonder and to linger.
At the simplest level, "Diamond" (2018) by Wurrandan Marawili depicts a dominating diamond created from small diamonds and, within them, tinier diamonds, arranged in lines and curves in a pattern that seems random. The motif is intended to analogize the infinite layers of meaning in the rhomboid form, which often has sacred connotations. But it's probably not that simple.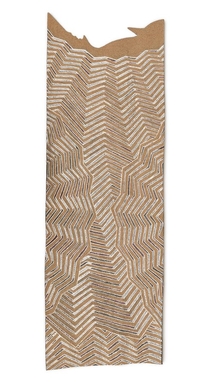 "Garraparra" (2018)
"Dugong at Baraltja and Yathikpa" (2017) by a fellow "Madarrpa" member, Napuwarri Marawili, similarly confounds. To Western eyes, it's an appealing abstraction confected from grays, tans and white—swirls, diamonds and curved lines that suggest nature. But as the label explains, it's actually a style of painting known as
buwayak
that hides figurative elements beneath traditional designs, with nary a clue for outsiders. When the initiated view "Dugong at Baraltja and Yathikpa," they will see 34 hunters of dugong, the marine animals that live in nearby seas.
It might be frustrating to fail to see these stories if their designs weren't so alluring. "Fish Trap at Gängan" (1996) by Gawirri Gumana and "Fire Story" (1969) by Wakuthi Marawil swarm with fish, ducks, tortoises and snakes, surrounded by rushing waters. "Naypinya" (1963) by Mithinari Gurruwiwi shows a speckled mother snake and her snakelets splashing in the water. "Rainforest I" (2017) by Mulkun Wirrpanda goes into the dense wilds to portray the edible flora that have always sustained the Yolngu.
Two beautiful works by Naminapu Maymuru-White gleam and pulsate with diamond-shaped stars. Both are titled "The Milky Way," which refers to the galaxy as well as to a river in Arnhem Land. In one (2003), the stars occupy a central, wavy band that resembles a river, with cross-hatched borders and angled branches flowing to the bark's edges. Ms. Maymuru-White's kin know the celestial Milky Way as the place to which souls ascend upon death, joining other creatures and manifesting as stars. Thus this work reflects on death and spirituality.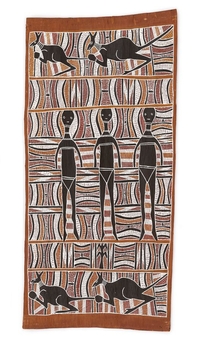 "Wuyal at Yanawai" (c. 1972)
Her other "Milky Way" (2019) is an all-over design, with large and small stars set against light and dark bands of gray, which might be the night sky or maybe the river, that convey the depth of the universe (or the river).
Attentive visitors to this exhibition may notice that the creativity on view seems to come in bursts—in the '60s, the mid-'90s, the late aughts. But the dates are misleading. In each of those periods, the Yolngu's rights to their ancestral lands were especially endangered, by mining interests, assimilation policies, sea-right claims or war. Believing that their art is the most powerful way to document that they have lived on their land since the dawn of creation, they chose to show it and sell it to Westerners to disseminate that message, and the Yolngu curators had those contentious times in mind. Henry Skerritt, curator at the Kluge-Ruhe Aboriginal Art Collection of the University of Virginia, which organized "Madayin" with the Buku-Larrnggay Mulka Centre in Yirrkala, said he watched ruefully as certain works were weeded out because of their dates.
It's hard to imagine more captivating works. Such revelatory exhibitions deserve to travel, and fortunately this one begins a nationwide tour after its time at the Hood. Watch for it; it's enthralling.