New York
I am Enheduanna, let me speak to you my prayer,
My tears flowing like some sweet intoxicant:
"O Holy Inanna, may I let you have your way?
I would have you judge the case."
Praying Alabaster Woman
Sometime around 2300 B.C., those words were composed by a writer in south Mesopotamia who, for the first known time in recorded history, anywhere in the world, asserted personal authorship. Enheduanna, which means "high priestess, ornament of heaven," was her name, and in her surviving works—three long narrative poems addressing Inanna, the goddess of sexual love and warfare, and several temple hymns—she also wrote vividly in the first person (another innovation) about her troubles, her doubts, her emotions, even a case of sexual harassment, thus pioneering the craft of autobiography.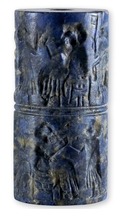 Lapis Cylinder Seal
The entwined stories of Enheduanna, largely unknown except to scholars, and of the life of women in the cradle of civilization, frequently ignored even by those scholars, unfold beautifully and convincingly in "She Who Wrote: Enheduanna and Women of Mesopotamia, ca. 3400-2000 B.C." at the Morgan Library & Museum. It's not an easy tale to tell visually. Cylinder seals, small (averaging 1 1/2-by-1 inches) circular barrels carved with intaglio images that leave designs in relief when rolled over wet clay, are the best surviving documentation of Mesopotamia. And only one certain image of Enheduanna exists, on the 10-inch alabaster "Disk of Enheduanna" (c. 2300 B.C.), where she appears, dressed in a circular headdress and tiered skirt, looking skyward toward Inanna, amid three priests, engaged in a ritual.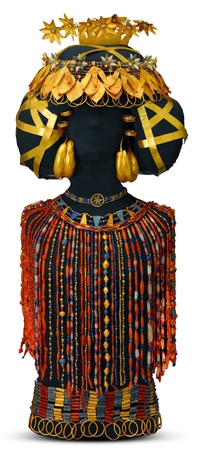 Puabi's Funeral Ensemble
But with 45 seals, displayed alongside modern impressions and photographic enlargements, plus nearly 50 vessels, statues and other objects, curator Sidney Babcock and research associate Erhan Tamur have surmounted the challenge. Nothing—not even the most spectacular objects in the exhibition, Queen Puabi's diadem, headdress, jewelry and cape of beads (c. 2600 B.C.)—detracts from the fascinating narrative surrounding it, and that's saying something. Puabi's dazzling funerary ensemble, a rich medley of gold, lapis lazuli, carnelian, silver and agate fashioned into leaves, rosettes, ribbons and loops, is among the most exquisite pieces excavated from the Royal Tombs of Ur, the city where Enheduanna lived some 300 years after Puabi.
"She Who Wrote" begins with images of women in the late fourth millennium B.C., when cities were starting to emerge in Sumer, in southern Mesopotamia, and Akkad, in the north, both in what today is Iraq. Two tiny objects—a smooth kneeling, praying alabaster female figure (c. 3300 B.C.), about 2 1/2 inches tall, and an even smaller seated seal amulet (c. 3300-2900 B.C.) of a woman with hatched hair crowned by a diadem, carved from rust-colored rhodochrosite—project outsize power. Laying a foundation for the rest of the exhibition, they suggest that Mesopotamian women were engaged in society, not segregated away.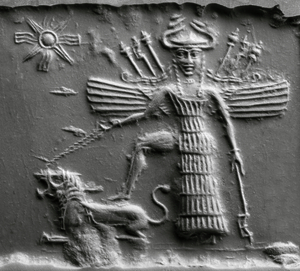 Image of Ishtar
Further evidence lies nearby in a "stone scraper and chisel" (c. 3000-2750 B.C.) inscribed with proto-cuneiform signs and symbols. It depicts a woman facing a bearded man holding a peg, engaged in what seems to be a real-estate deal where she is the probable co-seller. Remarkably, this everyday object records the first woman in history to be known by name, KA-GÍR-gal. On the scraper's reverse, several males gather without her in what may be a celebration of the transaction. But other objects show diversity in Mesopotamian festivities: A wall plaque with banqueters and musicians (2600-2450 B.C.) portrays a co-ed celebration, while a lapis seal (c. 2500 B.C.) found with Puabi depicts only women at a lively dinner.
The transfer of land, as well as houses and animals, figures in an alabaster stele (c. 2900–2600 B.C.) with a cuneiform inscription that also names the principals involved, including a female seller called Shara-igizi-Abzu. The stele also makes history in another way: It includes the earliest known signature of an artist, a man called Enhegal.
Enheduanna, who was the daughter of Sargon, the founder of the Akkadian empire, is present in the votive disk, in two statues of priestesses that resemble her, in seals bearing her name, and perhaps best through her writing. No originals of her texts survive, but scribes copied her words for generations after her death as part of their curriculum. Three clay tablets (1750 B.C.), densely inscribed in cuneiform and accompanied by translated excerpts, decidedly show her way with words. When Enheduanna describes her encounter with Lugalanne, whom scholars believe to be a nephew who tried to steal the throne and who pressed her to commit suicide, she writes lyrically:
I went towards light, it felt scorching to me,
I went towards shade, it shrouded me in swirling dust.
A slobbered hand was laid across my honeyed mouth,
What was fairest in my nature was turned to dirt.
O Moon-god Suen, is this Lugalanne my destiny?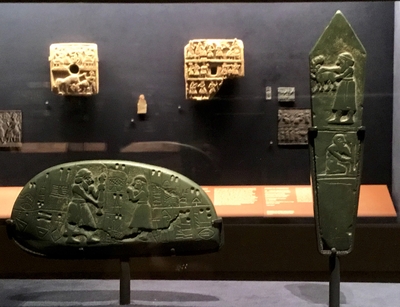 Real Estate Transaction
Elsewhere in this exhibition, visitors will see women, in a variety of hairstyles and dresses (frequently fringed or flounced), performing religious rituals, offering sacrifices, caring for a baby in the company of other mothers, playing musical instruments, and more. They will see the goddess Ishtar (the Akkadian name for Inanna) subduing a lion and destroying a mountain. They'll see men worshiping goddesses.
"She Who Wrote" is a unique, learned exhibition, but not an esoteric one. It leaves no doubts about the artistry and craftsmanship mastered by Mesopotamians, nor about the important place of women in their society.