The name of Pablo Picasso immediately brings to mind any number of paintings, styles and genres—his breakthrough African-influenced "Les Demoiselles d'Avignon" (1907), the antiwar "Guernica" (1937), his Cubist still lifes, the surrealistic portraits of his lovers, and on and on. What doesn't usually surface? Landscapes. The genre comprises just a small proportion of Picasso's lifetime output, perhaps 200 of his estimated 13,500 paintings, and none are well-known to the public.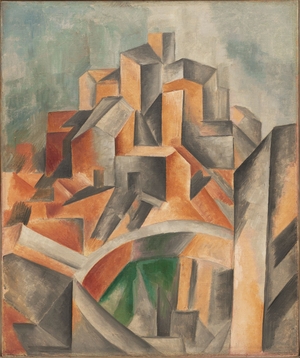 "The Reservoir"
Yet he painted landscapes all his life, beginning at art school and ending the year before he died, and a new exhibition examines this rarely explored territory and makes the case for the genre as a critical part of his practice. "Picasso Landscapes: Out of Bounds," opening on Feb. 11 at the Mint Museum in Charlotte, N.C., and later traveling to the Cincinnati Art Museum, pulls nearly 50 paintings out of the shadows, adding context with photographs, short films, postcards and other materials.
Picasso created landscapes even though, by the 20th century, they seemed to be a retro genre. Landscape had dominated 19th-century art, but once photography gained ground, it was interesting to artists only if they could take it beyond a literal view.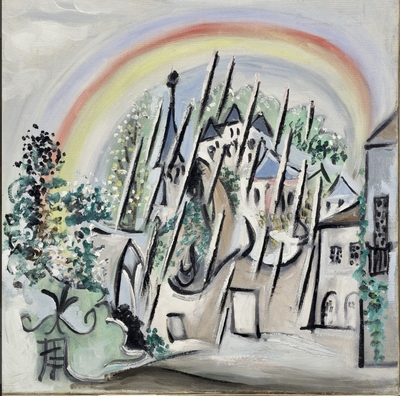 "Boisgeloup in the Rain, with Rainbow"
Laurence Madeline, the organizer of "Picasso Landscapes" and a former curator at the Musée Picasso in Paris, says that the artist used landscapes in several ways: to experiment with space, line and other formal elements of composition; to reflect on the urbanization and industrialization of France, his adopted country; to record his personal feelings and experiences about his environment; and to express his sorrow about war and the German occupation of France, among them.
The chronological exhibition begins with "Mountains of Malaga," a small, traditional, almost barren painting of Picasso's Spanish birthplace, painted in June 1896, when he was 14. The next year he painted "Grove" (1897-98), a verdant view of sturdy trees. Like his later "Snow Landscape" (1924-25), made when Paris was covered with snow, these paintings mirror Picasso's personal surroundings.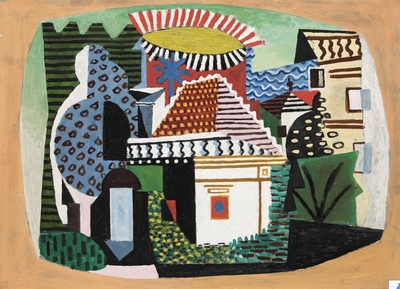 "Landscape of Juan-les-Pins"
Around 1909, Picasso used landscapes--though not exclusively--to work out aspects of what became Cubism. Picasso had already drawn on Cezanne's simplified, modular forms for scenes he painted in 1908. Then he created "The Reservoir, Horta de Ebro" (1909), considered by some scholars to be his first truly Cubist painting; it incorporates all of the style's hallmarks—geometric shapes, flattened, interlocking planes, multiple perspectives and a limited palette.
In other landscapes, Picasso reflects his feelings about his environment, including angst. In 1958 he painted "Bay of Cannes," a lush scene foregrounding palm trees and villas, with modern, linear buildings rising in the distance. Just two years later, he completed "View of Cannes at Dusk," which depicts—through the window of his studio—a large crane looming over the construction of even more buildings that would block his view. As the population of Cannes grew, he also painted landscapes of its outlying areas that raised alarm about human encroachment on nature. "You can see he was questioning the new landscape" of Cannes, which he soon left, says Ms. Madeline.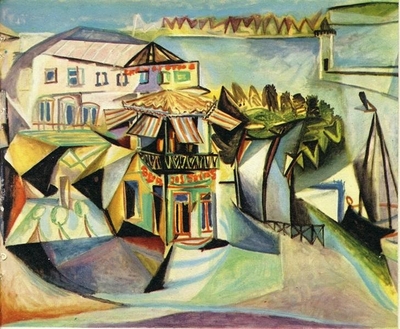 "Cafe in Royan"
Picasso's attachment to his habitats is clearly on view in other examples in the exhibition. During World War II, he fled Paris for Royan on France's Atlantic coast, where he painted works like "Café in Royan" (1940)—a colorful landscape that scholars say does not yet reflect his dark view of the German occupation. After the war, he was back in Paris to capture "View of Notre Dame, Paris" (1945), a bright, schematic picture. "Notre Dame was a symbol of the liberation of France, one of the first buildings where the tricolor would be hung," Ms. Madeline notes.
Picasso's final "Landscape" (1972) is among his most significant. By then he was mainly painting figures of musketeers and women, "but he never forgot his landscapes," Ms. Madeline says. The loosely constructed work, which combines fragmented elements from both real and invented places—some unrecognizable—seems to be a comment on the state of the world he was soon to leave. He died the next year.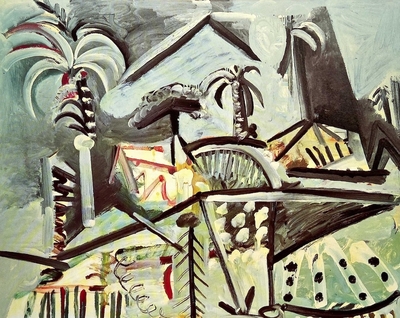 "Landscape" (1972)
The Mint Museum's exhibition is part of a year-long commemoration of the 50th anniversary of the artist's death, "Picasso Celebration 1973-2023," which will include some 50 exhibitions and events in Europe and North America. Topics range from "Picasso and El Greco," opening in June at the Prado in Madrid, to "Young Picasso in Paris," opening in May at the Solomon R. Guggenheim Museum in New York. The Museum of Modern Art and the Metropolitan Museum are among the other institutions taking part. The celebration will end in December with an international symposium in Paris.