Nearly four weeks after Luc Bondy's version of Puccini's "Tosca" opened the Metropolitan Opera's season, Bondy is still on the defensive, and so is Met director Peter Gelb--as they should be. In every performance, the boos keep coming from the audiences, and there's nothing to suggest they won't be there again next Saturday night and next spring, when this "Tosca" returns to the stage.
Bondy is now taking a "blame the audience" stance. At a Creative Time panel at the New York Public Library last Thursday, he retorted, "I was scandalized that they were so scandalized. I didn't know that 'Tosca' was like the Bible in New York." Gelb was there and agreed, saying that an opera was not a "religious manuscript." By staging work like Bondy's, he added, he was simply trying to keep opera alive and vibrant. Gelb's subtext, of course, is his attempt to attract new audiences with new works.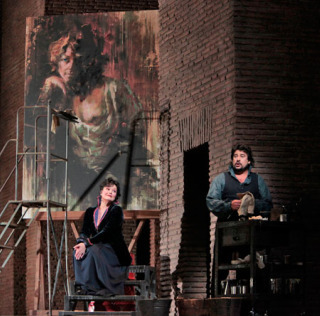 Luc Bondy's Tosca, Courtesy Metropolitan Opera
Trouble is, neither Bondy nor Gelb seem to be addressing the real issues--the quality of Bondy's version and the soundness of Gelb's formula.
To review: soon after taking over as the Met's general manager in 2006, Gelb decided that Franco Zefferelli's 1985 classic version was too retro, and hired Bondy, a Swiss director, to re-envision the work. Bondy promptly took liberties, adding violent and lewd touches common in Europe but not so much here. They included, for example, the addition of not one, but three, prostitutes to simultaneously service the villain, Scarpia. Among other things, Bondy also invents a scene where Scarpia sacrilegiously embraces a statue of the Madonna, and he ordered up a portrait of Mary Magdalene that is too erotic to ever be found in the requisite church setting (it gets stabbed). And his sets were starkly minimal.
Audiences weren't the only ones distraught by the revisions; so were most reviewers. In the New Yorker, critic Alex Ross wrote, "once Bondy is safely on the plane back home, it should be relatively easy to devise new stage business to replace his lamer notions." Even the singers dissed Bondy's version: tenor Marcelo Alvarez likened it to a car wreck, and soprano Violeta Urmana said she thought she'd signed up for the Zefferelli production.
Bondy and Gelb may try to blame the criticism on New York's stuffiness (since when?). But maybe it wasn't the novelty of Bondy's "Tosca" but his sensibilities, or lack thereof, that continue to dismay the audiences, not just the swells who turned up on opening night at up to $1,250 a pop. They seem to be saying that his changes detracted, rather than enhanced, the music and the libretto, and that the revisions weren't any good.
These director-driven productions always seem to hinge their changes on shock value. But must "new" always mean vulgar? If it does, what's new about it? Why is "edginess" usually the sole--or, at least, the main--lure for new audiences?
Not only is this unlikely to be true, it also carries a danger. As Alvarez implied, people may go to see gore and sex, but that doesn't mean they are becoming opera-lovers. It will take ever more "shocking" versions to keep them coming back; meanwhile, the core audience may flee.
Gelb's rationale has another problem. Who says that "innovative" reinterpretations of classic works automatically attract the hip, young people that seem to be the be-all, end-all of cultural organizations? Is it not condescending to suggest that work created before their time is off-putting or uninteresting to young people? They still appreciate a van Gogh, don't they? And in recent weeks, the Metropolitan Museum has attracted hordes of people, young and old, to see Vermeer's "The Milkmaid," from 1657-58, and Michelangelo's first painting, "The Torment of St. Anthony," made in 1487-88.
This "new works = new audiences" equation is simply lazy thinking, especially when the works themselves aren't new, but rather re-envisioned old ones. The Metropolitan Opera is not alone in holding it dear: Theater-goers, too, are often put off by tasteless re-stagings of classics.
As for real new works, playwright Theresa Rebeck recently took up that subject, questioning why "new" had to mean a rejection of the past. Writing on a blog for the Lark Play Development Center, she said, "This is my worry, honestly: In the current environment, when young writers are being encouraged to stay away from anything 'conventional,' are we perhaps falling in love with a kind of playwriting that frankly just doesn't work? Are we judging too harshly plays that do work? And how does the audience fit into this discussion? Does it?"
It's time for some second thoughts, some truly creative thinking, about keeping opera and other arts alive, before too much damage is done.