Think a minute, then name an outdoor sculpture in Manhattan. Chances are, you chose the gilded image of Prometheus at the heart of Rockefeller Center, in the lower plaza between the Channel Gardens and the 70-story central skyscraper, 30 Rockefeller Plaza. Situated in a gray granite fountain, he presides over the ice-skating rink in cold months and an outdoor restaurant in warm ones. He is visible from Fifth Avenue a half block away. And when the towering annual Christmas tree is placed in the plaza above him, he seems to light it with his ball of fire.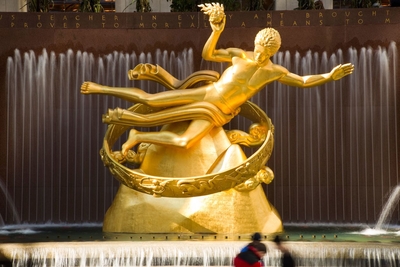 Prometheus' flame, or more precisely his role as the Greek titan who stole fire from the gods of Mount Olympus and gave it to humans, is partly responsible for his prominent position there. In conceiving his urban commercial complex, John D. Rockefeller Jr. wanted to celebrate civilization, human achievement and the promise of the future. From the start, his architects and designers intended to integrate art heralding those goals and values throughout the complex. So when Paul Manship proposed a sculpture of the god who, by sharing fire with man, gave us the means to survive and to progress, the idea seemed perfect.
Manship (1885-1966), a son of St. Paul, Minn., was also a natural to create this central piece of art, which was completed in 1934. At the time, he was the country's most famous sculptor and by some accounts among the highest paid artists in America.
He had started out influenced by the expressive naturalism of Rodin. But after spending three years at the American Academy of Rome and taking several sojourns in Europe, Manship had developed his own recognizable Art Deco style that drew on Greek and Roman sculpture, plus Indian art. He made artworks that are fluid, with strong, defined lines and stylized elements. They are representational, and sometimes playful. He was partial to classical themes and to animals—like "Day" (1938), featuring the sun god Helios dashing into the future, at the Smithsonian American Art Museum, and his friendly "Group of Bears" (1932, cast 1963) at the Metropolitan Museum of Art.
It's a very serious, and very handsome, Prometheus that Manship fashioned. He chose to depict the moment after the titan has stolen the fire and is descending to Earth, signified in the sculpture by the summit behind him, and by the sea as portrayed by the pool beneath him. Prometheus, eyes wide open, looks down toward his destination. His youthful, strong-featured face betrays not worry exactly, but acknowledgment that he will face consequences from an angry Zeus, who did not want mankind to rival the gods in any way. But Prometheus is determined to give humanity the flame in his right hand, held above his head, almost triumphantly. With his outstretched left arm, he balances himself—and Manship balances his heroic sculpture.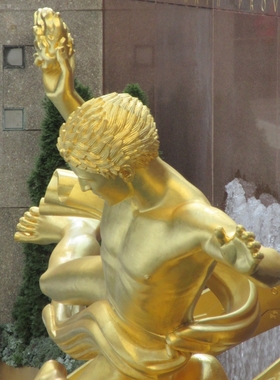 Prometheus' lithe body has just enough details—visible ribs and biceps, high cheekbones, a chin crease, and beautifully stylized hair arranged in small, ribbed, pointed patches that echo the flame—to be a real titan. (Manship modeled him on Leonardo Nole, a 26-year-old son of Italian immigrants.) Manship conveys motion with the curled draping he swirls around Prometheus' nude body, paralleling his right leg. He uses the draping to create a sense of energy in the sculpture, which was cast in bronze, covered with more than a pound of gold leaf, and weighs eight tons.
Manship added to the 18-foot-tall sculpture's volume—and presence—with a third design element: a thick ring embellished with the signs and symbols of the zodiac. It represents the heavens Prometheus traverses to reach Earth.
Manship's long career had its ups and downs. At times, some critics thought his works were too facile, too decorative; others saw him as out of step with the modernism of abstraction. Prometheus, though, was made at a peak of his career. In addition to exemplifying his style and his unparalleled craftsmanship, the sculpture perfectly satisfied the planners' novel desire to make art integral to their planned environment—to which Manship was sensitive. Originally, for example, he made two smaller figures—Youth and Maiden—for two ledges in the red granite wall behind Prometheus. When he saw them installed, he realized the ensemble didn't work and they were removed to other places (currently, pedestals at the head of the stairs that descend to the lower plaza where Prometheus resides).
Manship also added an element to the whole: He suggested the quote from Aeschylus that is carved in bold capital letters on the wall behind his work, strengthening its seamless link to its setting: "Prometheus, teacher in every art, brought the fire that hath proved to mortals a means to mighty ends."
Manship thus delivered a powerful piece of statement art. Even among all the other public artworks (more than 100 pieces commissioned from more than 40 artists) that were incorporated into Rockefeller's model development—other free-standing sculptures, murals, reliefs, mosaics, enamel works, bronzes plaques, ceramics, carpets, wall fabric coverings, landscaped gardens and fountains—Prometheus stands out. He is a marvel within a larger urban marvel.