Landlocked at the center of Central Asia, hidden behind the Iron Curtain as part of the Soviet Union, then ruled by a former Communist Party boss for a quarter-century until 2016, Uzbekistan is largely unknown in the West today. A sweeping new exhibition in Berlin aims to change that. Following outreach by Uzbekistan's current government in late 2018, negotiations that included a state visit to Tashkent by German President Frank-Walter Steinmeier, and years of planning, "Archaeological Treasures of Uzbekistan: From Alexander the Great to the Kushan Empire" will open in two venues on Berlin's Museum Island on May 6.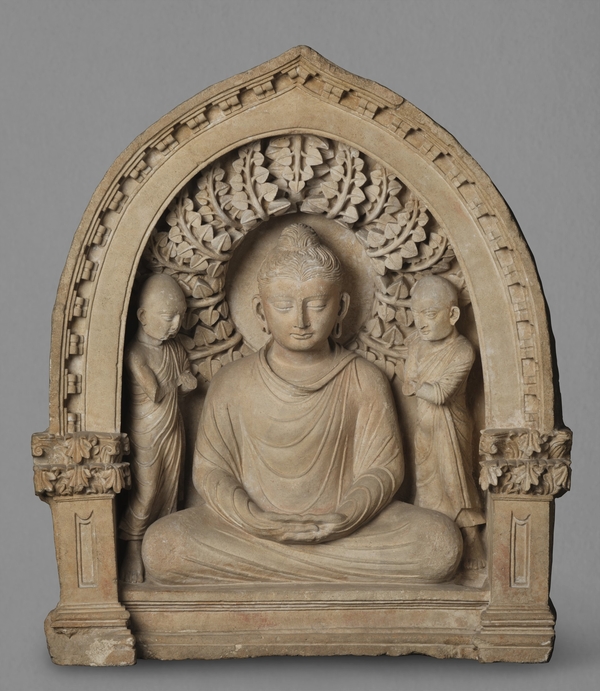 Buddha with Monks
The show includes about 350 objects—many of which have never been shown publicly in Uzbekistan, let alone outside the country—covering a period of eight centuries, from the 4th century B.C. to the 4th century A.D. Manfred Nawroth, a senior curator at the State Museums in Berlin who organized the exhibition, explained that the time span made it possible to spotlight both an extraordinarily important era in the region's history, when Alexander's conquest led to a pronounced Greek influence in Central Asia, and the visually enchanting artifacts of the area's early Buddhist culture.
Parthian Prince
The first section of the show, at the Neues Museum, chronicles Alexander the Great's military campaign from Macedonia to Bactria, an ancient empire that included parts of present-day Uzbekistan. Recently excavated items provide physical evidence of Alexander's presence in the area for the first time. They include weapons, a helmet fragment and ceramic vessels that held food and wine, found at two newly excavated 4th century B.C. fortresses in southeastern Uzbekistan. Diggers at the fort in Kurganzol turned up a surprising if mundane item: a fired clay bathtub like those typically used in Mediterranean lands. It is the first one found in Central Asia, Mr. Nawroth said: "That culture of taking a bath was new in this area, and it's very special to present it here as a piece from daily life."
At Berlin's nearby James-Simon-Galerie, the exhibition's second part presents what Mr. Nawroth calls "overwhelming artworks" made by the Kushans, a nomadic people from northwest China that founded an empire in what is now Uzbekistan. Among the many notable items, all dating from around the 1st century B.C. to the 1st century A.D., is a carved limestone "Seated Buddha With Monks" in excellent condition. It portrays the Buddha sitting placidly in a lotus position, looking down in meditation, at the center of a pointed niche that is decorated with a shrub, almost giving him a halo. He is flanked by two small, standing monks. Another piece, the fragment of a larger sculpture, shows a weathered, half-length Bodhisattva with draped clothing and designs around his collar.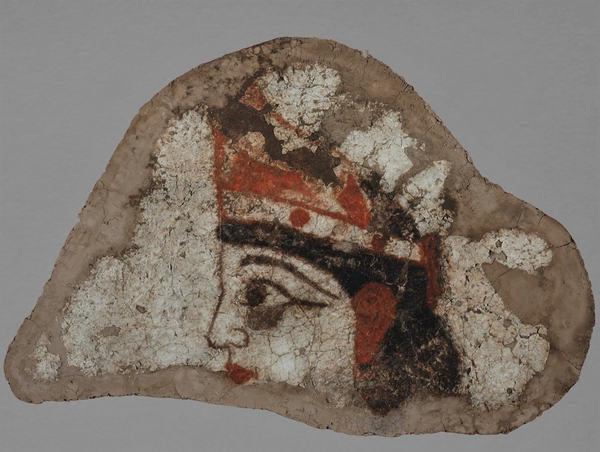 From the gallery of kings
There's also a group of wall painting fragments that portray priests or kings, with one wearing a diadem. Another painting fragment depicts the head of a man holding a child over his shoulders.
As at many ancient finds, archaeologists at Uzbek sites also discovered gold. A settlement called Dalvarzintepa, near the present-day city of Denau, yielded a trove of jewelry, engraved ingots and other small items totaling about 80 pounds. Some of the items have traveled to Berlin, including an outstanding necklace formed of round, gold ribbons and a clasp inlaid with turquoise and almandine.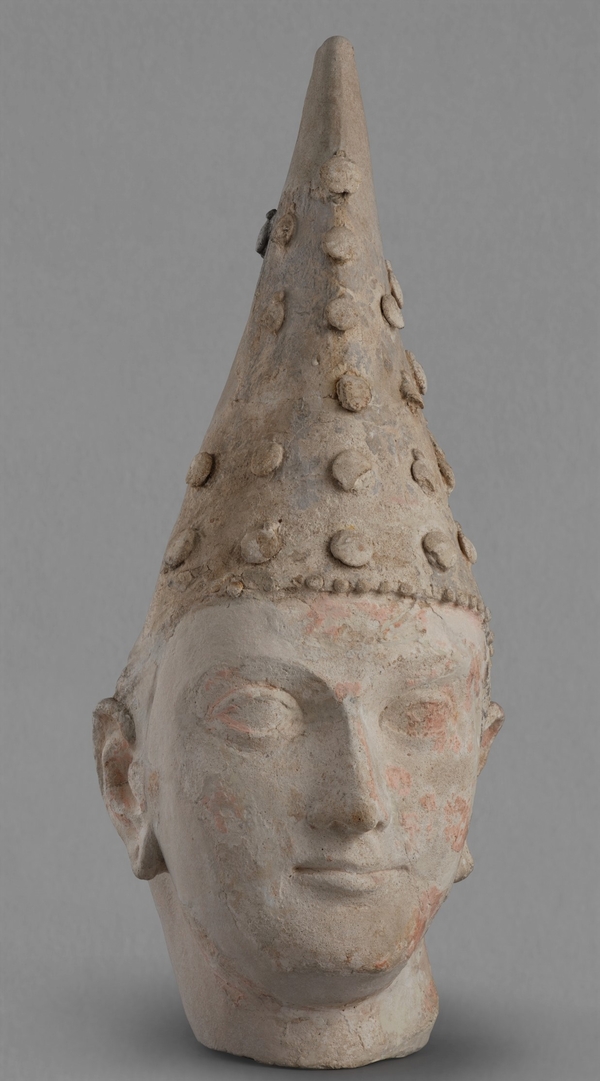 Prince
In addition to the objects, "Archaeological Treasures of Uzbekistan" will present specially produced videos of seven archaeological sites, including footage taken by aerial drones, as well as photographs, drawings and computer animations. "For us, it's very important not just to transport the high-quality objects here, but also to give their original surroundings as best as we can," Mr. Nawroth said.
The exhibition ends with painted, unfired clay sculptures of men, probably warriors or rulers, found in a palace in Khalchayan. One, wearing his hair long and sporting a pointed beard, is believed to be a ruler from the Parthian dynasty; another, with slicked-back black hair and a distorted face, looks like a wounded warrior. They have been partially destroyed by time and nature, Mr. Nawroth said, but they are still "so accurate you can see faces. You can see beards, noses."