VINCE GILL was there, singing about his wife's smile. Emmylou Harris started off with "Love Hurts." Jason Aldean sang "Big Green Tractor," and laughed about hitting the big time with a tune about a farm vehicle. Late last month, they and a handful of other country music stars were gathered in a Times Square theater for a "guitar pull," an improvised concert at which anything might happen.
On this particular night, the guitar pull was far from aimless, though. It was "All for the Hall" — a benefit for the Country Music Hall of Fame and Museum, which, like all good country music songs, has a strong story line of its own. It's one that is rare among cultural institutions.
At a time when the troubled economy is causing many museums to pull back, the hall is blasting ahead with an expansion that will more than double its size to 350,000 square feet. It has raised $71.6 million, including a $4 million gift from Taylor Swift, in a $100 million capital campaign.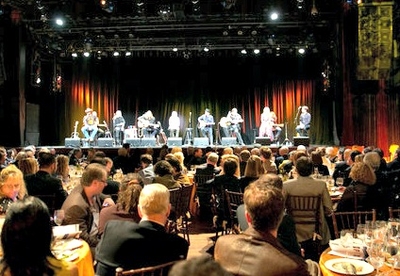 Notably, the project depends on a public-private financial deal orchestrated by Nashville's mayor, Karl Dean, that will structurally connect the hall to a new Omni Hotel, which is adjacent to the city's new $623 million downtown convention hall, Music City Center.
The hall's day-to-day operational model is equally unusual. Instead of relying heavily on donations, it typically draws more than 70 percent of its operating budget from admissions, retail sales, events, building rentals and food and beverage sales. Last year, those activities contributed about 85 percent of a $12 million budget. "We've known no other way," said Kyle Young, the museum's director since 1999.
That is far from the way most museums operate. Although there are no reliable industry statistics on the subject, Dan L. Monroe, executive director of the Peabody Essex Museum in Salem, Mass., and a former president of the Association of Art Museum Directors, said that the highest earned income he had ever seen was about 40 percent. Museums cover the rest of their expenses with donations, endowments and, sometimes, government support.
Nor would many museums want to depend so heavily on earned income. It's too unpredictable, too dependent on attendance. Museums employ highly educated staffs that, years in advance, organize special exhibitions (with high attendant costs like insurance, scholarly catalogs and so on), acquire expensive art and conserve objects in their collections, among other things. "The financial dynamics of the Country Music Hall of Fame and Museum are dramatically different than the financial dynamics at art museums," Mr. Monroe said.
David Gordon, a former director of the Milwaukee Art Museum and the Royal Academy in London, says the hall's model is applicable only "to something like country music that already has more popular appeal than fine arts."
Mr. Young, who started at the hall as a ticket-taker more than 30 years ago and never left to get the law degree he had planned, agrees to some extent with Mr. Gordon. "We are dealing with rich, rich subject matter — this is art from the working man, and it gives the material broad appeal," he said.
Still, he added, "museums could be a lot more creative about the way they do earn money." The hall is not just a shrine to its members, each of whom has a bronze plaque engraved with his or her likeness, arrayed in a soaring rotunda, or a place to hear music. "People always forget the other half of our name, 'and Museum,' " said Steve Turner, the board chairman. Accredited by the American Alliance of Museums (unlike the Rock and Roll Hall of Fame, the Experience Music Project and the Grammy Museum), it has a curatorial staff of 14, out of a full-time staff of 75.
While the hall does hold many performances in a 213-seat theater, people also come to see the collection, which has more than two million items and grows every year, largely through donations. Among them are Maybelle Carter's 1928 guitar, Bill Monroe's 1923 mandolin, and dozens of other historic instruments; Dolly Parton's handwritten lyrics to "Jolene"; documentary footage of Marty Robbins, Jimmie Rodgers and Carl Smith, among others; clothes worn by the likes of Roy Rogers, Minnie Pearl and Faron Young; and Thomas Hart Benton's final painting, "The Sources of Country Music," commissioned by the museum in 1973.
The museum also mounts changing exhibitions, on subjects like Patsy Cline and the Bakersfield Sound. And it operates RCA Studio B, where stars recorded hit after hit, including Roy Orbison ("Only the Lonely"), the Everly Brothers ("All I Have to Do Is Dream") and Don Gibson ("Oh Lonesome Me"). Elvis Presley alone recorded 150 tracks there.
Last year, attendance hit 564,777, the largest in its 45-year history. That is what drives revenue. Admission, $24 for adults, plus $11 for those touring Studio B, is the source of about 40 percent of the hall's revenue, compared with 10 percent at best for most art museums.
"We started looking at a diverse revenue base in the '80s, as a way to build equity in the brand and earn revenue," Mr. Young said. The hall rents space to a couple of hundred events every year, which last year brought in 7 percent of the budget, and operates its own museum store and restaurants, which together accounted for 31 percent.
"We need to own whatever we can," Mr. Young said — in contrast to museums that rent their space to restaurateurs, for example. "Part of our guiding philosophy is having a great staff and great management. We operate in the black because we keep a keen eye on expenses."
The Hatch Show Print shop, which has been making letterpress posters for entertainment acts for decades, is a management case in point. When the Gaylord Entertainment Company gave it to the hall in 1992, it was losing money. Last year, it made nearly $1 million in profit. It's being expanded — not just to increase sales, but to accommodate more school groups and add fellowships for young artists who want to experiment with a printing process that is more than a century old.
When it opens next year, the bigger hall will have more room for exhibitions, classrooms, archives and just about everything else, including an 800-seat theater. Mr. Young expects his budget to grow to $40 million. If all goes as planned — "They are going to double attendance," Mayor Dean said — the hall will continue to use the same business model, perhaps with a few tweaks. Mr. Young is courting the local audience, now just 8 percent of the total, in part to gain a donor base. And he wants to build an endowment.