A massive, six-ton Chinese scholar's rock from Lake Taihu—known for its gnarly, naturally eroded limestone formations that are prized for their unique beauty—will soon be installed at the San Antonio Museum of Art at the edge of the city's popular River Walk. The story of how the gift from Wuxi, China came to Texas can be summarised by the biblical saying: "Ask and you shall receive".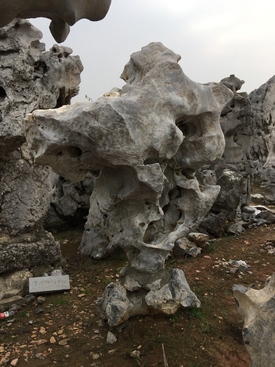 The rock
To help celebrate San Antonio's founding three hundred years ago as an administrative center for the former territory of New Spain, city officials invited representatives from its sister cities around the world, including a delegation from Wuxi. When they arrived last May, the Wuxi group asked for a tour of the museum and its director Katherine Luber obliged. Knowing that Wuxi was near the source of Chinese scholar's stones, she made a low-key request after the tour. "I said: 'We'd like a Taihu Lake rock; we wish we had one, and they said: 'We'll give you one,'" Luber recounts.
The request was not accidental. Shawn Yuan, the museum's assistant curator for Asian art, knew that only a few American museums owned large-scale scholar's rocks and he, along with Emily Sano, the senior advisor for Asian art, planted the seed in Luber's mind. "We have a good collection of Asian art, especially Chinese art," Yuan says, "so having a scholar's rock would [show] the community that the museum has beautiful Chinese objects."
The Chinese began appreciating and collecting scholar's rocks around two millennia ago. The objects became even more important during the Song dynasty, when the highly creative Emperor Huizong (who reigned from 1101 to 1126) both collected and made ink paintings of them, cementing their place in the artistic imagination of China, says Li He, the associate curator of Chinese art at the Asian Art Museum in San Francisco. The stones have always had imperial connotations, she adds, and symbolise "all under heaven," or the world in miniature, inspiring scholars, poets and painters. They continue to figure prominently in traditional Chinese gardens.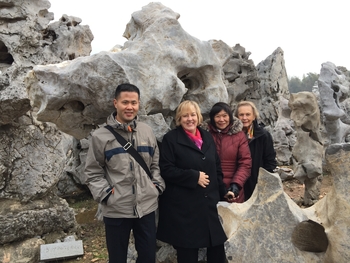 Yuan, Luber, Sano and Laird
Many museums have small scholar's rocks, but Yuan points to the Metropolitan Museum of Art in New York, the Museum of Fine Arts, Boston, and the Huntington Library in Pasadena, as among the handful with large examples. Even San Francisco's Asian Art museum does not have room for one. "The fact that the San Antonio museum has a place for it is wonderful," says Robert Mintz, the deputy director for art and programmes there. "Everyone will understand the power of a big rock."
San Antonio's rock is 12 feet tall and 8 feet wide, mostly gray with lighter veins, and shaped like an inverted triangle, Sano says. It was chosen by Luber, Sano, Yuan and the museum trustee Rosario Laird, who had been invited by Wuxi's vice mayor, Liu Xia, to pick their own rock from a group assembled by the Chinese city's Garden Bureau. On 12 December, the trio travelled three-and-a-half hours by car from Wuxi to roam a rock yard along the side of Lake Taihu. Luber says the scene looked "like a moonscape" with boulders that "are huge—ours is not that large, compared to what's there."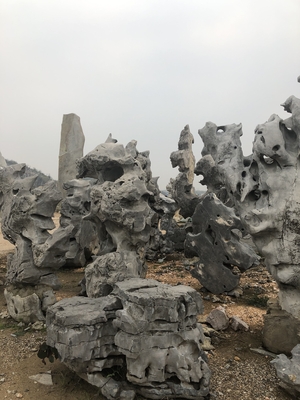 The rock yard
Collectors generally appreciate a rock's form and the "ineffable thing called spirit," Sano explains. "We liked the shape of ours right off. It's like a cloud or plume rising up, with holes of different sizes created by centuries of water flow." Still, they walked around comparing shapes and discussing the merits of other possibilities before making their final call. While in China, Luber also reached a verbal agreement with museums in Wuxi, Shanghai and Suzhou to plan an exhibition on scholar's rocks and to start a project on the history of the rocks.
San Antonio's rock will travel by ship from Shanghai, probably landing in the port of Houston, then reaching its new home on the River Walk by truck sometime in the first half of 2019. There, everyone who passes by will be able to see it—a new lodestone for the museum.