St. Louis
'Paintings on Stone: Science and the Sacred 1530-1800," on display at the Saint Louis Art Museum, starts out strong, with "The Minions of Henry III" (c. 1570), a stunning image by an unknown artist in the Fontainebleau School, possibly Lucas de Heere. A close-cropped view of three effeminate men in profile, dressed in pearls, curls and sumptuous striped garments, it depicts the French king's male lovers, crisply portrayed in oil on slate. It's a seductive introduction to an exhibition whose thesis may seem esoteric to a public more attuned to image than materials.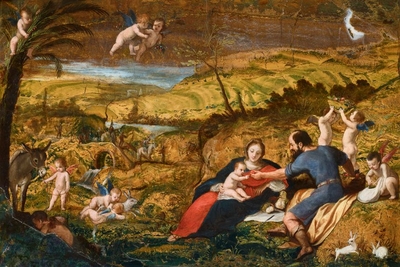 Stella's "Rest on the Flight Into Egypt"
The practice of using stone as a support for paint, instead of wooden panel or canvas, dates to antiquity, but it lost favor until late in the Italian Renaissance, when Sebastiano del Piombo developed methods that improved the adherence of paint to stone. At first, as "The Minions" and Sebastiano's own straightforward, oil-on-slate "Portrait of Ippolito de' Medici" (1530s) illustrate, artists painted over the entire stone, making no use of potential visual effects. Stone was valued for its enduring quality, which assigned a kind of power and permanence to the artists' subjects.
Very soon, though, the artworks got more interesting and the exhibition, curated by Judith W. Mann, gets even better. By the 1590s, artists were looking at slate, marble, lapis lazuli, agate, amethyst, alabaster, obsidian, onyx, jasper, limestone and porphyry to envision a new kind of painting. In these works, they left portions of the stone bare and used the colors, striations, glints, contours and other natural features of stone as compositional elements.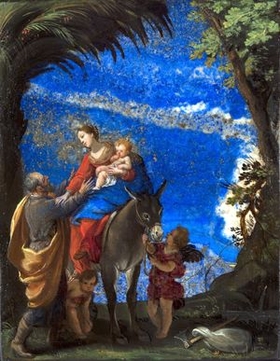 Stella's "Rest on the Flight Into Egypt"
Lapis lazuli provided a perfect stand-in for sky and water. Artists like Giuseppe Cesari (known as Cavaliere d'Arpino) took advantage of the stone's intense blue hues in "Perseus Rescuing Andromeda" (1593-94). More creatively, Jacques Stella turned his slab for "Rest on the Flight Into Egypt" (1629-30) into a brilliant night scene: His lapis sky is bisected by a white streak—formed by the stone's calcite—resembling a meteor shower. A larger patch of calcite suggests the bright glow of the moon behind a tree. And Mary and Jesus are given natural (if irregular) halos by glimmering gold pyrite specks in the lapis.
Other stones presented different opportunities. When Orazio Gentileschi chose golden alabaster for his "Annunciation" (1602-05), he placed the Angel Gabriel on the left in a whorled, light-filled space, kneeling on a billowing cumulus cloud suggested by the natural pattern. Above Gabriel, Gentileschi painted an infant Jesus in an egg-shaped "cloud" and the Holy Spirit in a smaller cloud puff. On the stone's right, which has fewer, smaller whorls, he painted Mary kneeling at a prie-dieu amid columns, both "marbled" by the stone's markings.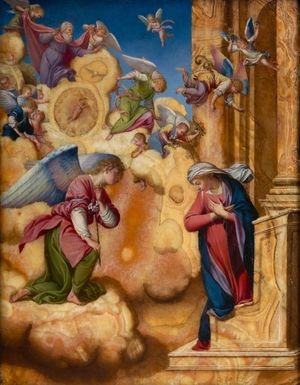 Gentileschi's "Annunciation"
Sigismundo Leyrer selected a piece of agate with a prominent, light, ringed oval for his two-sided "Annunciation" and "Resurrection of Christ" (1594). On the recto, the Angel Gabriel seems to float down to Mary in the cloud-like oval and, on the verso, the risen Christ ascends from the same spot toward heaven. The agate's translucence bestows celestiality on both images.
And Bartolomé Esteban Murillo, one of the great Spanish painters of the 17th century, used obsidian to dramatize "The Nativity" (c. 1665-70). With paint, he shines the brightest light in his night scene on Jesus, then, to lesser degrees, on Mary, angels and St. Joseph. He calls on the subtle vertical veins of the stone to link his scene to the heavens. The label, typical of the many informative object descriptions in this intelligent exhibition, suggests a link to the Aztecs, who imparted spiritual power to the reflective nature of obsidian. Murillo may have selected this slab—which might be a pre-Columbian polished stone mirror, according to the exhibition catalog—for that reason.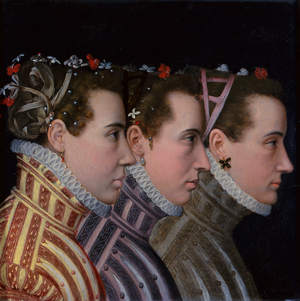 "The Minions of Henry III"
Two little-known artists shine very bright here, with multiple gems. Stella is one. He painted "Rest on the Flight Into Egypt" many times on different stones, to different effect. Beyond his lapis piece, two other versions (1629-30) are here. One is on jasper, an opaque aggregate stone often speckled with many colors, and the other is on pietra paesina, a form of limestone. In both, Stella used the stone's colors and striations to form landscape features—rocks, wheat fields, a spring of water.
Antonio Tempesta also stands out, especially for "The Crossing of the Red Sea" (c. 1610), a scene he painted more than a dozen times—on alabaster, brecciated limestone (an aggregate of colored fragments) and red "marble" (also a kind of limestone). The one here, on brecciated limestone, brilliantly exploits a streaked swath of rust color cutting diagonally across the stone to represent the sea. Moses and his followers stand on two patches of dry land, one a muddy color with brown rocks and the other a vibrant green. Fighting the roiling sea—now filling its seabed—is the Pharaoh's half-submerged army.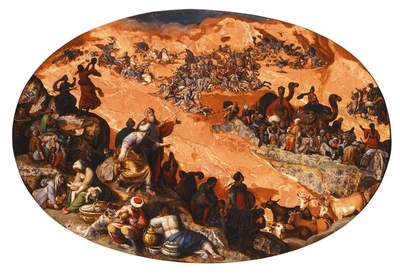 Tempesta's "Crossing of the Red Sea"
During the 15 years Ms. Mann worked on this exhibition, she learned of some 1,500 paintings on stone made by artists in Italy, France, Spain, the Low Countries and Germany. Many are fragile, heavy and risky to transport; some owners were reluctant to lend. But the 70 pieces (plus some artworks on other backings) gathered here make one wonder why "Paintings on Stone" is the first museum exhibition to delve into this fascinating partnership between artist and nature.