New York
The bright, bold colors are perhaps the first thing visitors will notice upon entering "Pattern and Flow: A Golden Age of American Decorated Paper, 1960s to 2000s." Closer inspection reveals that the designs they form—swirls, waves, angel wings, peacock feathers, leaves, flowers and more—are even more enchanting. The handmade ornamental paper sheets by 53 artists on view in the Grolier Club's ground-floor gallery provide stunning evidence that there actually was a glittering "golden age." Who knew?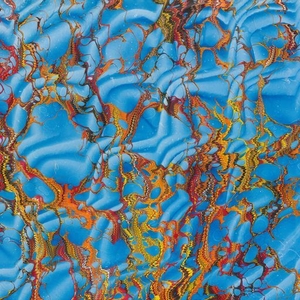 "Dragons in the Sky"
At first, not even Mindell Dubansky, the curator of "Pattern and Flow," anticipated the richness. As the preservation librarian for the Metropolitan Museum's Watson Library, Ms. Dubansky knew that some American artists had revived the art of decorated paper in the 1960s, and in 2017 she wrote to a small number of them with an eye toward documenting and collecting their work. The Paper Legacy Project bloomed to become the most extensive collection of its kind in the U.S.—the mother lode for this, the first major exhibition of these papers, and an accompanying catalog.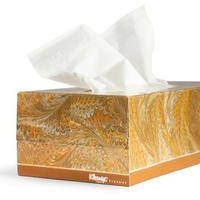 "Classic Foil" Kleenex Box
You've probably seen marbled paper (made from paint floated on a liquid and transferred to the paper surface) and paste paper (colored paste applied to a damp surface) without even perceiving it as art. Remember the gold and silver "Classic Foil" Kleenex tissue box (c. 1987)? Its marbled design was created by Faith Harrison (b. 1950) and licensed to Kimberly-Clark Corp. Similarly, Sambuca Romana, the Italian liqueur, once came in an octagonal gift tin printed with an indigo peacock marbled paper pattern (c. 1990) by Peggy Skycraft (b. 1941) and Jack Townes (b. 1953). Bookbinders have long used decorated papers as covers and endpapers, and more recently these artful papers have been used as wall coverings, in design objects and in home furnishings.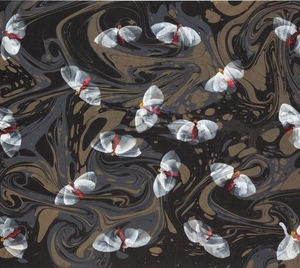 by Ingrid Butler and Dana Draper
Made with many techniques, tools and materials (the catalog contains a glossary and the exhibition includes many tools), decorated papers date back centuries. The craft probably originated in Asia, migrated through Europe and eventually arrived in the U.S. In colonial days, where "Pattern and Flow" begins, most decorated papers were imported, with a notable exception. Around 1740, a Moravian community settled in Pennsylvania, bringing techniques from Germany with them; a few samples are on view. In the early- to mid-1800s, the Mann family of Massachusetts, both marblers and publishers, helped keep the art alive. Classic early texts, like the "New and Complete Manual on the Making of Fancy Papers" (M. Fichtenberg, 1852), plus letters, mid-20th-century papers, and a design sample book, round out the exhibit's introductory vitrine.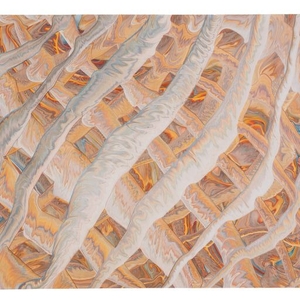 Textured paper by the Longstreets
Decorated paper-making became a movement in the 1960s, catalyzed by the rise of the counterculture, and that's where the exhibition takes off. Put plainly, many of these delightful designs were brought to you by hippies (and their cultural descendants) who prized hand-crafted goods, often making their own paints, tools and methods. Olaf (b. 1940), who created the marbled, swirly, biomorphic "Purple Monochromatical Monomaniacal Merry-Go-Round" (1990), provides a vivid illustration. A self-taught marbler toiling in Berkeley, Calif., he worked his magic outdoors using a tank made from the roof of a Volkswagen bus.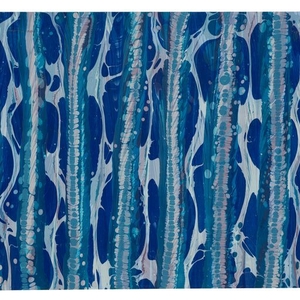 "Reef" by Diane Maurer
Containing about 150 items, the exhibit's densely installed vitrines offer a kaleidoscope of eye-catching papers. Many are simply abstract patterns, like Ms. Harrison's pretty blue wave paper (c. late-1980s). Others portray—or hint at—clouds, the sea, the cosmos and other natural forms. Imaginary ones, too: "Dragons in the Sky" (undated) by Galen Berry (b. 1952) combines a neural network of monster-like squiggles in red, yellow and orange with a tubular turquoise pattern that leaves one wondering how he did it. (Control of the paint on the liquid, or the willingness to let it find its own course, is a large factor, but far from the only one.)
Some papers involve more than one process. In the mid-1980s, Ingrid Butler (b. 1947) painted fluttering white moths on black paper, and her husband, Dana Draper (1940-2018), then overmarbled it with gray and metallic acrylic paint swirls. The result looks alive.
Some have texture. Richard Longstreet (b. 1951); his wife, Kathy Rich Longstreet (b. 1954); and his sister, Holly Longstreet Lipus (b. 1961), created a marbled paper (undated) of beiges, whites, light blue and ochre in a large crosshatch pattern on uneven cotton rag paper. It stands out for its subtle allure, sending the message that decorated papers need not scream to be noticed.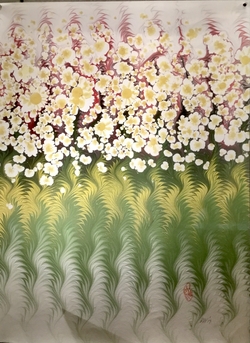 "Daisy Garden"
While some members of this foundational cadre of artists have stopped working, many have inspired and taught the next generation, who are expanding the genre's boundaries. Although it's difficult to discern any aesthetic trends here—the show's last vitrine contains some designs that fit right in with earlier examples—one paper points a possible way forward. "Daisy Garden" (c. 2015), a charming marbled sheet by Robert Wu (b. 1979), is intended to adorn a wall, like a painting. Its band of yellow-and-white daisies stretches horizontally across the middle, anchored by fernlike green roots below. Then it dissolves at the top into a feathery pink blur and at the bottom into a feathery white and green space. For his fine works like this, Mr. Wu trademarked the name "marbled graphics," though he continues to make abstract marbled patterned papers, mostly for bookbinders.
"Pattern and Flow" reveals a remarkable story of creativity—one that deserves continued exposure.