Santa Fe, N.M.
The ingredients sound so ordinary: paper, paste, cane, wire, molds and paint. From these simple materials, Mexican folk artists have created the enchanting world in "La Cartonería Mexicana | The Mexican Art of Paper and Paste" at the Museum of International Folk Art. More than 100 colorful objects—dolls, animals, devils, Judas figures, dragons and especially skeletons—line the walls, fill the platforms, and hang from the ceiling in an exhibition that is as much about Mexican culture as it is about folk art. A 5-foot-tall Frida Kahlo figure (2006) even makes an appearance, fittingly, because by displaying cartonería objects in her Blue House Kahlo helped turn them into collectibles, spawning more creativity.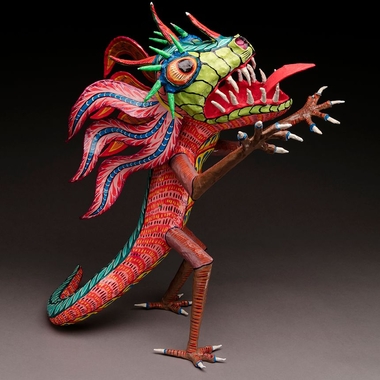 Winged dragon alebrije by Pedro Linares
Known in other locales as papier-mâché, cartonería is a traditional art, probably brought to Mexico from Europe by Catholic priests by the 18th century. The pieces are made, as the exhibition illustrates, using molds (examples here are dated c. 1915 and c. 1945) or forms of cane or wire (one of each made for the exhibition by Leonardo Linares, a fourth-generation cartonero artisan). These basic structures are then covered with layers of paper strips, pasted together and decorated. The molds become faces and small figurative toys, while the forms end up as more ambitious pieces, like skeletons. Ephemeral by design, they were generally unsigned and undated until recent decades.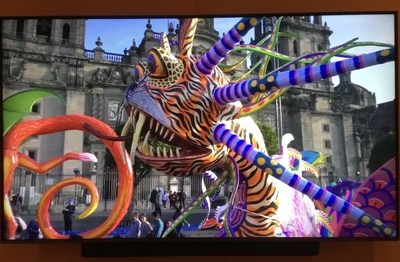 Mexico City parade
Cartonería pieces are made to celebrate events in the liturgical year, and the exhibition—in an installation made festive by bright orange, green, turquoise and hot-pink walls—follows that cycle. First comes Carnival, which takes place in February or March before Lent.
Carnival means parades and dancing, with participants dressing like royalty or maybe animals. They may wear masks like those in a display, depicting a black cat, a white rabbit and a yellow leopard, or hats topped by a rooster, a dog or similar figures (all, c. 1960).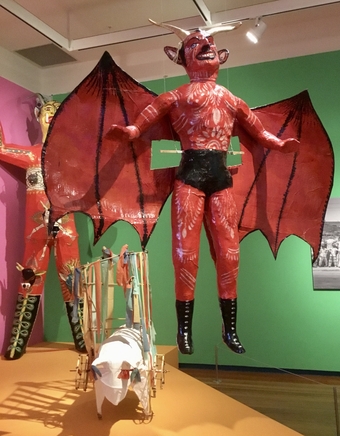 Flying Devil
Holy Week takes place about six weeks later, marking the Passion of Christ. Representations of the devil—including a giant flying one (1997) by Rosa Maria Vazquez López and Angel Barcenas López—and of Judas, who betrayed Jesus, figure prominently. The figures of Judas, usually horned and sometimes sticking out his enlarged tongue, are particularly repulsive. As a nearby video demonstrates, these pieces are burned in effigy or blown up by fireworks at festivals on Holy Saturday. Lately, according to Nora Dolan, who curated the exhibition, cartoneros are casting political figures and even the Covid-19 virus as paper villains destined for destruction.
The feast of Corpus Christi, which honors the belief that Jesus is present in the Eucharist, comes about two months after Easter, bringing toys for children. The sampling on view includes a magenta bull (1994) by Bernardino Lemus; pull-toys in the form of a duck and a horse (both c. 1960), and rattles of many colors, kinds and dates. The Day of the Dead takes over around Halloween. As Mexicans gather at tombs of loved ones or at home altars, humorous skeletons and skull candy appear everywhere—here, too. Four grinning skeletons clothed in blue (1990) by David Moctezuma play guitars, a violin and a trumpet. Another item by Mr. Moctezuma portrays a rootin' tootin' cowboy brandishing pistols (1990). And a female skeleton (c. 1965), in an orange dress, hat and gloves, wields her orange handbag as if to say "Stay away."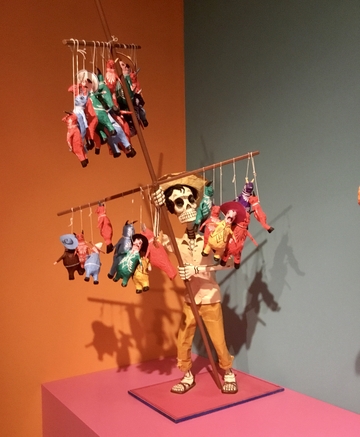 A peddler
The last holiday is Christmas, a time for piñatas, which have made their way into popular culture for birthdays, too. Here there's a typical selection (all 2022, by Francisco Rodriguez): a car, a carrot, a burro and a seven-pointed star, which symbolizes the seven deadly sins. Once broken, they distribute candy, a reward for avoiding sin.
The final section reveals how creative artisans grew after cartonería attracted collectors. In particular, Pedro Linares López (1906-1992) and his descendants devised fantastical, multicolored creatures that combine parts of many animals and gave them a fictional name: "alebrijes." Among the amusing ones on view are a bug-eyed, stripe-tailed monster-dragon and a winged, double-skulled dragon (both 1990, by the Linares family) decorated in pinks, blues, greens and other colors.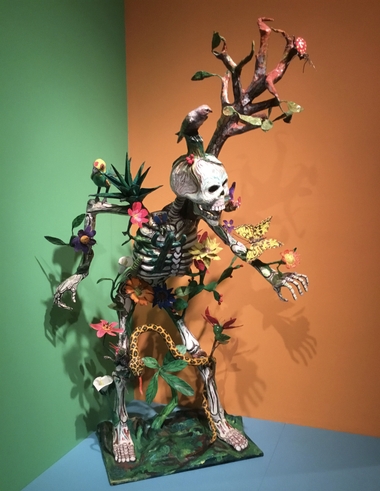 "Skeleton Figure"
Ms. Dolan saved the best for last. Made by Felipe Linares, "Skeleton Figure" (1994) stands on a grassy base, sprouting tree branches from its head, with a giant lady bug near the top. A butterfly alights on one arm, and a bird on the other. A spotted snake wraps around one leg, landing its head on the other. Flowers suggest a garden setting. Perhaps it's the Garden of Eden, a comment on mortality.
"La Cartonería Mexicana" telegraphs the opposite for these sculptures, especially the alebrijes. They have found a place in the art world and, as seen in a short video that captures float-sized cartonería navigating crowd-thronged Mexico City streets in the annual "Alebrije Parade," they seem ensconced in the popular world, too. Rightfully.