San Antonio
If, as the medieval saying goes, all roads lead to Rome, might the artistic path to landscape painting trace back to the eternal city as well? That is a theme of "Roman Landscapes: Visions of Nature and Myth From Rome and Pompeii" at the San Antonio Museum of Art, which has gathered about 65 wall paintings, relief sculptures, mosaics, and glass and metal vessels created between 100 B.C. and about A.D. 250 as evidence.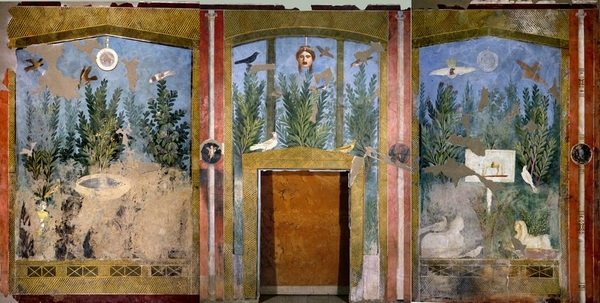 Garden fresco, Pompeii
In contrast to earlier works, such as fourth century B.C. Hellenistic tomb paintings and relief sculptures of gods and humans that included landscape elements, the artworks in "Roman Landscapes" generally depict idyllic, spatially deep, often imagined natural scenes where humans, when present, play minor roles. They represent the first stirrings of a genre that would not fully emerge until the Renaissance, when landscapes gained acceptance as a worthy subject of art. "The Romans were themselves conscious of the novelty" of these works, writes exhibition curator Jessica Powers in the catalog.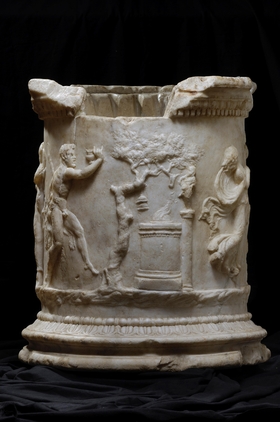 Wellhead
And they served a political purpose: As the Roman Republic's turbulent civil wars ended, and the Roman Empire rose and expanded territorially, landscapes—especially those portraying shrines to traditional Roman gods—jibed with the vision of peaceful, pastoral prosperity advanced by Augustus, the first emperor.
"Roman Landscapes," which the museum calls the first exhibition in the U.S. to showcase these ancient works, exposes the trappings of life around Pompeii, the Bay of Naples and Rome itself, where the wealthy decorated their villas with depictions of gardens, picturesque and mythological scenes, exotic Egypt (then controlled by Rome) and shrines. Many pieces have never been shown here before, including a marble wellhead from the mid- to late first century B.C. of dancing satyrs and maenads in a rustic setting.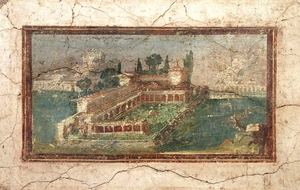 Wall Painting With a Seaside Villa
A slab of plaster (early to mid-first century A.D.), nearly 8 feet tall, from a home near Pompeii, starts the show. Its black background frames a corniced yellow structure and—inset near the center—a small landscape. This image—blue sky, gnarled trees, a rocky outcrop and visitors approaching a shrine—combines many common elements of ancient landscapes. Aside from birds, which perch, walk, coo and fly aplenty in successive galleries, the main thing that's missing is water, whose proximity Romans prized, and that's present in the other introductory work, "Wall Painting With a Seaside Scene" (mid-first century A.D.). This frieze fragment shows colonnaded buildings from which people could admire both the gardens below and the sea.
From there, the exhibition unfolds thematically. One section explores gardens. The lovely three-panel "Wall Painting With Sculptures and Birds in a Garden" (late first century B.C.-early first century A.D.), from the House of the Golden Bracelet in Pompeii, featuring doves, orioles, a bird bath, garden sculptures, trees and a view of the bay, would have brought the outside inside to Romans at dinner. "Wall Painting With a Miniature Garden" (late first century B.C.-mid-first century A.D.) from Herculaneum, which shows four white herons (or egrets) walking near a beautifully caned fence and manicured garden, and "Wall Painting With a Garden and Birds" (late first century B.C.-mid-first century A.D.), which places one bird on a cross-hatched wooden fence enclosing a dense garden, from Pompeii, achieve a similar feat and embody the loose, impressionistic style of all the paintings here.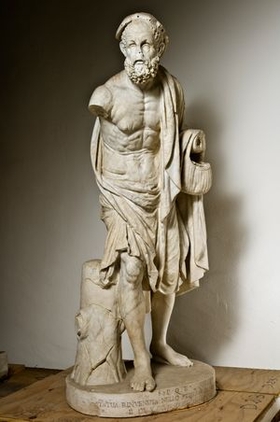 Old Fisherman
Romans were also fascinated by life on the Nile, shown here in paintings and a relief. They're comic, sometimes transgressing what's acceptable today: For example, "Wall Painting With Animal Combats by the Nile" (mid-first century A.D.) places imagined pygmies harassing crocodiles and a hippopotamus near a sacred shrine. A terra-cotta relief (first century A.D.) also depicts pygmies and animals through an arched structure replete with patterns and textures.
Equally absorbing artworks populate sections devoted to coastal views, sacred landscapes, mythical landscapes, and funerary art, and several stand out. "Wall Painting With a Procession to the Tomb" (late first century B.C.), from the Tomb of Patron in Rome, presents a march by the delicately rendered members of the deceased's family through a grove of trees. "Wall Painting With a Seaside Villa" (mid-first century A.D.) depicts a fortress-like home with an extensive garden, built out into the water. One can imagine walking through its colonnaded porticos, charmed by the scent and the view.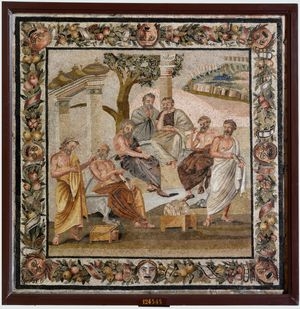 Plato's Academy
Two of the best works sit at the theme's fringe. Because several paintings feature fishermen, the nearly life-size marble "Statue of an Old Fisherman" (second century A.D.), which may have decorated a garden, merits a place. With his sunken eyes and deep wrinkles, it is a profoundly affecting portrait of old age. The other, "Plato's Academy" (second-first century B.C.), is a dazzling mosaic showing the philosopher and his disciples beside a sacred tree in a gated grove, made from tiny glass and stone tesserae. The men dominate the setting, but perhaps the exquisite garland border of leaves and fruits would alone justify its presence.
These two works shine in part because, as visitors will no doubt notice, ancient Roman landscapes clung to a limited number of motifs, lacking much inventiveness. Even so, the fresh topic of this exhibition makes it a welcome, provocative look at new territory.