St. Louis
Near the end of "Monet/Mitchell: Painting the French Landscape," three works by Monet, "Water Lilies" (1917-19) and two titled "The Japanese Bridge" (1918-24), display an unusual side of the great French Impressionist. Together, they show him using highly gestural, squiggly, intertwined brush strokes; intense, unnatural colors; mere hints of features like the bridge; exposed areas of canvas, and allover compositions that give the paintings a decidedly abstract quality. "Water Lilies" has sometimes been hung upside down.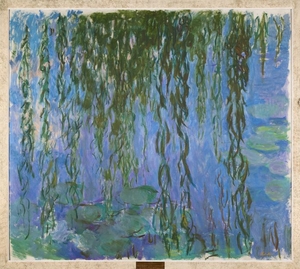 Willow branches
That Monet came so close to complete abstraction is just one surprise in this beautiful, uplifting exhibition at the Saint Louis Art Museum. Visitors who think they know Monet but expect to gain new understanding of the far less known Joan Mitchell, a leading second-generation Abstract Expressionist, will discover that "Monet/Mitchell" illuminates the practice of both painters—and proves that artistic pairings can be a powerful motif even when the duo is not contemporaneous.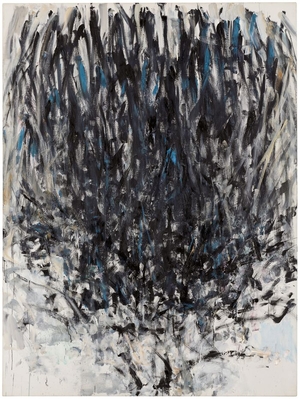 "Tilleul"
Monet (1840-1926) was long dead when Mitchell (1925-1992) picked up her brushes. She began her art education in the mid-1940s at the Art Institute of Chicago, studying many French modernists, including Monet, Cezanne and Van Gogh. Then she left for New York, falling in with the Pollock-De Kooning crowd of Abstract Expressionists and forging a unique style using a flurry of bold, colorful, dynamic brush strokes, from thin drips to thick impasto, in intersecting layers, with nature as her subject.
In 1959, Mitchell moved to Paris and, in 1968, to Vétheuil, a small town near Monet's famed home in Giverny, northwest of Paris. That is where "Monet/Mitchell" begins, zeroing in on Mitchell's final 25 years. (Although it had a similar title, the recent exhibition at the Fondation Louis Vuitton in Paris was a broader, much larger show that included Mitchell's pastels and drawings as well as more paintings.)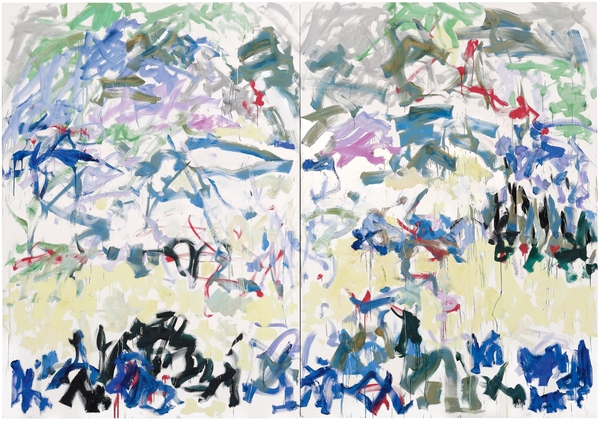 "River"
Critics had noted the connections between Mitchell's work and Monet's by the late 1960s, an affinity she once acknowledged but later denied, sometimes adamantly. And there were differences: Monet made his reputation with his figurative landscapes and usually painted en plein air; Mitchell produced abstract works in her studio. Monet never dripped or spattered paint; Mitchell did.
But, especially in Monet's late works (the earliest here dates to 1914), they overlapped more, and the commonalities are easy to see in these galleries. Each depicted flowers, trees, water, gardens, reflections and other landscape elements in expansive views on large-scale canvases, often joined in diptychs, triptychs and quadriptychs. Monet frequently painted images in series, varying the time of day, for example; Mitchell created "suites."

Water Lillies...
Their palettes, especially the blues, violets and yellows, were similar, though his colors were mostly softer. Late in his career, Monet intentionally left parts of his canvases primed but unpainted; for example, the exposed white patches in his enchanting "Wisteria" (1919-20) panels suggest sunny highlights. Mitchell regularly employed negative space to define her images, as in "Beauvais" (1986), whose central white paint and white canvas suggest the nave of a cathedral she had just visited.
Under the surface, Monet and Mitchell had deeper connections. In his late years, with his eyesight failing, Monet relied on his recollections to create paintings in the studio; Mitchell said that she painted "remembered landscapes that I carry with me," not specific places. The water in "Row Row" (1982)—a deep-blue diptych with patches of yellows and violets—could be the Lake Michigan of her early years or the Seine.

"Wisteria"
And they explained their approach in a similar way. In 1908, Monet said he wanted "to express what I feel." Mitchell said that nature appeared in all her paintings "but not directly . . . it's rather the feeling that I have for things."
Curator Simon Kelly doesn't attempt to match paintings. Rather, he charts the artists' responses to similar surroundings—trees, for example. Monet's lyrical "Water Lilies With Weeping Willow Branches" (1919) shows the tree's green leaves almost touching his cerulean pond. Mitchell's crisper "Tilleul" (1978) portrays a linden tree, its bare, black, wintry branches thrusting upward. Paralleling Monet's attachment to his willow, Mitchell depicted her cherished linden many times, including the more abstract "Red Tree" (1976). This suite, Mr. Kelly writes in the catalog, gave her solace.
Mitchell could be lyrical, too. She loved the sunflowers in her garden, which she celebrated in an immense diptych titled "Two Sunflowers" (1980). A veritable blizzard of encrusted, intense yellow paint, fringed with black to suggest the soil, green for leaves, and violet for sunlight, it bursts with exuberance. Likewise, in the next gallery Monet's great "Water Lilies" (about 1915-26), the central panel of a renowned triptych split among three museums, speaks to the joy he took from his pond, which he painted more than 300 times.
"Two Sunflowers"
As good as it is, the exhibition isn't flawless. Of its 24 paintings, the Musée Marmottan Monet and the Fondation Louis Vuitton each lent 10. If Mr. Kelly had been able to draw from a larger pool, he may have found even better examples of the exhibition theme. Still, "Monet/Mitchell" undeniably and delightfully displays two kindred spirits, each transfixed by nature and sharing that passion with us.