Shortly after first lady Michelle Obama presided over a "jazz studio" in the White House last Monday, telling everyone that "the understanding and appreciation of jazz is integral to understanding and appreciating American history and culture," a somewhat-contradictory message was coming from a government agency five blocks away. The audience for what she called "America's music" is shrinking, fast, according to a study released late that same day by the National Endowment for the Arts.
We're all used to hearing dire reports that attendance at the ballet, the opera, the legitimate theater is down. But jazz? Since the NEA began studying arts participation in 1982, jazz is the one performing art that had enjoyed steady increases.
Yet sometime during the last six years (when the last count was taken) that trend reversed. The music that drew more than one out of 10 Americans out of their homes to concert or club sessions in 2002 attracted only 7.8 percent of us last year. Worse, jazz, which had always appealed strongly to the 18- to 24-year-old demographic, is now luring an older crowd: The median age of jazz consumers jumped from 29 in 1982 to 46 last year.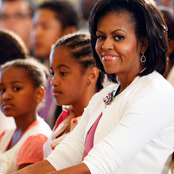 Kevin Lamarque, Reuters/Landov; The Daily Beast
Mrs. Obama is, uh, 45. Still, wearing a white ensemble at the June 15 performance in the East Room, she looked like an angel to jazz buffs. She talked about the way her maternal grandfather, "South Side," blasted the music throughout his home—"At Christmas, birthdays, Easter, it didn't matter, there was jazz playing in our household"—and she called out "salt peanuts" along with the crowd during the chorus of the Dizzy Gillespie song of that name.
"I just loved it," says music producer and teacher Howard Mandel, the author of Miles, Ornette, Cecil: Jazz Beyond Jazz and senior editor of The Billboard Illustrated Encyclopedia of Jazz and Blues. As he watched a video clip of the June 15 event, he says, "I'm from the South Side, and I started crying. What she's doing is great."
Even before the NEA announcement, 2009 was shaping up as a difficult year for jazz. JVC jazz festivals in New York, Miami, and Chicago have been canceled. Early this month, JazzTimes, a 38-year-old monthly magazine, stopped publishing, at least "temporarily" while it regroups. In New York, the center of the jazz universe, Midtown clubs like Iridium and Birdland and downtown landmarks like the Blue Note and the Village Vanguard are doing OK—but are dependent on the wavering tourist trade to complement their steady, local constituency. "If you book the right acts, people will come out to see them," says Jonathan Kantor, Blue Note's marketing director, even while conceding that his audience is mature.
Smaller New York clubs, unable to cover costs simply with drink tabs during the week, are hurting more. One, Cachaca, closed in mid-March, partly because of rising rents. If the NEA's age and audience numbers are projected forward, these troubles are going to increase.
It's true, young people aren't completely absent. Some clubs catering to college-age kids are jammed on weekends. "Business is the best it's ever been," says Charles Brown, a manager at one of them, Fat Cat, in Greenwich Village. "It's a community down here."
But here's the thing: Brown says he's drawing crowds because Fat Cat also offers billiards, ping pong, chess, scrabble, and other games. "We bring them in because we have tons of things other than jazz, and once they hear it, they like it," he says. "The new generation is all over the place, doing several things at one time, and jazz is more mellow. They have to have other activities."
It's the same plague that threatens many of the arts. "We have a whole culture suffering from attention-deficit disorder," says Todd Barkan, programming director for Dizzy's Club Coca Cola at Jazz at Lincoln Center. "That affects people's ability to concentrate and seek out high-quality music." Like others, Barkan also says that hip-hop has cut into a traditional fountainhead of jazz audiences, African-Americans. "It has been challenging for jazz to maintain its identify in depth and breadth when another indigenous art form has manifested itself," he says.
It's a point Michelle Obama made, too: "I brought my own family with me today because I want to keep them alive and aware of all kinds of music other than hip-hop," she said.
That's why her entrance on the scene has fans of classic jazz excited (along with the fact that the president, who has said he has John Coltrane and Miles Davis on his iPod, is an equally avid listener). The White House gathering she honchoed included jazz royalty, the Marsalis family, was timed to coincide with Washington's Duke Ellington Jazz Festival, and used students from programs sponsored by the Thelonious Monk Institute of Jazz. Jazz at Lincoln Center helped produce the event.
"Michelle Obama even talking about jazz is just so helpful," says Barkan. Now many fans, citing the appearance of Herbie Hancock at the inauguration concert, are hoping for more. No one ever documented it, but when Bill Clinton pulled out his saxophone, interest in jazz among the young seemed to spike a bit. The Obamas, being way more cool, would have a much bigger impact with young people. If they keep jazz alive at the White House, and gain media attention for it, they could help replace jazz's aging audience. As Brown says he's found out, "If you just bring people to the table, they'll come back."
Photo Credit: Kevin Lamarque, Reuters/Landov; Courtesy The Daily Beast