Not many museum directors have the opportunity Dean Sobel has—which is nothing short of the chance to rewrite a chapter of American art history.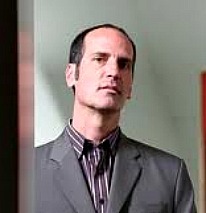 Dean Sobel
As the first director of the Clyfford Still Museum, set to open in Denver on Nov. 18, Mr. Sobel will be reintroducing a first-generation Abstract Expressionist who abruptly severed his ties to the commercial art world in 1951 and rarely showed or sold his works after that. A few museums own some of his works—massive canvases of ragged swaths of black and a primary color that resemble rawhide—but his last large exhibition was held at the Metropolitan Museum of Art in 1979-80. Nearly 95% of Still's output has been locked away for decades. At the Museum of Modern Art's Abstract Expressionist exhibition earlier this year, which had roomfuls of works by Mark Rothko, Jackson Pollock and Barnett Newman, Still was represented by one painting.
Mr. Sobel, who has spent the past six years studying the hidden trove—825 paintings and 1,575 works on paper—is convinced that Still is not only a giant of Abstract Expressionism, but also the first of the breed. "We are going head to head with Rothko, Pollock, de Kooning and Newman," he says. "The goal for us is to put Still back in, to show the greatness of him and that he was the great innovator of the movement. He creates Abstract Expressionism before all the others."
Last spring, as we walked around a warehouse where some Still works were lined up on the floor, a few (including a luminous orange and yellow one that has never been shown) were hanging loose, unstretched, but most were rolled up on shelves, Mr. Sobel recalled his first visit, in mid-2005. Although he had organized more than 60 contemporary-art exhibitions and served as chief curator at the Milwaukee Museum of Art and as director of the Aspen Art Museum, he was taken aback by "the enormity" of what was there, and "the responsibility of what I had signed up for. I believe this is the most important museum project of this generation."
It's certainly an unusual one. Creating a constituency for a one-artist museum can be tricky even when, like Georgia O'Keeffe or Andy Warhol, that artist is widely known (and loved) and has a local base (Santa Fe, N.M., and Pittsburgh, respectively). Still, a loner who was born in North Dakota in 1904 and died in Maryland in 1980, with several stops in between, had decreed that his life's work should go to any city that would erect a museum solely for his works—and nothing else, ever. Denver just happened to win the competition. Somewhat controversially, the museum and city are also selling four works at an auction on Nov. 9 to raise money for the endowment, with court approval and no objections from the estates.
Mr. Sobel sees his charge, a $29 million, two-story, 28,500-square-foot structure designed by Brad Cloepfil of Allied Works Architecture, as a destination museum akin to minimalist Donald Judd's complex in Marfa, Texas: Art lovers will want to make the journey to see these works, which have been hidden for so long. "Fortunately, we are blessed with an interesting man. He grew up in rural Canada, and nothing would have predicted his being an artist, let alone a great one. He's doing it his own way. That will resonate with people." Visitors will see the man, in a dramatic 1940 self-portrait, before entering the museum's 10,000 square feet of galleries on the second floor.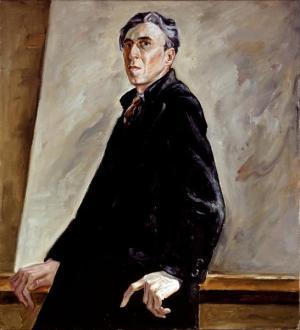 Still's 1940 Self-Portrait
For the first show, Mr. Sobel and adjunct curator David Anfam have chosen to survey Still's career, with paintings organized chronologically, by location, starting in southern Alberta, Canada, where his family summered and where he taught himself how to draw and paint. As he matured, his early landscapes and figurative works, often of men at work with machinery, segued through surrealism and into abstraction, with traces first of Thomas Hart Benton and Grant Wood, perhaps, and of Paul Cézanne, Pablo Picasso and Max Ernst. "These first three galleries contain all unseen works," Mr. Sobel said recently, in a phone update, "but it's all building toward the fourth gallery—the breakthrough."
By the late 1930s and early '40s, Still had moved increasingly toward abstraction until he created a work labeled "1944 N#1" (he never titled his works). "I'd assert this is the first Abstract Expressionist painting in the U.S.," Mr. Sobel says. "It's of monumental scale, which is essential to the definition of Abstract Expressionism." It is mainly black and white, with no central image, "but there is subject matter," Mr. Sobel says. Like Still's Abstract Expressionist confreres, "he was trying to address the universal themes—the fears, emotions about what it's like to be alive—in an abstract way. It did not conform to anything."
By 1946, Still had developed his signature style, and the next two galleries show this work, what Mr. Sobel calls "the zenith of his career. They will be the most impactful galleries in terms of the narrative of Clyfford Still." The exhibit ends with an ethereal white canvas, with jagged yellow forms, from 1977.
Mr. Sobel believes that the display will surprise even scholars: Some two-thirds of the paintings have never been exhibited and nearly no one has seen Still's drawings, which will occupy one gallery. One key work, a massive blue painting, was shown only once, at the inaugural exhibition of the Institute for Contemporary Art in Philadelphia in 1963. It is bisected by a thin red vertical line, an example of what Still called "life lines," which Mr. Sobel says are "humankind represented in an abstract way." In the '60s, Still had said that behind his work was the figure (as it often was in his early paintings).
Over the years, some doubters have suggested that Still backdated his paintings so he could claim to be the Abstract Expressionist progenitor. "David and I are aware of those questions," Mr. Sobel says. But he says he can back up the dates with drawings, exhibition checklists, records of his numbering label system and other archival materials. Some of those records are likely to be displayed on the museum's first floor, along with such personal artifacts as his tools, record collection, personal library and letters. "He was a family man who loved cars; he wasn't a brooding guy who only thought about his career," Mr. Sobel says.
He expects the museum's inaugural exhibit to remain on view for nine months; then, he plans to focus on other aspects of Still, as a colorist, say, or a landscape painter, that will build up his reputation—although classics like "1944 N#1" and the blue painting will always be up. "This is our first pitch," Mr. Sobel says. "I feel pretty confident, even a little cocky, because the body of work speaks for itself."