IF Alex Nyerges, the director of the Virginia Museum of Fine Arts, has an extra spring in his step lately, it may have something to do with the $70 million gift the museum is receiving from a trust created long ago: $60 million of it was designated for the museum's endowment for art purchases, pushing that total to more than $156 million.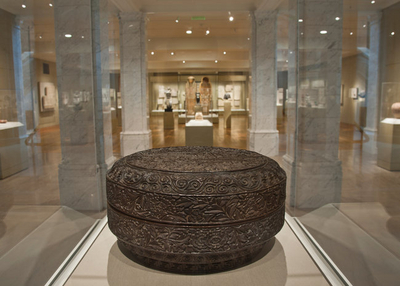 13th C Chinese lacquer box, acquired by the Cleveland Museum of Art
"It has changed my whole outlook," Mr. Nyerges said, relishing the nearly $8 million he can draw down each year for shopping.
It changes the museum's profile, too. The gift catapults it higher in the top ranks of American art museums with funds dedicated to buying art and, usually, ambitions to match.
Although acquiring art is a core mission, private collectors donate 80 to 90 percent of what is on view in American art museums. Fewer than two dozen museums have sizable nest eggs to buy the art they choose (see table, below).
A few more, notably the J. Paul Getty Museum in Los Angeles and the Kimbell Art Museum in Fort Worth, are wealthy enough to buy steadily by drawing on unrestricted endowments, but have no special funds for acquisitions. Most of the time, when art museums find an object they desire, "we find someone who's willing to support that acquisition," said Dan L. Monroe, director of the Peabody Essex Museum in Salem, Mass.
In lean times like these, when museums are budgeting to the razor's edge, those with pools for art purchases enjoy a distinct advantage — they are not permitted to use the money, usually about 5 percent of the principal each year, for anything but buying art.
"It ensures that the collection will continue to grow," said Philippe de Montebello, the former director of the Metropolitan Museum of Art. "It's always tempting to use your money for the activity of the day and to postpone acquisitions. But acquisitions are not postpone-able — they are a matter of opportunity."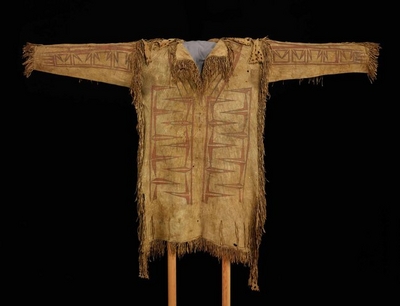 18th C Native American buckskin shirt acquired by the Minneapolis Institute of Arts
On rare occasions, a few museums have taken the controversial step of seeking permission to break with the intent of the donors. Michigan's economic troubles have prompted Graham W. J. Beal, the director of the Detroit Institute of Arts, to get permission from the descendants of two donors to divert half of the annual $4 million payout from the institute's $74 million acquisitions endowment to operations.
Hearing the alternative — more cuts in the museum's budget, which has shrunk by nearly 30 percent to $24 million since the 2008 fiscal year — they agreed, and the courts concurred.
Still, the institute was able to tap its kitty in the last two years to buy a 17th-century amber and ivory casket; a silver and partly gilded nautilus cup made in Nuremberg, Germany, around 1650; and Sanford Robinson Gifford's 1872 painting "On the Nile," among other works.
Who has money set aside for buying art, and who does not, has more to do with a museum's benefactors than with its size or location. The Currier Museum of Art in Manchester, N.H., has more than four times what the Seattle Museum of Art has: $35 million versus less than $7.8 million. That is because Henry Melville Fuller, a trustee, upon his death in 2001 left the Currier $43 million, half designated for the art purchase fund.
Likewise, the Museum of Fine Arts in Houston zoomed higher in the ranks — with nearly $400 million set aside — when the oil heiress Caroline Wiess Law died in 2003, leaving $192 million, out of her $480 million bequest, for art purchases. That money, says Gary Tinterow, the museum's director, has among other things enabled it to carve out a niche as a destination and a research center for Latin American art. "No one else has this," he said.
Over the last two decades, many museums across the country have added wings, but few have had a patron like Bruce Dayton, a life trustee of the Minneapolis Institute of Arts. He insisted that money raised in the $100 million fund-raising campaign for the Target wing, which opened in 2006, be split 50-50 between the building and the acquisitions endowment.
That fund, now at $91 million, has allowed the institute to buy a rare early 18th-century Native American painted buckskin shirt and a nine-foot-long topographical "View of Venice" made by Jacopo de' Barbari in 1500, among other recent purchases.
With art costing so much — more than 1,500 lots fetched more than $1 million at Sotheby's and Christie's alone last year — not even the richest museums can rely solely on their art purchase funds. In the 12 months ended last June 30, the Metropolitan Museum drew $19.6 million from its acquisitions endowment, which totals $632 million, but spent $36.5 million on art.
High prices also explain why, over the last year or so, there has been a blizzard of art sales by museums seeking to raise money to buy different art. In one prominent example, the Museum of Fine Arts in Boston last year put eight paintings by Monet, Renoir, Pissarro, Sisley, Gauguin and others on sale at Sotheby's, bringing in a total of $21.6 million, to pay for "Man at His Bath" by Gustave Caillebotte. That painting, the first nude Impressionist work in the museum's collection, cost an undisclosed sum reported to be more than $15 million.
The MFA has an acquisitions endowment, which totals $141 million and provides about $6.6 million a year. But even if it had been enough, the museum would not have been permitted to use all of it for the Caillebotte.
These endowments usually consist of many smaller funds, each fragment having its own restrictions on the art to be bought. Mr. Tinterow cites one fund at the Metropolitan, where he was a curator for 28 years until January, that had to be spent on art costing less than $25,000 by an artist with no dealer — yet worthy to hang in the Met. Largely unspent, that fund continues to gain value.
The Cleveland Museum of Art is one, perhaps the only, exception. "Virtually all our money is in one fund," said David Franklin, the director. From a total of $277 million, the museum draws out about $13 million a year.
"Cleveland's DNA is to be a museum of unique and rare individual works rather than clusters of works," Mr. Franklin said. "We are quite willing to spend half or more of our budget on a single object."
The museum recently bought a rare, late 13th-century carved Chinese lacquer box ("as big as a base drum," he said) that is unique in combining naturalistic and abstract design, and cost in the low seven figures. It also bought two ancient Andean Wari works, a little-known culture. One, a rare painted animal hide pouch, portrays a human head and was made from 600 to 1000; the other, a ceramic vessel, depicts a dignitary sitting in a litter carried by four porters.
"My philosophy is to go big, keep the bar high and be patient," Mr. Franklin said. He says he plans to create a focus gallery for major acquisitions so that "visitors will be excited by what we've got."
Mr. Franklin abandoned plans by his predecessor to devote $75 million in income from its art acquisitions funds, over 10 years, to the museum's expansion. "We will not spend any of that," he said. "It's almost an insurance policy. Our goal is to fund-raise that money. It will never be spent on the building if my campaign works."
Excitement by acquisition is also the approach taken by Matthias Waschek, who recently became director of the Worcester Art Museum in Massachusetts. The museum's $85 million endowment includes about $20 million reserved for acquisitions, giving him about $1 million a year to spend.
Mr. Waschek says he sees that as a nucleus to make "transformative" purchases that will raise attendance, just 45,000 last year, and plump up his buying power by attracting matching gifts.
Mr. Tinterow expressed similar sentiments, adding: "Large civic institutions are about growth, and a museum like ours is a civic institution. It must be present in the marketplace and show the community what a great acquisition looks like."
--
Acquisitions Endowments* of American Art Museums
Metropolitan Museum $632 million
Museum of Fine Arts, Houston $380 million
Crystal Bridges Museum $325 million
Cleveland Museum of Art $277 million
Virginia Museum of Fine Arts $156.7 million
Museum of Fine Arts, Boston $141 million
National Gallery of Art $91.3 million
Minneapolis Institute of Arts $91 million
Albright-Knox Art Gallery $86 million
Art Institute of Chicago $76.5 million
Detroit Institute of Arts $74 million
Harvard Art Museums $64.8 million
Princeton Art Museum $60 million
Fine Arts Museums, San Francisco $51 million
Museum of Modern Art $50 million
Toledo Art Museum $45 million
Carnegie Museum of Art $41 million
Currier Museum $35 million
Walker Arts Center $35 million
Philadelphia Museum of Art $27.8 million
Nelson-Atkins Museum of Art $25.9 million
Indianapolis Museum of Art $24 million
St. Louis Art Museum $20.2 million
Wadsworth Atheneum $20 million
Worcester Art Museum $20 million
*Data: Self-reported by museums, surveyed by the NYT, value at year-end 2011 or FY 2011