The radiant sun was starting its late-afternoon descent, leaving behind pleasantly warm air, and I was gliding on glassy water through a Gambian archipelago of tropical rain-forest islands in a brightly painted boat, a converted ferry with an upper deck and even a soft-drink bar [below, left]. Propped against pillows with my feet up, I was as comfortable as Cleopatra on her royal barge. Suddenly, Assan, our guide, spotted our goal: a big, black chimpanzee sitting on the wet, brown shoreline, eating fruit. And then there was another one, with a baby chimp swinging from its belly, high up in the trees.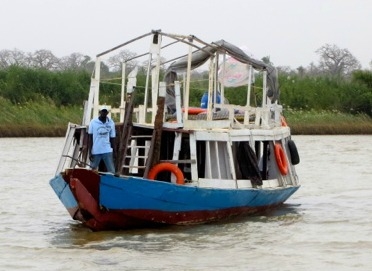 A day earlier in this tiny West African country, our targets were of a smaller, feathered nature: brilliantly azure Abyssinian rollers [middle, right], bright yellow-crowned gonoleks — nicknamed "the German flag" for their red, black and gold plumage — and dozens of other bird species. They were clearly visible from a walk along a dirt trail through the flatlands of Gambia's Kiang West National Park. Binoculars seemed almost optional, the birds were so easy to spot.
And the day before that, I found myself petting a crocodile that was basking in the sun on a rock at the edge of a pool at the Abuko Nature Reserve. Crocodiles can attack people, but these seemed simply to be enjoying the attention — or ignoring visitors altogether. (Perhaps that's because Gambians believe that crocs have spiritual powers, in particular for helping women become pregnant.)
These were scenes from the Rivers of West Africa cruise that I took in mid-February. More accurately, the trip may be described as a leisurely weeklong excursion that departs from Dakar, Senegal; sails south along its Atlantic coast; east into Gambia, an English-speaking sliver of land in the middle of Francophone West Africa; and up the Gambia River. It goes as far as is navigable by any boat larger than a ferry or pirogue, a long, wide canoe that is essential to travel here.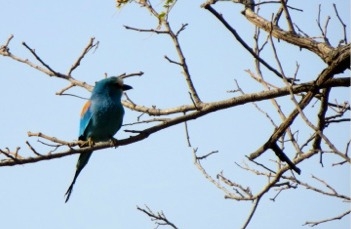 The Harmony V, a 25-cabin motor yacht operated by the Greek company Variety Cruises, stops at historic and cultural places along the Gambia River, the main artery of Gambia. But the African wildlife on view is a key attraction of this three-year-old river cruise — making it almost the polar opposite of the typical big-ship cruise that stops at sophisticated ports of call -- especially the birds, as Gambia, only about twice the size of Delaware, is home to more than 500 species of them.
Lacking most big animals — lions, elephants, rhinoceroses, giraffes and zebras died out here centuries ago — Gambia is unlikely to be the first stop in Africa for American tourists. Aboard my cruise on the Harmony V, everyone — most passengers were American, though that varies from week to week — had seen some countries in East or Southern Africa and one German couple had visited the continent 40 times.
Gambia offers a feast of hippos, monkeys, baboons, dolphins, manatees, various lizards and lots of snakes (we saw none of those, thank goodness). White-sand beaches on its Atlantic coastline are a favorite of Northern European vacationers (Gambia, which mainly exports peanuts and smoked fish, depends on tourism for hard currency, and has daily flights from Europe to its capital, Banjul). And with such a light tourism infrastructure upriver — Variety says it's the sole cruise operator, and the alternative is bumping along mostly primitive roads in trucks, staying in simple accommodations — visitors can get close to the real Africa, the Gambian people and their way of life.
My seven-night cruise, which ranges from about $1,800 to $3,200 per person, plus about $350 for shore excursions, began tumultuously on a Saturday night. Snowstorms in the United States had canceled and scrambled thousands of flights, and I landed at the Dakar airport 16 hours late and some four hours after scheduled embarkation. After navigating a manic, confusing visa regime, I was whisked to the port, where, thanks to a frantic call the day before from New York, Variety had agreed to hold the ship for me. The welcome dinner had long since ended, but crew members handed me a "welcome" fruit drink and quickly served my meal. Soon, the engines rumbled, and we set sail. I found my luggage in my cabin, quickly unpacked and fell asleep.
By 8:30 the next morning, my cruise-mates and I were off the boat, in a van and on our way across salt flats to a fishing village in the Siné-Saloum Delta in Senegal. The delta, a Unesco biosphere reserve about 70 miles from Dakar, is home to the bluest blue herons — almost like lapis lazuli — that I have ever seen. There must have been 30 or more in a flock, just standing elegantly near the road, until our attention scattered them.
The final destination on that morning was Fadiouth: It's an island formed entirely of crushed shells, devoid of motorized vehicles, but full of horse and donkey carts and merchants hawking multicolored fabrics, used clothing and housewares from their stalls. This being Sunday, worshipers in high-style African garb were just leaving Mass at St. Francis Xavier Church; both Senegal and Gambia are 90 percent Muslim, but guides constantly stress that Muslim and Christian communities live side by side without troubles.
Returning to the Harmony after a lunch of freshly caught grilled snapper at a local restaurant, we set sail again and began our routine. Once or twice a day, we debarked for shore excursions. Aside from the natural wonders, they included a tour of the capital, Banjul, a bustling mix of street markets and government edifices, as well as historic sites.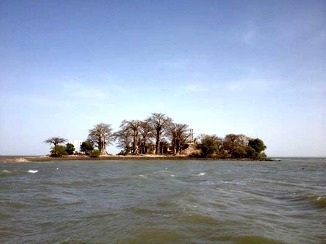 Gambia was carved out as a country for its trade route to the continent's interior, including the slave trade. So we stopped at the heavily eroded Kunta Kinteh Island [at left], made famous by Alex Haley, the author of "Roots," who traced his family line here to Kunta Kinte. There, in a sobering visit, we walked into the remains of cramped, windowless quarters where dozens of men and women at a time were held captive before their shipment to bondage in the United States.
Likewise, in Janjanbureh, an island way upriver, we visited the abandoned, derelict slave house, a booming local market where people mainly trade off the produce of their subsistence farms, and then the Freedom Tree. Lore has it that if captives survived a run from the slave house to the tree, facing bullets from their captors in a cruel game, they would be free. Of course, no one made it.
Not far from there, back on Gambia's mainland, we visited the Wassu Stones, a series of mysterious circles, some as big as 20 feet in diameter, of hewed brown laterite columns. Believed to be burial sites for chiefs or kings, they date from A.D. 750 to 1000. The Stone Circles of Wassu, a Unesco World Heritage site, are less impressive than Stonehenge, but what they lack in monumentality they make up for in number — the eight circles here are part of a group in Senegal and Gambia, 93 in all. Following local practice, I picked up a stone, placed it atop one of the columns and made a wish.
Everywhere we went, the Gambians were welcoming. Children took our hands and asked where we were from. Few asked outright for anything more than candy — begging is discouraged by the Gambian guides — but if they sang and danced for us, they usually passed a bowl. No one, however, objected when at one village we asked to see the teacher and gave him some money instead.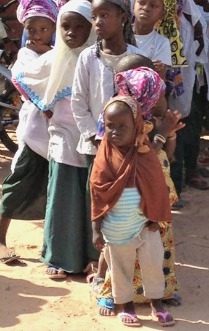 My fondest memory came at a nursery and primary school [at right] in Lamin Koto, a village close to Janjanbureh, which we stopped to visit because Variety and its passengers, through donations, are helping to pay for it. In a classroom of children, some as young as 3, dozens of children enthusiastically reached out to take my right hand. Glancing at the blackboard, where the teacher had written the alphabet, I decided to play teacher, pronouncing each letter so they would say it back — they were thrilled. Then, with prompting from their teacher, they happily belted the alphabet song so familiar to children in the United States.
And always, there was nature. Some passengers saw a large pod of dolphins early on, though I missed it. Another time, we saw big monitor lizards up in the trees, and the backsides of hippos clearly broke the water's surface in our view more than once, but they always went back under without showing their heads. On our walk in Kiang West National Park, we spotted the tracks of antelopes and some sort of wild cat, but we never glimpsed the animals.
After each excursion, we were met by Harmony crewmen offering cold towels and glasses of iced tea. Then the boat would begin chugging or meandering along the gray-green waterway and, from perches on the sun deck of the vessel, we could read, nap or sit in the sun or the shade and watch the scenery and life on the river roll by in slow motion. And each night, we enjoyed the creature comforts of the West, including five-course dinners. The rosy sunsets were pretty dazzling, too.