Here's a sampling of promising exhibitions on view this spring and summer.
NORTHEAST
BOSTON "Quilts and Color: The Pilgrim/Roy Collection." Dating from the mid-20th century on, some 60 quilts provide an exploration of color theory – vibrations, harmony, contrast, optical illusions and more. April 6 to July 27. Museum of Fine Arts, 465 Huntington Avenue; (617) 267-9300; mfa.org.
NEW HAVEN "The Grandeur of Japanese Screens." In three changing displays, 37 "byobu," or traditional Japanese screens, illustrate three themes: tales and poems; brush and ink; nature and celebration. Through July 6. Yale University Art Gallery, 1111 Chapel Street; (203) 432-0600; artgallery.yale.edu.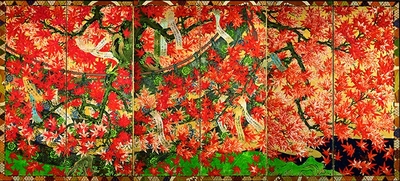 Japanese screens at Yale
PORTLAND, ME. "Richard Estes' Realism." With more than 45 works spanning five decades, this show illuminates Estes as a photorealistic painter of not only urban life but also nature. May 22 to Sept. 7. Portland Museum of Art, 7 Congress Square; (207) 775-6148; portlandmuseum.org.
SALEM, MASS. "Turner and the Sea." Joseph Mallord William Turner's lifelong obsession with the sea, in every light and weather, is examined in about 115 works, from his great maritime paintings and to works on paper that show how he worked. May 31 to Sept. 1. Peabody Essex Museum, 161 Essex Street; (978) 745-9500; pem.org.
WILLIAMSTOWN, MASS. "Cast for Eternity: Ancient Ritual Bronzes from the Shanghai Museum." From the core of the Shanghai museum's collection come 32 vessels and bells, emblazoned with animals, decorative motifs and abstractions, made between 1800 B.C. and 8 A.D. July 4 through Sept. 21. The Sterling and Francine Clark Art Institute, 225 South Street; (413) 458-2303; clarkart.edu.
WORCESTER "Knights!" Arms and armor, given by the defunct Higgins Armory Museum, are reinterpreted in themed sections, such as Courtly Pursuits and The Dance of Love and War, to illustrate how and why these works were made and used. Mar. 29, indefinitely. Worcester Art Museum, 55 Salisbury Street; (508)799-4406; worcesterart.org.
MID-ATLANTIC
NEW YORK "Italian Futurism, 1909–1944: Reconstructing the Universe." Bold, colorful works by created by artists who esteemed technology, youth and speed are on view in this first comprehensive, multidisciplinary survey of their movement in the United States. Through Sept. 1. Solomon R. Guggenheim Museum, 1071 5th Avenue; (212) 423-3500; guggenheim.org.
NEW YORK "Alibis: Sigmar Polke 1963-2010." With 300 works – painting, photography, film, drawing, prints and sculpture – this retrospective is one of the largest shows ever at the Modern, fully exposing Polke's experimental styles and irreverent wit. Apr. 19 to Aug. 3. Museum of Modern Art, 11 W. 53rd St.; (212) 708-9400; moma.org.
NEW YORK "Jeff Koons: A Retrospective." About 120 works in many mediums, including several new sculptures, will provide a complete chronology of Koons's career. June 27 through Oct. 19. Whitney Museum of American Art, 945 Madison Avenue; (212) 570-3600; whitney.org.
PHILADELPHIA "Treasures from Korea: Arts and Culture of the Joseon Dynasty, 1392-1910." Gathered for the first time, a broad variety of objects, from calligraphy to textiles and photographs, illustrates cultural life in the world's longest-ruling Confucian dynasty. Through May 26. Philadelphia Museum of Art, 2600 Benjamin Franklin Parkway; (215) 763-8100; philamuseum.org.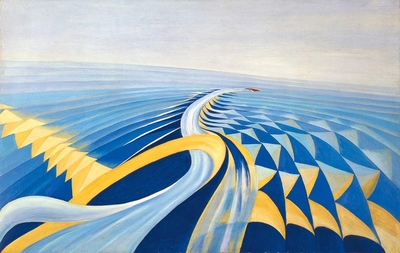 Futurism at the Guggenheim
WASHINGTON "Degas/Cassatt." Reversing the standard view that Edgar Degas influenced Mary Cassatt, this show demonstrates how she shaped his art and prepared the way for his warm reception in America. May 11 to Oct. 5. National Gallery of Art, National Mall between Third and Seventh Streets at Constitution Avenue N.W.; (202) 737-4215; nga.gov.
MIDWEST
CHICAGO "Magritte: The Mystery of the Ordinary, 1926–1938." More than 100 paintings, collages, drawings, photographs and other works illuminate the breakthrough years of René Magritte, when he created many fresh, sophisticated images. June 24 to Oct. 14. Art Institute of Chicago, 111 South Michigan Avenue; (312) 443-3600; artic.edu/aic.
CHICAGO "Unbound: Contemporary Art After Frida Kahlo." Kahlo's recurring themes, including gender and national identity, are explored by later artists including Francis Alÿs, Louise Bourgeois, Beatriz Milhazes and Cindy Sherman. May 3 through Oct. 5. Museum of Contemporary Art, 220 East Chicago Avenue; (312) 280-2660; mcachicago.org.
CLEVELAND "Remaking Tradition: Modern Art of Japan from the Tokyo National Museum." Works from Japan's premier museum demonstrate how painters, sculptors and craftsmen responded to social change there and to Western art in the late 19th through early 20th centuries. Through May 11. Cleveland Museum of Art, 11150 East Boulevard; (216) 421-7350; clevelandart.org.
DETROIT "Samurai: Beyond the Sword." Tea ceremony objects, Noh theater costumes, prints, poems, ceramics and lacquered boxes, plus elaborate battle paintings and menacing suits of armor, provide a comprehensive look at Japan's military elite from the 12th to the 19th centuries. Through June 1. Detroit Institute of Arts, 5200 Woodward Avenue; (313) 833-7900; dia.org.
MILWAUKEE "Kandinsky: A Retrospective." More than 100 of Kandinsky's works, including a 1922 Gesamkunstwerk, or "total environment," lounge made of large-scale mural panels that is shown for the first time in the United States, will be shown with works of his Blue Rider school peers. June 5 to Sept. 1. Milwaukee Art Museum, 700 N. Art Museum Drive; (414) 224-3200; mam.org.
MINNEAPOLIS "Finland: Designed Environments." In the last 15 years, Finnish designers, craftspeople and architects have produced elegant, creative, provocative and practical objects, as evinced in the furnishings, fashion, crafts and other objects on view here. May 10 to Aug. 17. Minneapolis Institute of Arts, 2400 Third Avenue South; (888) 642-2787; artsmia.org.
ST. LOUIS "Impressionist France: Visions of Nation from Le Gray to Monet." Nearly 125 paintings and photographs from 1850 to 1880 take viewers on a tour of France's varied landscapes and illustrate art's role in forging a national identity. March 16 to July 6. Saint Louis Art Museum, 1 Fine Arts Dr., Forest Park; (314) 721-0072; slam.org.
TOLEDO "The Art of the Louvre's Tuileries Garden." A look at Paris's famed, and once royal, garden through the ages by artists including Manet, Pissarro and Childe Hassam. Through May 11. Toledo Museum of Art, 2445 Monroe Street; (419) 255-8000; toledomuseum.org.
SOUTH
ATLANTA "Wynn Bullock: Revelations." A retrospective for this American modernist photographer includes his early light abstractions, landscapes, figure studies, color work, negative images and late abstractions. June 14 through Jan. 18, 2015. High Museum of Art, 1280 Peachtree Street N.E.; (404) 733-4444; high.org.
CHARLOTTE, NC "Bearing Witness: The New York Photo League and Sonia Handelman Meyer." About 90 photographs showcase the social realism of idealistic photographers who in 1936 joined to document their neighborhoods and capture the lives of ordinary people. Through June 29. Mint Museum Randolph, 2730 Randolph Road; (704) 337-2000; mintmuseum.org.
DALLAS "Nur: Light in Art and Science." With about 150 artworks dating from the 9th through the early 20th centuries in countries from Spain through Central Asia, "Nur" zeroes in on the use and meaning of light in both the physical and metaphysical sense. March 30 to June 29. Dallas Museum of Art, 1717 N Harwood St.; (214) 922-1200; dallasmuseumofart.org.
FORT LAUDERDALE, FLA. "William Glackens." More than 75 works trace the career from the 1890s to the 1930s of Glackens, known both as a member of "The Eight" group of radical American painters and as advisor to Dr. Albert Barnes as he amassed his stellar art collection. Through June 1. NSU Museum of Art, One East Las Olas Boulevard; (954) 525-5500; moafl.org.
HOUSTON "Georges Braque: A Retrospective." Using 78 works, this exhibition demonstrates the artist's path-breaking innovations in Cubism, which helped shatter traditional representational art. Through May 11. Museum of Fine Arts, 1001 Bissonnet; (713) 639-7300; mfah.org.
MIAMI "Caribbean: Crossroads of the World." Combining works from two centuries, from Winslow Homer and Wilfredo Lam to Allora & Calzadilla and Janine Antoni, this show brings together some 150 works to illustrate Caribbean heritage and culture. Apr 18 to Aug. 17. Pérez Art Museum Miami, 103 Biscayne Blvd.; (305) 375-3000; pamm.org.
RICHMOND "Posing Beauty in African American Culture." Photographs, films, videos, advertising and other forms of pop culture depict contemporary understandings of beauty in the context of race, class and other variables. Apr. 27 to July 27. Virginia Museum of Fine Arts, 200 N. Boulevard; (804) 340-1400; vmfa.museum.
WEST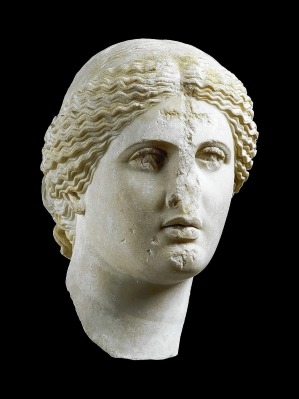 Byzantium at the Getty
DENVER "Modern Masters: 20th Century Icons from the Albright-Knox Art Gallery." About 50 important artworks illustrating the modernist movement by artists from van Gogh to Picasso and Pollock are presented in tandem with "1959: The Albright-Knox Art Gallery Exhibition Recreated" at the adjacent Clyfford Still Museum, which delves deeper into the work of Still, a prominent Abstract Expressionist. Through June 8. Denver Art Museum, 100 West 14th Avenue Parkway; (720) 865-5000. Denverartmuseum.org.
LOS ANGELES "Expressionism in Germany and France: From Van Gogh to Kandinsky." An exploration of the dialogue between French artists and the Expressionists of the Brücke and Blue Rider groups just before World War I includes works by van Gogh, Cézanne, Gauguin and Matisse, plus Ernst Ludwig Kirchner, Emil Nolde, Franz Marc and Wassily Kandinsky. June 8 to Sept. 14. Los Angeles County Museum of Art, 5905 Wilshire Boulevard; (323) 857-6000; lacma.org.
LOS ANGELES "Heaven and Earth: Art of Byzantium from Greek Collections." From icons to sacred manuscripts, sculptures to mosaics, and more, nearly 200 objects illustrate Byzantium's aesthetic, which so influenced neighboring cultures from A.D. 330 to 1453. April 9 to Aug. 25. Getty Villa, 17985 Pacific Coast Highway; (310) 440-7300; getty.edu.
PORTLAND "Venice: The Golden Age of Art and Music." Exploring relationships between visual artists like Titian, who depicted concerts and dances, and composers like Vivaldi, who depended on artists for set and costumes, this exhibit includes paintings, drawings, illuminated manuscripts, period instruments and early music texts. Through May 11. Portland Art Museum, 1219 SW Park Avenue; (503) 226-2811; portlandartmuseum.org
SAN DIEGO "Spanish Sojourns: Robert Henri and the Spirit of Spain." Henri traveled to Spain to paint seven times between 1900 and 1926, yet this is the first museum show dedicated to works he made there, with more than 40 major paintings. March 29 through Sept. 9. San Diego Museum of Art, 1450 El Prado; (619) 232-7931; sdmart.org.
SAN FRANCISCO "Gorgeous." A mashup of 45 objects from the San Francisco Museum of Modern Art, including works by Picasso and Rothko, and 45 from the Asian Art Museum, including a gilded Burmese Buddhist bowl and a 16th-century Persian Quran, asks "What is gorgeous?" June 20 to Sept. 14. Asian Art Museum, 200 Larkin St.; (415) 581-3500; asianart.org.
SEATTLE "Modernism in the Pacific Northwest: The Mythic and the Mystical." The first comprehensive look at a group of artists, including Mark Tobey and Morris Graves, drawn from the museum's collection and a recent gift. June 19 to Sept. 7. Seattle Art Museum, 1300 First Avenue; (206) 654-3100; seattleartmuseum.org.