Taking another leap in its evolution from a disused 19th-century factory complex into a 21st-century center for visual and performing arts, the Massachusetts Museum of Contemporary Art is set to announce on Monday that it has forged six new 15- to 25-year partnerships with big names in contemporary art, including James Turrell; the Robert Rauschenberg Foundation; the Easton Foundation, which controls the estate of the sculptor Louise Bourgeois; Laurie Anderson; and Jenny Holzer.
Together, the artists' work will fill about 90,000 square feet if new space. These galleries will bring Mass MoCA's exhibition areas to roughly 260,000 square feet after the renovations announced last summer, with the help of $25.4 million in state funds. Mass MoCA will then rank among the largest art museums in the country, just shy of the gallery space at the Los Angeles County Museum of Art.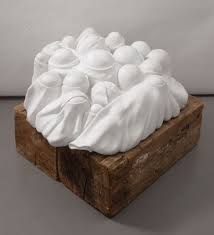 A marble by Bourgeois
When the new spaces are opened in 2017, they will turn this institution in North Adams, Mass., into what Joseph C. Thompson, its director, calls "a campus of museums" with a diverse set of curatorial viewpoints. "We're teaming up with people who have great bodies of artworks that we are hosting," he said.
At its opening in 1999, Mass MoCA, which has no permanent collection, was a showcase for large-scale art exhibitions, often commissioned or created on site, and a contemporary performing arts program. But in 2008, in a 25-year agreement with the Yale University Art Gallery, Mass MoCA turned over several galleries to Sol LeWitt's large-scale wall drawings. When they proved popular, drawing visitors between the museum's changing exhibitions, a light bulb went off for Mr. Thompson; he has been working on partnerships to fill his empty buildings ever since.
The long-term pacts he has devised — sometimes structured as cost-shares, allowing Mass MoCA to expand at minimal expense — are unusual for art museums, which more typically borrow collections for short-term exhibitions. "These partnerships come from the opportunities created by the space," said Michael Govan, who worked on Mass MoCA in the 1980s, when it was just an idea, and is now director of the Los Angeles County Museum of Art. "Most museums are looking to expand, or they are expanding." Mass MoCA "could be a model for communities that are willing to invest in space," he added. "There are a lot of collections out there in storage."
And there are a lot of artists who would like to fill space. "If you go there and see the Sol LeWitt installation, you'll understand how meaningful it can be," said Mr. Turrell, who works with light. He will have 35,000 square feet at Mass MoCA — as much as he had at his recent 10-month retrospective at the Los Angeles County Museum of Art — for 25 years. In it he will place nine or 10 works, including several borrowed from his family and from the Guggenheim Museum. Mr. Turrell is also creating a two-story version of his Ganzfeld works — an immersive light field that challenges visitors' depth perceptions — and he will turn a water tank into one of his "skyspaces." As his part of the deal, he plans to donate one or two works.
The Rauschenberg Foundation will use its 20,000 square feet to show some of Robert Rauschenberg's monumental works, including "Synapsis Shuffle," a 52-panel piece from 1999 with painted passages and photographic images that he intended viewers to shuffle like a deck of cards, reassembling the sequence. It will also exhibit works by artists who have had residencies at Rauschenberg's former home in Captiva, Fla.; and it will invite scholars from the Williams College/Clark Art Institute art history program to curate exhibitions of his pieces and art by others to provide a "new view" of Rauschenberg's works.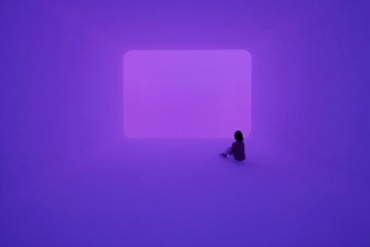 A version of Turrell's Ganzfeld
"We don't want to build a Robert Rauschenberg museum," said Christy MacLear, executive director of the foundation, which has been placing the artist's works in museums around the country. She said the financial details remain to be defined, but added, "We'll support the programs."
In another space, Ms. Holzer, a Conceptual artist, said she would display "some old, some new" works, including her signature electronic light projections of poetry and slogans, and a new piece, still in development, that would allow visitors with smartphones to see augmented reality projections, blending the real with 3-D virtual objects.
The Easton Foundation will fill 5,000 square feet with six to eight massive carved marble sculptures by Bourgeois. Some have never been seen in public and at least one, about 7 by 7 by 11 feet, will require cutting through a wall for installation.
For Ms. Anderson, Mass MoCA is creating installation galleries; a production studio where visitors can watch her create audio and video works; and a display of the costumes, instruments, paintings and other objects she makes.
Finally, in collaboration with Bang on a Can, a new-music consortium, Mass MoCA will develop an interactive music room, where people can try hundreds of original instruments that were handmade by the composer Gunnar Schonbeck.
The museum's curatorial team will gain about 20,000 square feet of gallery space in the renovation and installation projects, leaving only one significant building in the 26-building complex left to develop. Mass MoCA has raised $13.5 million of the $30 million it needs to supplement the state funds and to build a maintenance reserve and endowment.