When the cosmetics magnate Leonard A. Lauder was trying to decide which museum should inherit his $1 billion collection of Cubist art, he asked those he was considering how they would keep the collection alive as a focus of intellectual inquiry and public interest. "We wanted to avoid the usual 'donation, installation, catalog and then what?' " said Emily Braun, Mr. Lauder's longtime curator.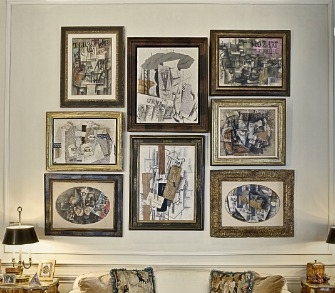 Paintings rom the collection hung in Lauder's apartment.
So the Metropolitan Museum of Art's proposal to establish and help finance a scholarly center devoted to the study of Cubism and Modern art found receptive ears. It was just what the Lauder team had in mind, Ms. Braun said.
The founding of the Leonard A. Lauder Research Center for Modern Art is not the only reason the museum won this unparalleled collection as a promised gift in 2013; Mr. Lauder, 81, wanted his donation to be transformative, and there it would be, since the Met's holdings of 20th-century art were noticeably scant.
But the scholarly center certainly helped. And the spotlight has shifted to it now that an inaugural exhibition of the 81 paintings, collages, drawings and sculpture by Picasso, Braque, Gris and Léger in his gift has closed at the museum — with all but three of the works returned to Mr. Lauder's apartment, where they will mostly remain until his death.
Just how will Cubism be kept alive by, as the Met describes it, the "first such center dedicated exclusively to Modern art within an encyclopedic museum"?
As a subject of interest, Cubism presents a paradox of sorts. To the general public, even the museumgoing public, this art movement is challenging, offering little that immediately pleases the eye.
"Cubism can be off-putting to people who haven't looked at it closely," said Rebecca Rabinow, the Met curator who heads the center. "Many people walking through the exhibition said to me, 'I never thought I liked Cubism, but I guess now I do.' "
But to art historians, Cubism is the gateway to Modern art. The term was first used in 1908 in a critique of a Braque exhibition at the Paris gallery of Daniel-Henry Kahnweiler.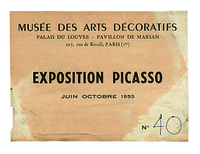 Example of an archival label
"Cubism was the most important development in 20th-century art, and I don't think it will ever be exhausted as a subject," said Michael C. FitzGerald, a professor of fine arts at Trinity College in Hartford and the author of "
Making Modernism: Picasso and the Creation of a Market for Twentieth-Century Art
."
The center, which has its own $22 million endowment, intends to address both general and scholarly audiences. Ms. Rabinow said her to-do list took shape after internal discussions with the center's advisory board, which includes Ms. Braun, who is also a professor of art history at Hunter College, and a survey of other art research institutions.
"It was like a start-up," she said. "There was a small team, and we did whatever we could imagine that we thought would be useful."
Not surprisingly, the center is relying heavily on the web to disseminate information. Its microsite includes videos in which Mr. Lauder explains his collecting philosophy; Ms. Rabinow and Ms. Braun converse about Cubism; conservators dissect specific works; and more.
There are images of the entire collection, with information on each piece, and a nascent database of important dealers and collectors of Cubism, with more to be added regularly.
"The process of assembling this resource has involved extensive research, sifting through primary historical documents, long-lost records and so on," Ms. Rabinow said. "It's a good example of the work that the research center has been set up to do: providing a centralizing force for new research and discoveries in the field of Cubism."
The site also includes a database of the archival labels on the paintings and digitized images of the backs of the canvases. "Every mark means something, and you can trace the lives of these paintings through them," Ms. Rabinow said. The labels document each work's provenance and exhibition history, and the backs yield other insights. "You can tell that Braque stretched his own canvases and sometimes was sloppy," she said, "and that Picasso didn't."
"All the content on this microsite is original — it's not in the catalog" of Mr. Lauder's art, she added. "It was like writing a second book. I didn't sleep for a year."
Ms. Braun said, "Eventually, you will be able to find the whole history of a work of art online, along with archival photographs of the picture in situ," in various shows.
The research process led to the discovery that some paintings were misdated or bore inaccurate titles that were probably added later by others. Ms. Rabinow, for example, had been mystified by Braque's 1907 "Terrace at the Hôtel Mistral," painted that summer in the South of France.
"I didn't think it was the Hôtel Mistral at all," she said. "I found a postcard of the hotel, which Mr. Lauder bought. The wall didn't look like the wall in the painting. Then I used Google Earth, and I found another hotel with this balustrade, the Grand Hotel Château Fallet. So the title of his painting has been wrong."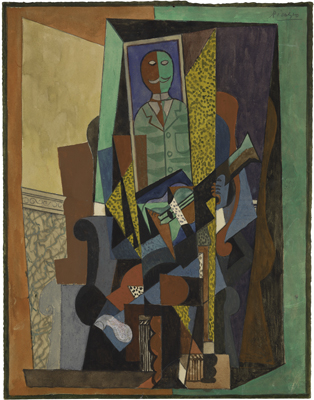 Picasso's Man With a Guitar, from the Lauder collection
In another line of research, Verane Tasseau, one of two scholars who began two-year fellowships at the center last September, is tracing works sold between 1921 and 1923, when Kahnweiler's gallery was liquidated. (The French government had exiled Kahnweiler, a German national, when World War I broke out in 1914 and confiscated his inventory.)
Kahnweiler's archives have rarely been available to scholars, Mr. FitzGerald noted. Ms. Tasseau's project, if successful, could "change art history and through that, our understanding of 20th-century art politics," he said, adding: "She may make it. With the Met's backing, it may give her another push." Two more fellows will join the center next fall, as will a midcareer or senior scholar undertaking a residency.
Opening such a center at a large museum like the Met rather than at a university or as an independent entity has its advantages, Mr. FitzGerald suggested.
"To me, the most productive aspect in the study of art history is a revival of connoisseurship, an alliance of curators and conservators to study the object," he said. "That teaches us so much more about the way the artist was thinking. The alliance with the museum is the only place where this can happen."
The Met has a comprehensive conservation department, including a corps of scientists who have already added several short essays to the center's website in a feature called "A Closer Look."
The center is also sponsoring lectures and symposiums on the Lauder collection and on Cubism; in February, it hosted one that examined how Cubism spread through Central and Eastern Europe. The center also plans workshops in which curators and art historians will brainstorm about future small "dossier exhibitions" for which Mr. Lauder has promised to lend works every two years. And it will acquire archives from dealers and collectors, including the one documenting Mr. Lauder's collection, a trove of information that he has also bequeathed to the Met.