If "fifty shades of gray" had not been co-opted in 2011 for the title of a poorly written erotic novel, the phrase might well have been applied to the art of Vilhelm Hammershøi (1864-1916). No matter the subject, Hammershøi—renowned in Northern Europe, especially his native Denmark, but not well known in the U.S.—composed his paintings with muted colors; even his portrayal of skin is pinkish gray.
But he does so to great effect, as is illustrated by "Painting Tranquility: Masterworks by Vilhelm Hammershøi from SMK—The National Gallery of Denmark" at Scandinavia House through Feb. 27, 2016. In Hammershøi's hands, gray conveys not bleakness, but quietude, melancholy and mystery.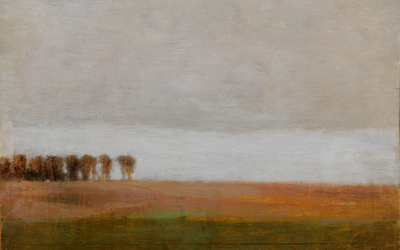 "View of Jægersborg Allé."
Along with other Danish artists of the time, Hammershøi painted everyday scenes in a realistic style. But he stripped his works of color, narrative, detail and, often, people. He preferred soft focus to hard edges and favored overcast days for his outdoor scenes. Initially, this confused the public. But it prompted one prescient teacher to say, "I have a pupil who paints most oddly. I do not understand him, but believe he is going to be important and do not try to influence him."
With just 24 pictures, "Painting Tranquility" provides a good overview of Hammershøi's work: portraits, landscapes, street scenes and, of course, the interiors for which he is best known. What unifies them all is his attention to light and line.
To create the interiors, Hammershøi constantly rearranged the furniture and objects in his apartment. He sometimes included his wife, usually seen from behind. Though he was clearly inspired by Dutch Golden Age artists—he has been called the Danish Vermeer—his works are quite different. With meticulous brush strokes, Hammershøi constructed atmosphere, ambiance, enigma, rather than real scenes or situations.
A prime example is "Interior With the Artist's Easel" (1910). It shows a room empty of all furniture but the easel; a painting hangs, too high, on the wall. Light trickles in from a window on the picture's edge—but not evenly. Instead, it's spectral, suggesting the presence of the artist. To the right, a door is opened to show a table topped by a bowl. Strangely, that bowl is more sharply rendered (there's even a little glint) than anything in the foreground, a trick Hammershøi deployed in other works, too.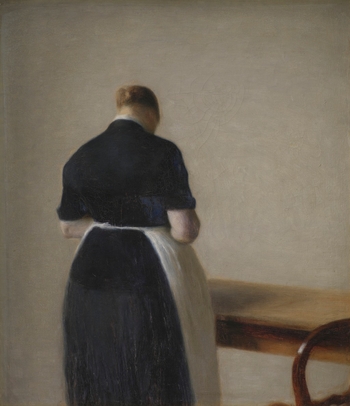 "Woman Seen From the Back"
When Hammershøi inserts people into his interiors, it's often a lone woman, as in the beautiful "Woman Seen from the Back" (1888). Other than showing a table, Hammershøi gives no clue to her activity. This vagueness has been interpreted as a comment on the constricted lives of women of the period.
Some interior paintings suggest a more amiable, even peaceful mood. One of the lightest, and most light-filled, works here is "Interior in Strandgade, Sunlight on the Floor" (1901). A white-curtained window is at the center, allowing sunlight to stream into the room. The seated woman on the left is occupied—we know not with what—and the door on the right is closed. Much has been read into Hammershøi's doors: "open" suggesting possibility or perhaps transition, and "closed" hinting at isolation. Still, here the mood is upbeat.
Hammershøi also created lovely light-filled landscapes, occasionally using some color. "View of Jægersborg Allé. Gentofte, North of Copenhagen" (1892) portrays a row of trees off to the left, with a strip of green in the foreground fading to beige. Yet this work, too, is peculiar: Some three-quarters of it is a cloudy gray-blue sky, like a void.
The portraits here tend, aside from their pale colors, to be more conventional, except for the best one. "Portrait of Ida Ilsted, Later the Artist's Wife" (1890) poses her on a chair, dressed in a feathered hat, black dress and faint yellow jacket, her hands idle on her lap. She is inscrutable, and the painting devoid of context.
Like his teacher, we still don't quite comprehend Hammershøi, and that's the very reason his works are worth getting to know. He keeps you thinking long after you leave this exhibition.