How to get people interested in art? How to engage millennials? How to expose permanent-collection works that sit in storage? These are questions art museums constantly ponder.
Recently, Tate Britain asked another one: How can artificial intelligence help?
It put the question to anyone who wanted to compete for the 2016 IK Prize, which promotes the use of digital technology in the exploration of art at Tate Britain or on the Tate website.
"A.I. was chosen as the theme this year because getting machines to do what humans can do is one of the most exciting frontiers in technology," said Tony Guillan, a multimedia producer for Tate who manages the prize, which is named for the philanthropist Irene Kreitman. "Is there anything more human than looking at art?"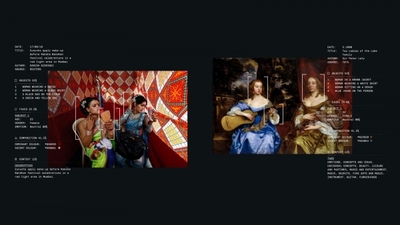 Eunuchs apply make-up before Raksha Bandhan festival celebrations in a red light area in Mumbai, India, 17 August 2016, matched with Sir Peter Lely Two Ladies of the Lake Family c.1660, Tate
The winning entry — "Recognition" — came from a team at
Fabrica
, a communication research center in Treviso, Italy. It features a program that continuously screens about 1,000 news photographs a day, supplied by Reuters, and tries to match them with 30,000 British artworks in the Tate's database, based on similarities in faces, objects, theme and composition.
"We asked, 'What if we could link our everyday lives to the collection to illuminate similarities between the present and the past?'" said Angelo Semeraro, a member of the Fabrica team.
Coralie Gourguechon, a colleague, added, "We wanted to see the world through two different lenses — how the world was represented before and how the world is represented today."
So, with help from JoliBrain, a crew of French A.I. specialists, and from Microsoft, which partnered in the prize with Tate Britain, the Fabrica team developed "Recognition." Fabrica received about $120,000 for production and about $19,500 in prize money.
People can watch the "Recognition" process online: Images in the database rotate past a photo and are given scores, according to the four variables. When a match is made, the pairing is saved in an online gallery and displayed at Tate Britain. Since it began Sept. 2, the program has been twinning images at a rate of one to three an hour. By the time it ends on Nov. 27, "we expect 2,000 to 3,000 matches," Mr. Guillan said.
Some matches are revealing, but many seem puzzling. For example, there's the match between a ceremony where the Japanese prime minister, Shinzo Abe, greets the prime minister of Singapore, Lee Hsien Loong, and "Horse Sale at the Barbican" (1912), by Robert Bevan. There's a Hong Kong pro-democracy demonstration paired with "Cardinal Bourchier Urges the Widow of Edward IV to Let Her Son Out of Sanctuary," by John Zephaniah Bell (circa 1868). And there's a colorful flag fluttering at the United States Embassy in Costa Rica matched with an abstract work called "Chance, Order, Change 12 (Four Colours)" (1980), by Kenneth Martin.
"Art is not so simple; art is uncharted space for A.I.," said Eric Horvitz, director of the Microsoft Research Lab. Mr. Horvitz, who served on the prize's judging panel, said that was one reason Microsoft collaborated with the Tate.
"In areas like health care and transportation, we spend a lot of effort characterizing the performance and having a crisp understanding of how A.I. does what it does," Mr. Horvitz said. But with art, he added, "we want A.I. to be creative and make mistakes and meander." Something may be gleaned from that whimsy.
Shelley Bernstein, the deputy director for digital initiatives at the Barnes Foundation in Philadelphia, called the project "pretty awesome." She said it would prompt viewers to look at art more closely.
But other observers, including Murtha Baca, the head of digital art history at the Getty Research Institute, were more skeptical. "It may get people to browse the collection," Ms. Baca said. "Often, people don't know what to browse or search for." But she sees no potential for it to change art history. She and others also found the site to be user-unfriendly.
If visitors do spend time on the site, they will find a link to the data showing why a match was made, which allows them "to understand more about the machine's thinking," Mr. Semeraro said. They may also learn something about the formal qualities of art, like line and composition.
But what about those many odd matches? "One conclusion is that looking at art is very much a creative process," Mr. Guillan said.
Humans, in other words, can judge the subjective, symbolic, ambiguous and narrative qualities of an artwork; machines can't. The final part of "Recognition" may start to address that A.I. deficiency. At Tate Britain, visitors to the "Recognition" gallery can interrupt the machine and register their own choices. In essence, they will retrain the initial program. "A.I. will become smarter based on what people say," Mr. Horvitz said. These results will be revealed at the end of the experiment.
Mr. Guillan envisions a bigger role for A.I. in museums. It is likely to find its way into helping to create multimedia tours and into technical art history, which uses scientific analytical tools to evaluate artworks.
James Cuno, president of the J. Paul Getty Trust and an evangelist for the use of technology by art historians, assessed "Recognition" as a "well-meaning and an interesting experiment." Then he added, "It shows that we are in the early stages of the development of this technology and that there's still a long way to go."