In 1908—the same year that a Paris correspondent for the New York Times called his works "too ridiculous even to laugh at"—Henri Matisse had his first solo exhibition in the U.S.: Alfred Stieglitz exhibited one of his paintings, "Nude in a Wood" (1906), and several drawings at his avant-garde gallery 291.
Matisse: "Yellow Odalisque"
American artists weren't laughing either, but for the opposite reason. They were admiring Matisse, studying with him, collecting him and drawing inspiration from him. And they have ever since, as "Matisse and American Art" at the Montclair Art Museum illustrates. With 19 works by Matisse and 44 by others, this enterprising exhibition extends the previously explored territory of Matisse's influence on postwar painters like Mark Rothko, Helen Frankenthaler and, especially, Richard Diebenkorn backward to early modernist artists like Arthur Dove and forward to contemporary artists like Faith Ringgold.
Subtly and boldly, in homage, in spirit and in appropriation, the 34 Americans in this exhibition borrowed Matisse's palette and images, learned from his compositional structures, adopted his fluid brushwork and adapted his themes to their purposes.
Matisse's "Nude in a Wood," a brushy confection of pinks, peaches and greens, hangs in the opening gallery here, along with some drawings—a sampling of his art that Americans in the early 20th century might have seen in Paris, at 291 or at the 1913 Armory Show. Juxtaposed are works created in response. Dove, for example, painted a fulsome still life, "The Lobster" (1908), that shares ancestry with Cézanne, but in brilliant colors and with an arabesque background that could have been inspired only by Matisse. Similarly, Alfred Maurer's "Le Sentier" (c. 1908) deploys simple shapes, Fauvist colors and fluid lines, rather than details, to form a landscape.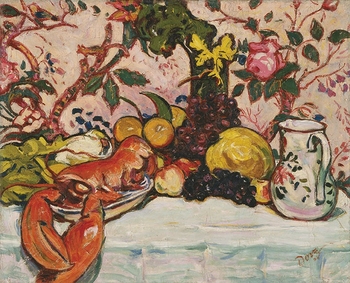 Dove: "The Lobster"
The exhibition then proceeds thematically through several Matisse hallmarks. A wall in the next gallery is hung with eight vividly colored prints by conceptual artist John Baldessari: His "Eight Soups" (2012), which include tomato and blueberry varieties, playfully mash up Matisse's recurring images of bright orange goldfish in a bowl with Andy Warhol's soup-can paintings. Nearby is a blunter appropriation of the goldfish theme—a painted bronze sculpture, "Goldfish Bowl II" (1978), by Roy Lichtenstein.
Next come Matisse's open windows, which he used to explore the boundaries between interior and exterior spaces, as shown in "Interior at Nice (Room at the Beau Rivage)" (1917–18) and "Nu campé, bras sur la tête" (1947). Milton Avery's "March on the Balcony" (1952) is a flatter, simpler window view that provides evidence for a contention made by the influential critic Clement Greenberg—that Avery played a crucial role in art history, acting as a bridge between Matisse and the Abstract Expressionists.
Matisse's studio interiors, which portray the textiles, sculptures and other items that sparked his imagination, inspired a wide range of works. Stuart Davis's "Studio Interior" (1917), which he made after seeing Matisse's "The Red Studio" (1911), and Hans Hofmann's "Pink Cupboard" (1939), for which he drew on Matisse's "Pink Studio" (1911), share color or structure or both with Matisse works. For Rothko, who intently studied "The Red Studio" at the Museum of Modern Art, which owns it, before painting "No. 44 (Two Darks in Red)" in 1955, the connection is much looser—no objects, but a similar sense of space.
Matisse's famed use of patterns is here, too, in Judy Pfaff's biomorphic "Six of One—Meloné" (1987), for example, and Warhol's appropriation, "Woman in Blue (After Matisse)" (1985), which mimics Matisse's 1937 painting of a female in a full, frilly dress.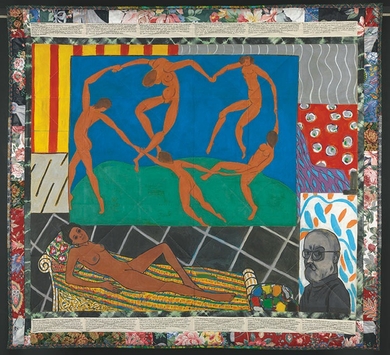 Ringgold: "Matisse's Model"
His late-in-life cutouts are echoed in Romare Bearden's "Dream" (1970), a collage of a nude, lying on a bed, made from cut, colored paper. The work also draws on Matisse's palette and the odalisque theme, which Matisse used in several paintings.
The exhibition also takes note of one case where the flow was reversed. Patrick Henry Bruce was both student of and friend to Matisse, and his Cubist still life "Peinture/Nature Morte" (1925-28) hangs next to a print of Matisse's design for "La Danse" (1935-36), which borrowed Bruce's distinct rose, blue and other colors.
So many artists looked to Matisse—not only for inspiration but also for permission to experiment—that this exhibition could have been much larger. As a supplement, the Montclair museum gathered 53 additional works from its permanent collection that relate to Matisse—by Alex Katz, Walt Kuhn, Nick Cave, Mickalene Thomas, Nancy Spero, William Baziotes and others—and installed them in its permanent collection galleries.
Together, they allow visitors to see Matisse though the eyes of artists. The result is a better understanding of Matisse and a greater appreciation for the man Rothko called "the greatest revolutionary in modern art."