San Francisco
Rarely—if ever—in the history of modern art has a renowned artist been as deeply and openly inspired by another artist as Richard Diebenkorn was by Henri Matisse. He first encountered a Matisse painting in 1943, as an art student at Stanford. Ever after, Matisse's works—which Diebenkorn sought out on his travels and studied in his vast collection of publications about him—percolated in his mind. Again and again, Diebenkorn (1922-1993) would create drawings and paintings whose structure, palette, light, fluidity and sense of place profoundly embraced Matisse.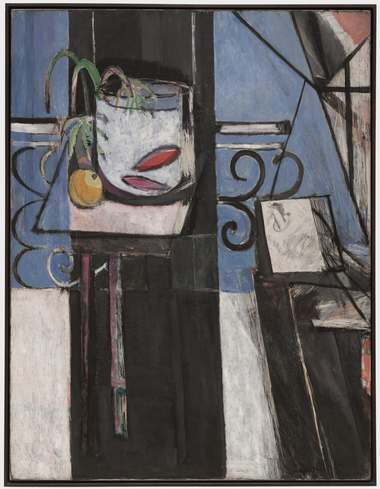 "Goldfish and Palette"
Always, though, "he was able to make them new," as scholar John Elderfield writes in the catalog for "Matisse/Diebenkorn," a stunningly beautiful display here at the San Francisco Museum of Modern Art.
The exhibition brings to life a relationship that has been much discussed but never so thoroughly explored. By interspersing 40 paintings and drawings by Matisse with 60 by Diebenkorn, it captures the artistic journey Diebenkorn began in earnest 10 years after that fateful day in 1943, and one year after he visited a major Matisse exhibition in Los Angeles.
Diebenkorn was teaching in Illinois in 1953. Uninspired by his surroundings, he drew on his reservoir of Matisse images, giving the abstract works he had been painting brighter colors and more defined structures.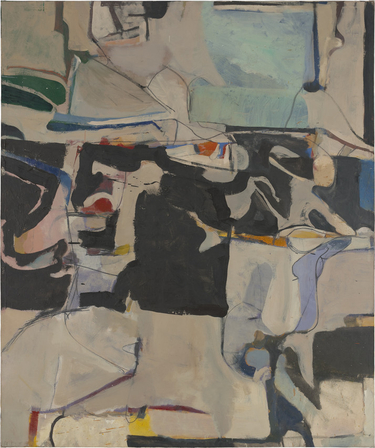 "Urbana #6"
In "Urbana #4" (1953), he channeled Matisse's "Studio, Quai Saint-Michel" (1916), painting blocks of red, yellow and blue that echo the geometry of the Matisse. In "Urbana #5 (Beach Town)" (1953), his abstract shapes are rooted in Matisse's "Interior at Nice" (1919), a painting that also led Diebenkorn to mix interior and exterior spaces and to play with perspective. In "Urbana #6 (1953), he adopts the structure of Matisse's "Goldfish and Palette" (1914). And he begins to drop stripes, dots and other bits recalling Matisse's highly decorative (and gorgeous) textile and wallpaper patterns into his works—but sparingly.
By 1955, a restless Diebenkorn had turned away from abstraction (which then dominated American art) and begun painting brilliantly colored, luscious streetscapes, still lifes and figurative works. The rich array here—"Still Life With Orange Peel" (1955), "Cityscape #1" (1963) and "Sleeping Woman" (1961) are among the best—allows comparing and contrasting with Matisse's "Fruit Dish" (1902-3), "Notre Dame, a Late Afternoon" (1902) and "The Blue Eyes" (1935). They reveal the difference between "twins," or copies, which these are not, and inspirations.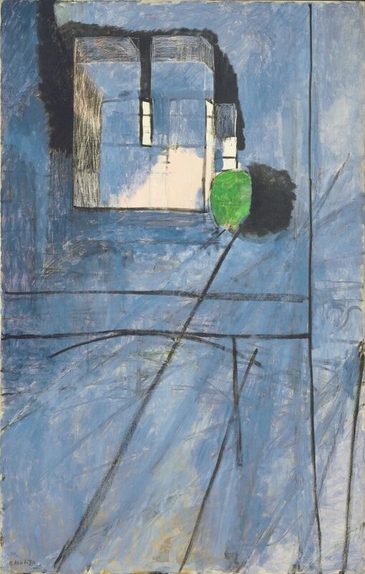 "View of Notre Dame"
About two-thirds in, visitors come upon "Recollections of a Visit to Leningrad" (1965), a highlight that is among Diebenkorn's most overt homages to Matisse. He painted it soon after returning from a cultural exchange to the U.S.S.R., where he had spent hours studying the Matisse works amassed by famed collectors Sergei Shchukin and Ivan Morozov. "Recollections" blends arabesques like those in Matisse's masterpiece "Red Room (Harmony in Red)" (1908), bought by Shchukin but not on view here, with a spare, flattened landscape, in bright blues and greens, seen through a window, updating a recurring practice of Matisse.
Now Diebenkorn was ready to move on again. Late in the 1960s, after he moved to Southern California, he returned to abstraction, beginning his Ocean Park series—flat, colorful, geometric abstractions that evoke the Pacific coast.
Yet they, too, link to Matisse. In one very revealing sequence, Matisse's bold "Nude With a White Scarf" (1909) hangs not far from his abstracted "Seated Pink Nude" (1935). Between them is Diebenkorn's "Ocean Park #6" (1968), an abstract work that bears traces of bodies and draws especially on "Seated Pink Nude."
Two more radical Matisse works, both from 1914, were even more crucial to Diebenkorn. "View of Notre Dame" shows only the bare outlines of the cathedral through a window, its surroundings delineated sketchily. "French Window at Collioure" strips down the view even more—showing only blocks of color with no detail.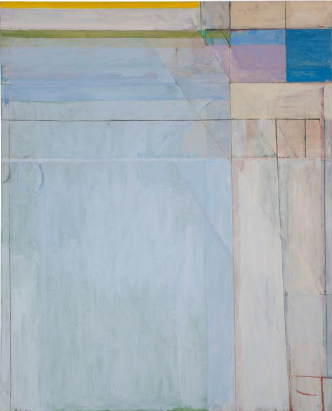 "Ocean Park #54"
Diebenkorn proceeded to create shimmering, luminous large-scale abstractions, in soft shades of color—blues, pinks, greens, purples and golds. Structurally related to Matisse paintings, these works—such as the brilliant "Ocean Park #54" (1972), "Ocean Park #79 (1975) and "Ocean Park #122" (1980)—are atmospheric paintings of light, land, air and water.
Diebenkorn had changed dramatically. No longer making the energy-filled abstractions of his youth, or the sumptuous figurative works of his middle years, he had evolved into a painter of quiet, peaceful, thoughtful works.
I first saw a slightly smaller but equally dazzling version of this exhibition last fall at the Baltimore Museum of Art, where the artworks had been hung in a somewhat different order. Strikingly, each juxtaposition there also made perfect sense. In "Matisse/Diebenkorn," curators Katherine Rothkopf in Baltimore and Janet Bishop in San Francisco have definitively illustrated just how deeply Diebenkorn internalized the art of Matisse.
Diebenkorn, it should be noted, also drew inspiration from artists like Cézanne, Mondrian, Bonnard and Hopper—along with Indian miniatures, which he collected. But as shown here, Matisse was his North Star, ever present, ever shining.