Who says the contemporary art world has all the sexy fun? Chelsea galleries may be known for their crowded, often boisterous Thursday and Friday night openings that spill out into the streets. But it's a bit of a secret that dealers in Old Masters, antiquities and 19th Century art also open their doors at night to the public in party mode—and there's no better example right now than October Art Week.
Coming up on Oct. 26, 19 galleries on the Upper East Side will kick off the festivities with evening receptions that run from 5 p.m. to 9 p.m. They'll be showing off works by Matisse, Hopper, Feininger, Renoir and many others. And serving up wine, of course, and other refreshments.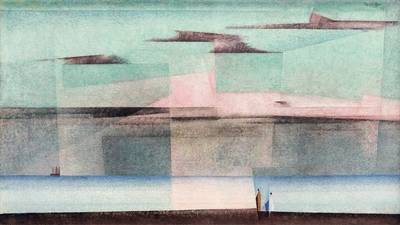 Lionel Feininger
October Art Week receptions first popped up last year, after a few galleries decided to capitalize on the arrival of The European Fine Art Fair in New York: TEFAF, held every March in Maastricht, the Netherlands, has been called the Olympics of the art world and by some measures is the world's largest art fair.
The combination of TEFAF and a special gallery week, with extended hours for the galleries, created a critical mass of interest in art that predates the 21st century. And the dealers, in the words of Frances Beatty, president of Adler Beatty on East 69th St., wanted "to make this really fun." It worked.
Last year's parties—technically called "an art walk"—drew steady, if perhaps a bit better-behaved, crowds than the Chelsea galleries. No one milled around in the street, worse for wear (that I saw, at least). "Because it was a 'walk,' people came in waves," said Alan Salz, director and head of paintings at Didier Aaron on East 67th St. "It's a time to offer people a glass of wine and a nice opportunity to schmooze."
It was also a nice mix of ages, dealers said, and many seemed stunned by what they saw. In just one example of something you don't see every day, Richard L. Feigen hung a Velazquez near a Bill Viola near a Beckmann near a Condo. (Feigen has since reduced his gallery space to become a quasi-private dealer and won't be participating this year.)
A grouping like that exemplifies a budding trend to create a dialogue between new and old works. "People are swiveling their eyes backwards as well as forwards," Beatty says now.
So get ready to prowl: This year, October Art Week extends from Oct. 26, with the walk, through Nov. 2: Participating dealers and a map are here http://www.octoberartweek.com/. TEFAF New York Fall, held at the Park Avenue Armory, opens to the public on Oct. 28, offering art from antiquity to 1920. (On Friday, October 27, 2017, The Society of Memorial Sloan Kettering will host the Opening Night of TEFAF New York Fall. Opening Night tickets are available for purchase at www.thesocietyofmskcc.org, or by calling 212-639-7972.)