Neither rain, nor snow? Well, actually last week's nor'easter did delay some East-coasters from arriving for the VVIP invitation-only Mar. 8 opening of The European Fine Art Fair (TEFAF) in Maastricht, the Netherlands. New York Dealer David Tunick had expected to sell a Munch lithograph of "The Scream" that day but his buyer's flight was cancelled.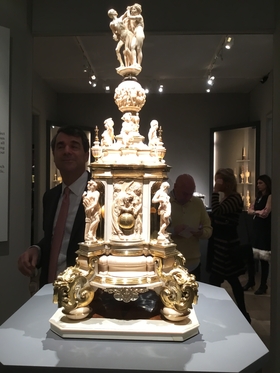 Ivory clock
Still, many other members of New York's collecting class did manage to get in for the first of two opening days, when the scrumptious food (oysters, lobster bisque, beef and truffle oil sandwiches) and wine (champagne after 5 p.m) flow freely and everyone is kiss-kissing fellow art-lovers.
Ronald Lauder
was here. So was
Jon Landau
, Bruce Springsteen's longtime manager and producer; Met trustee
Mark Fisch
;
Aso Tavitian
, vice chair of the Frick's board, and Blackstone chief
Steven Schwarzman
. Schwarzman was seen examining a beautiful, rare Canaletto ink drawing, "The Coronation of the Doge," which dealer Jean-Luc Baroni was offering for about $4.8 million, but he apparently did not buy it. But his wife,
Christine Hearst Schwarzman
was overheard saying that she bought two small "divine" porcelain pieces.
By Friday, Mar. 9, the food and wine were gone but more New Yorkers had arrived for the second non-public day of this largest, most prestigious annual art-buying jamboree. No particular painting was stirring up a buzz this year—though the quality was high in every one of the 275 dealer booths, whose offerings span 7,000 years. A 17th Century German baroque clock, 26 inches tall and with representations of the Four Seasons, Minerva, Death and planets that rotate every twelve hours, at Parisian dealer J. Kugel, had this year's honors. But Americans could only look at, not buy, the $9.2 million piece—it's carved from ivory, which cannot be imported into the U.S.