Chicago
During his 69 years, John Singer Sargent visited Chicago just twice: in 1876, when at age 20 he came with his family, and then in 1916 when he stopped briefly on his way to a painting expedition in the Rocky Mountains.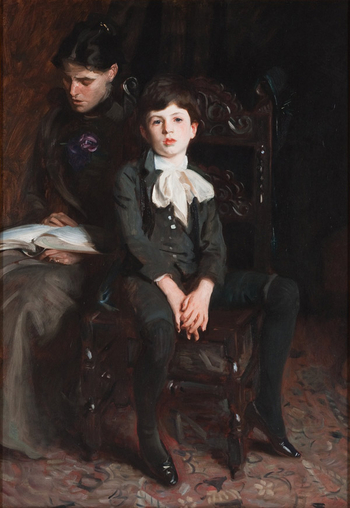 His paintings came much more frequently, appearing in nearly two dozen exhibitions during his lifetime, starting in 1888 at the Inter-State Industrial Exposition and ending at the Art Institute of Chicago's "Thirty-Seventh Annual Exhibition of American Paintings and Sculpture" in 1924, a few months before he died. Local collectors, from Martin A. Ryerson, Annie Swan Coburn and Charles Deering to the McCormick and Marshall Field families, became his patrons. Three years before Sargent sold his most famous painting, "Madame X," to the Metropolitan Museum, Chicagoans tried to buy it for the Art Institute. No records indicate why they failed, but civic leaders remained intent on building a cultural reputation to match the industrial might of the nation's "Second City."
"John Singer Sargent and Chicago's Gilded Age" at the Art Institute aims to present all aspects of his work—society portraits, genre scenes, landscapes, watercolors and charcoal sketches—with that local twist. Every item here has a Chicago connection via ownership, subject or exhibition history, starting with "Street in Venice" (1882), a grim little light-and-shadow study of working-class life, whose appearance at the 1888 Exposition marked the U.S. debut of Sargent's work beyond the East Coast.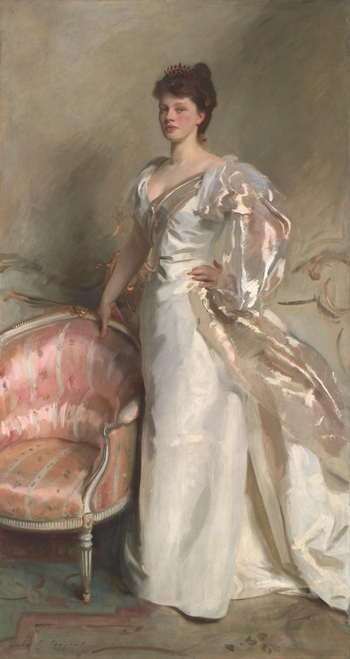 He got much more attention two years later, when the Art Institute put his enormous, daring portrait of a Spanish dancer, "La Carmencita" (1890), in its Third Annual. Not everyone liked it, but no one missed it. There she stands in a bright gold costume, arms akimbo, haughtily meeting the viewer's eyes; it is both a throwback to Old Masters like Velázquez and a flashy, contemporary (notice the sketchy, Impressionistic details of her dress) work. If it does not register that way now, just look at William Merritt Chase's "Carmencita," painted at the same time, in the Met's collection—it captured her in action, but looks conventional, stodgy by comparison.
"La Carmencita" drives home a point many Sargent exhibitions make nowadays—that far from being old-fashioned and superficial, merely a maker of flattering society portraits, Sargent used free, showy brushwork; experimented with spatial relations and, occasionally, near-abstraction; tried unorthodox vantage points; chose bold lighting and seductive colors; and was far more spontaneous than is credited in his reputation.
The exhibition displays three of the grand, full-length female portraits that wrongly cemented that repute. "Mrs. Hugh Hammersley" (1892) perches on the edge of a sofa, gorgeously attired in a lace-trimmed, magenta velvet dress that stresses her tiny waist. Poised, young American " Daisy Leiter " (1898), dressed in a white silk gown and billowing shawl, seems ready to marry a British aristocrat, which she did. And "Mrs. George Swinton ( Elizabeth Ebsworth )" (1897), a swirl of white satin, stands regally beside a chair of light pink that is echoed in the folds of her dress, the color of her lips and her manicured nails (above right). They are stunning.
But even in portraiture, Sargent had more range than that. A standout here, "Portrait of a Boy" (1890)—a naturalistic view of Augustus Saint-Gaudens's 10-year-old son (above left)—bears Sargent trademarks, like the brilliantly painted whites and pinks of the boy's face, hands and neck bow, but also conveys the tension between his restless boredom and privileged life. " Joseph Jefferson " (1890) is an expressive oil sketch, probably made in a single sitting. Three charcoal sketches—made for patrons after Sargent, feeling confined and underestimated, gave up commissioned oil portraiture in 1907—are lovely.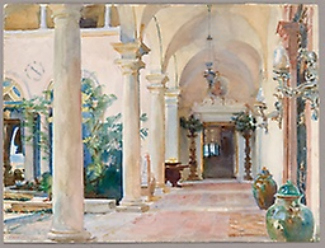 By far the most glorious late works here are watercolors he created between 1908 and 1917, particularly those—like "Terrace, Vizcaya" (1917) and "The Loggia, Vizcaya" (1917) [bottom]—painted when he visited the Florida home of James Deering, Charles's half-brother. They are all sunshine, shadow, space and texture, as fresh as they were a century ago.
With this exhibition arranged thematically rather than chronologically, visitors see Sargent in the round, one facet at a time. The need for a Chicago connection, however, prevents it from being a true retrospective, as many of his best paintings, like "Carnation, Lily, Lily, Rose" (1885-86), have no such link and are thus absent.
Moreover, curator Annelise K. Madsen decided to situate Sargent in the artistic firmament with works by friends and rivals— Claude Monet, Giovanni Boldini, James McNeill Whistler, Anders Zorn, Dennis Miller Bunker and Walter Gay, among them. Hung both interspersed with Sargents and in a gallery of their own—constituting a third of the paintings on view—they often serve the Chicago-rising narrative, but seem like interlopers. The "Sargentesque" ones can be confusing. Less—or none—might have been more.
"Sargent and Chicago's Gilded Age" is nevertheless full of visual pleasures (including some rarely seen works from private collections). Talented from a very young age and, in the words of Bunker, "busy all the time—at white heat always," Sargent was always a dazzler, and still is.