Cleveland
In their subtly lighted temporary home at the Cleveland Museum of Art, the six enormous weavings at the core of "Renaissance Splendor: Catherine de' Medici's Valois Tapestries" are feasts for the eyes. But just imagine seeing these sumptuous tapestries, which commemorate her lengthy, elaborate court festivals known as "magnificences" and other moments of political pageantry, when they were made, in the 16th century. Think of how brilliantly their brightly colored wool and silk threads—and especially the threads wrapped in gold and silver—would have sparkled and shimmered in candlelit chambers. Catherine, it would soon be clear, was making a statement, using the art form of kings to do so.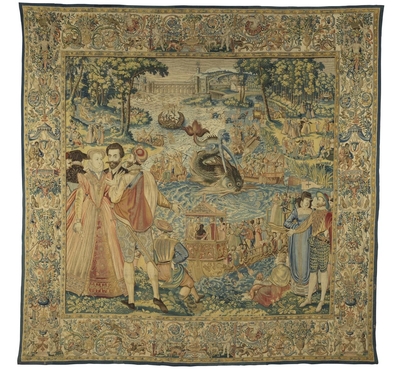 "Whale"
A member of the fabled Florentine family, a great-granddaughter of renowned Renaissance patron Lorenzo the Magnificent, Catherine was no stranger to the power of art when she married into the reigning French royal family in 1533 at the age of 14. François I, her father-in-law, was also an extraordinary art patron. So when her husband, Henri II, died in 1559, leaving Catherine to be regent and queen mother, she too began to employ art as a tool: Her patronage of artists, poets, musicians, inventors and artisans telegraphed the wealth of the Valois dynasty and its inevitability as rulers. Choosing the finest weavers in Brussels, she likely commissioned these tapestries, part of a suite of eight, in the mid-1570s.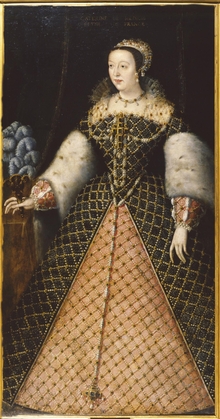 Catherine's portrait
Three of her sons did ascend to the throne, but when the last of them, Henri III, was assassinated in 1589, ending the dynasty, Catherine's granddaughter Christina of Lorraine took the tapestries with her to Florence, where she married Ferdinand I de' Medici. Surprisingly, they've mostly been in storage ever since and have probably not been shown together since then (records are spotty), though they eventually passed into the collection of the Uffizi Gallery. In the past few years they've undergone extensive conservation and are now making their debut appearance in Cleveland (two, still being restored, remain in Italy).
The museum has hung the weavings, which measure about 13 feet in height but vary in width, in an irregular polygonal gallery, recalling how they probably would have decorated and warmed palace rooms. In each one, life-size kings, princes, princesses and courtiers occupy a corner of the foreground. Based on drawings by court portraitist François Clouet and artists in his circle, many of these characters make eye contact with the viewer. It's as if they are inviting visitors into the grand scenes taking place behind them, which use drawings by Antoine Caron and written records of the "magnificences" as inspiration.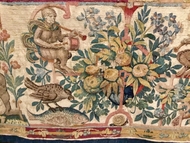 Border detail
So, in "Fontainebleau," costumed "Greeks" are pitted against "Trojans" in a mock nautical battle to defend a little island. In "Tournament"—at nearly 20 feet long, the largest piece—a crowd that includes a group of women in a canopied enclosure watches as men joust. In "Whale," a marvelous mechanical sea monster, with unlikely spouts, a pug nose and whiskers more suited to a catfish, noses up to a barge where a tiny Catherine, dressed in black widow's garb, is watching the show. And in "Elephant," soldiers secure the mechanical animal, festooned with feathers, which carries a crowd of clamoring soldiers at war with a group below.
Despite the restoration, some colors have faded, making it hard to discern some elements of the narratives; historical references may also be elusive. Here the wall labels and a "Visitors [sic] Guide to a Renaissance Drama" provide help. "Elephant," for example, refers to Hannibal's battle with the Romans, and the animal may also signify the strength of the Valois family. While not necessary to enjoy the exhibition, the accompanying catalog—with essays by Marjorie E. Wieseman, Cleveland's curator of European art, and Elizabeth Cleland, the tapestries curator at the Metropolitan Museum of Art, among others—answers many questions about the weavings, their history and their conservation.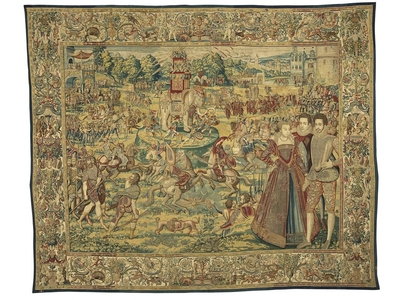 "Elephant"
Yet the tapestries are busy with charming details that will draw in even casual visitors. To name just a few: the cute château in "Fontainebleau" set amid make-believe mountains; the sun-kissed allée in "Polish Ambassadors"; the amusing mermaids afloat on a turtle in "Whale." The borders, meanwhile, are beautifully laden flowers and plants, interspersed with fish, monkeys, deer and other animals—even a tiny snail in the lower border of "Tournament."
Throughout, visitors can't miss the way weavers, under the direction of an unknown artisan called "Master MGP," adroitly used metallic threads to highlight the ornamentation on soldiers' gleaming shields, carriage wheels, boat rims and especially the textured garments worn by the royals, male and female.
The museum has gathered many related artworks to enrich the tapestry display, including several source drawings and an array of paintings, such as full-length portraits of Catherine by Germain Le Mannier; Henri II by Clouet; and Christina by Domenico Cassini and Valore Cassini, plus decorative objects that include several carved hard-stone pieces owned by Catherine. Together with the tapestries, they make up a superb exhibit illustrating the power of the Valois, just as Catherine would have wished.