Madame XXX'd
Le tout Paris cannot stop talking about the scandalously salacious portrait John Singer Sargent recently unveiled of Virginie Gautreau, dressed in an elegant black gown, a bejeweled shoulder-strap dangling suggestively down her arm.
French reaction was hostile, and friends say Sargent, who often painted in white tie and tails to up his high-society quotient, believes his career here is ruined. Though he is rumored to be repainting that sexy strap, he's also packing for a move to London. Meantime, Madame Gautreau feels so disgraced that she has barricaded herself behind the doors of her apartment.
American France
Elizabeth Jane (Jennie) Gardner is said to be furious that her private letters to her sister in New England have found their way into the hands of the news media. Did she think that, just because she and legions of fellow artists are some 3,600 miles away, we weren't paying attention? Not when Jennie crows that female artists in Paris "do just as we please." Not when she brags that "we find no lack of gentlemen's society." Not when the glam-girl painter, who's been known to wear men's clothes and sneak into men-only artists' classes, has taken up with her famous teacher, William-Adolphe Bouguereau. (Her painting of David as a shepherd boy, left, shows just what a diligent student she's been!) Word is that Jennie is now engaged to Mr. Bouguereau. But don't watch the post for your wedding invitation. His mother opposes the transatlantic union, which may have to wait until she dies.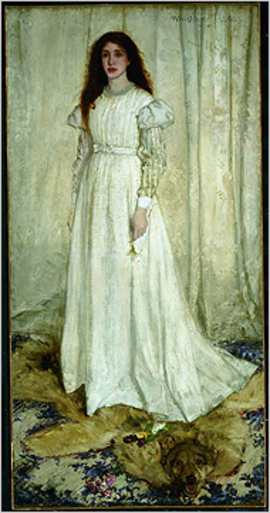 Symphony in White
The Butterfly Is Back!
The man-about-town James MacNeil Whistler has deserted his London digs for a return tour in Paris and all is apparently forgotten about the scandal he caused here years ago with the artistically-daring (but so chaste!) portrait of his mistress, Joanna Hiffernan, "Symphony in White, No. 1." Ms. Hiffernan, you'll recall, later posed for Gustave Courbet in, well, nothing at all, ending the two painters' once-great friendship. These days Mr. Whistler, once again a darling of the French art world, is gathering followers at the American Art Association when he's not spending hours on end at the home of the poet Stéphane Mallarmé, the Symbolist leader famed for his salons.
Trouble In Paradise
Is divorce in the picture for the sculptor Frederick MacMonnies and the painter Mary Fairchild MacMonnies? The dueling duo has played host to many American artists at their grand home, La Prieure, in Giverny (soothing, in the process, some complaining by Claude Monet, who resents the hordes of Americans invading his garden and begging for his time). But with Frederick spending more and more time away, in New York and Paris, Mary has taken a fancy to another American painter, Will Hickok Low. No one has witnessed their canoodling, yet!
Speaking of Monet, the master is said to be positively incensed about two very specific American painters. He's even threatening to sell his beloved home and leave Giverny for good. It's all because one stepdaughter, Suzanne Hoschedé, took up with Theodore Butler(their marriage was captured by the American painter Theodore Robinson's "The Wedding March"). And now Suzanne's sister, Blanche, is being romanced by John Leslie Breck, the son of a naval captain and a rather mediocre painter.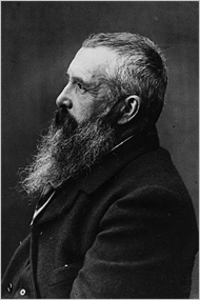 Monet

We Hear ...
... that Loie Fuller, the red-haired, blue-eyed dancer from Illinois, dubbed "siren" and "enchantress" after her convention-flouting performance of "Fire Dance" at the Folies Bergère, has positively bewitched the painters James MacNeil Whistler and John White Alexander, who both made her a painted lady. ...that Dennis Miller Bunker has returned to the United States and is currying favor with rich, rich, rich Isabella Stewart Gardner by painting her favorite flower, chrysanthemums, in the greenhouse of her summer home, Green Hill. He's hoping she'll install the painting in the museum she's planning to create at her Boston home. ... that Julius LeBlanc Stewart, heir to a very sweet sugar fortune, has finally won the attention of critics by painting high society scenes. But one critic blasted his identifiable portraits of the "great ladies" and "dandies" of Paris's salons and clubs, calling them "pretty picture[s] of the world's airy nothings." ... that the Académie Julian is finally opening a branch for women artists, but plans to charge them twice what men pay for the same art lessons!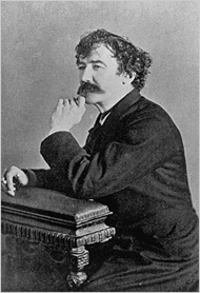 Whistler

Just Asking
Which American diplomat's wife, all aglow in white in her portrait by Sargent, has been trashed as someone who "has never read a book in her life" by a none other than Henry James?
•Which well-to-do painter, born near Pittsburgh, is the talk of the expatriate colony because she avoids other Americans in Paris, preferring the company of her friend Edgar Degas?
•Which painter — founder of an artists' refuge near Ridgefield, Conn. — has made himself a laughingstock because he called the Impressionists' 1877 exhibition a "Chamber of Horrors" but is now painting in the American Impressionist style?
Sightings
Robert Louis Stevenson and Willard Metcalf at the breakfast table of the Hôtel Baudy in Giverny. Childe Hassam, and his wife, visiting friends in Villiers-le-Bel at the estate once occupied by French painter Thomas Couture.
"Toujours à Paris, mes chéries; toujours à Paris." And — through Jan. 28, 2007 — on view at the Metropolitan Museum of Art.