When the Canadian collectors Thomas Druyan and Alice Ladner, then living in Yellowknife in the Northwest Territories, were deciding where to donate around 1,000 works of contemporary indigenous art, they did not consider distance. They chose the MacKenzie Art Gallery in Regina, Saskatchewan, more than 1,300 miles from Yellowknife and 500 miles from their new home in Edmonton. Why? "There are closer museums, but the MacKenzie has been committed to indigenous art since the 1970s and, especially, has had an indigenous art curator from the '70s," says Druyan, a lawyer for the Alberta government. He and Ladner, a retired editor, were attracted by the museum's strong history of collecting indigenous and aboriginal art not only from the Americas, but also Australia, New Zealand and Scandinavia.
From "My Mother's Vision" series by Joane Cardinal-Schubert
The couple's gift, worth seven figures, according to the MacKenzie's director, Anthony Kiendl, follows an anonymous C$25m donation last summer to start an endowment and a six-figure donation for acquisitions by a local philanthropist, Lyn Goldman. Together, the three gifts will allow Saskatchewan's oldest art museum, opened in 1953, to play a much larger role in the art world. "Locally, we're going to keep building the strong community engagement and, nationally and internationally, we're building partnerships and developing touring exhibitions as well as building our publications programme," Kiendl says.
The couple's gift comes at a time when many museums, from the Art Gallery of Ontario to the Los Angeles County Museum of Art, are paying more attention to work by indigenous artists. The MacKenzie, whose collection of international work began with a gift of antiquities, Renaissance works and early 20th-century paintings by the local lawyer Norman MacKenzie, will now have a broader, deeper range of indigenous art.
"To me, what's most interesting about the gift is its comprehensiveness," says Richard Hill, the Canada Research Chair in Indigenous Studies at Emily Carr University in Vancouver. He points to a wide range of Inuit art, works by important avant-garde artists like the late Ojibwa artist Carl Beam and pieces by Woodland School artists, who were inspired by native traditions. Joane Cardinal-Schubert, who was of Kainaiwa ancestry, and Blake Debassige, of the of the M'Chigeeng First Nation, are among the artists who will be new to the collection. The gift also includes art made by Native Americans across the United States. "Having that kind of range is really valuable to curators and as a resource for researchers," Hill says.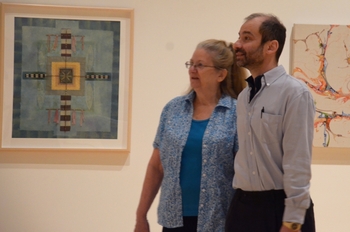 Ladner and Druyan
The couple began collecting in 1992, when Druyan bought Beam's Autumnal Idiocy Koan (around 1990-92). Immediately, he says, "I fell down the rabbit hole. I was surprised to discover that art was affordable, and was accessible to an ordinary person like me." Their collection, named the Kampelmacher Memorial Collection in honour of Druyan's grandparents, has works exploring many themes, from supernatural beings to social issues; flora, landscapes and animals. The gift encompasses nearly everything in their collection, except for Autumnal Idiocy Koan and about ten other works with sentimental value.
The MacKenzie will give a sample of what is to come with a display of five works from the gift, opening on 26 January (until 28 April), with some 220 works to arrive at the museum by June. The rest will follow in tranches over the next few years. Kiendl promises a major exhibition of the collection "within the next two or three years". He also plans to send small exhibitions across rural Saskatchewan and, eventually, organise shows for foreign institutions. Druyan and Ladner, meanwhile, continue to collect. He says that every purchase—including the works that they are currently keeping—will go to the museum upon their deaths.