San Diego
Like a proud Spanish stallion, the art of Spain's Golden Age has in recent years pranced out of the background and claimed its rightful status in the top ranks of Western art. The acclaim extends far beyond the giants of the Iberian Peninsula—Velázquez, Zurbarán, El Greco, Murillo and Ribera—and sometimes even embraces art produced in Spain's American colonies, or New Spain.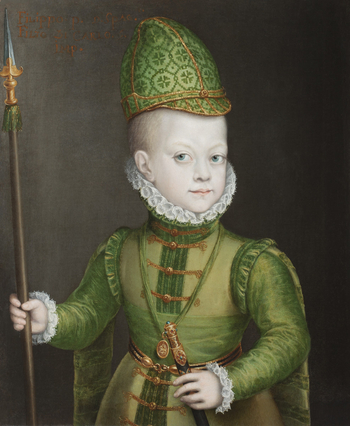 Anguissola
With "Art & Empire: The Golden Age of Spain," the San Diego Museum of Art goes further, redefining this gilded era to include art from all of the Spanish realm, which encompassed Flanders, southern Italy and the Philippines, too. The global trade of goods, people and ideas among them, the museum asserts, fostered a cultural exchange that was multidirectional, not one-way from Spain.
Even buttressed by 110 paintings, sculptures and decorative art objects, the thesis seems a bit of a stretch. True, as the exhibition catalog relates, Zurbarán made some paintings specifically for the American market; Ribera lived in Italy for most of his career; Velázquez depicted Mexican ceramics in some works and used New World materials like cochineal. But the art produced in Spain itself and in Flanders during the 16th and 17th centuries—by, for example, Rubens—dominates these galleries in spirit and finesse. It's hard to see much colonial influence on the style or subjects of art made in Europe.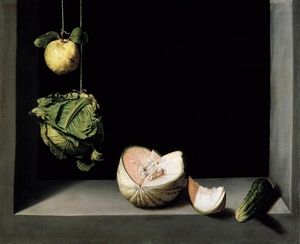 Cotan
Still, by integrating works from all corners of the empire thematically, "Art & Empire" proves enlightening. It's also savvy: As a sweeping exhibition that relies on the permanent collection for a fifth of the works on view, it broadcasts both the museum's under-recognized strength and its ambition. Kudos to the curator, Michael A. Brown.
The institutional message is conveyed immediately, in the opening gallery, with two stellar works owned by the museum—a beautiful polychromed wood sculpture, "San Diego of Alcalá" (c. 1665) by Pedro de Mena, and the delightful "Portrait of a Spanish Prince" (c. 1573) by Sofonisba Anguissola, an Italian called to the Spanish court by Philip II. Her superb painting likely depicts Philip himself, retrospectively, as a self-possessed young boy dressed in a fussy, grass-green costume that complements his green eyes. He is aloof, yes, but Anguissola also made him heartwarmingly human.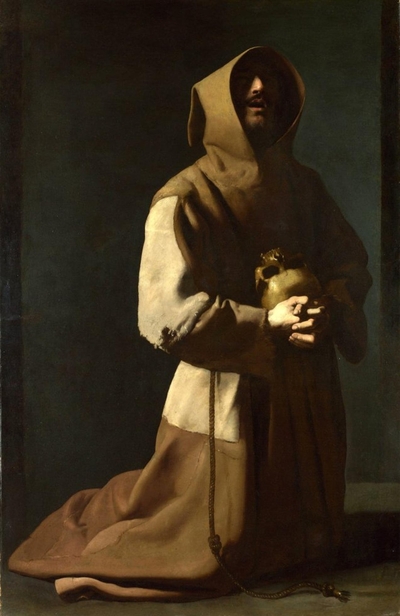 Zurbaran's St. Francis
Later in the galleries, the permanent collection is showcased with El Greco's moving—and pristine—"The Penitent Saint Peter" (c. 1590-95), a subject he painted several times; Juan Sánchez Cotán's elegant, spare, meticulously staged still life, "Quince, Cabbage, Melon, and Cucumber" (c. 1602); and, among other standouts, one of Zurbarán's famed, highly realistic "Agnus Dei" (1635-40) paintings, which depicts a docile sacrificial lamb representing Christ.
Zurbarán shines even brighter in the exhibition's greatest masterpiece: Borrowed from the National Gallery in London, "Saint Francis in Meditation" (1635-39) portrays the saint, life-size, kneeling in contemplation. The painting's darkness is pierced only by light that lands on his nose; his rough, worn sleeve (in sharp textural contrast with his creamy cloak); and his hand holding a skull. Though shrouded by a cowl, Francis's eyes—looking heavenward—are just barely visible, giving viewers a deeply affecting glimpse of the saint's spiritual state.
Works by the other titans are here—most notably, Velázquez's "Kitchen Maid With the Supper at Emmaus" (1619-20) on loan from the National Gallery of Ireland. But the most pleasant surprises come from lesser-known artists of the colonies, such as Baltasar de Echave Ibía. Born in Mexico to a Spanish painter named Baltasar de Echave Orio (sadly, his work is seen only in two copies of it), Echave Ibía reveals himself as a true talent in his gleaming oil-on-copper "The Road to Calvary" (1638). This poignant depiction of Christ carrying the cross is set in a crowded landscape, foregrounding two children who point to Jesus as he attempts to meet Mary's eyes. And Echave Ibía's "The Crucifixion" (1637) beautifully captures the dark moment Christ died, marked by both a solar eclipse and thunderstorm.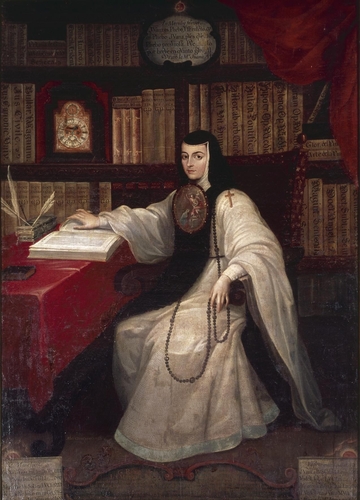 Cabrera
Fascinatingly, the third generation in this artistic dynasty, Baltasar de Echave Rioja, though further removed from Spain, took more inspiration from Europe; in "Adoration of the Magi" (1659), he renders Mary, St. Joseph and other figures in a decidedly Baroque style.
Miguel Cabrera's large "Sor Juana Inés de la Cruz" (1750) is remarkable for another reason: It shows this Mexican poet and intellectual sitting at her desk in her library—a pose normally reserved for distinguished men, like the nearby "Archbishop García Guerra" (1609) by Alonzo López de Herrera. Across the gallery, the museum has placed Francisco Pacheco's "The Art of Painting" (1599-1664), a manuscript visible on Sor Juana's shelves, and a Mexican oil-and-gold-on-copper nun's shield (1690-1710) depicting Mary, designed like the one she is wearing in the painting.
These spacious galleries introduce many more artists, especially from Mexico, and brim with opportunities to compare, contrast and see links—on one wall, for example, three portraits of St. Michael the Archangel hang adjacent to a polychromed wood sculpture of him; elsewhere, a Rubens oil sketch, "The Succession of Popes, Allegory of Eternity" (1622-25), hangs beside the tapestry woven from it in 1626. Rich with such eye-openers, "Art & Empire" proves that viewing the Spanish Golden Age through a wider lens was a 24-carat idea.