A few years ago, the Mystic Seaport Museum built new galleries with an overarching goal in mind: they had to be "good enough for Turner," the celebrated British master of marine and landscape art.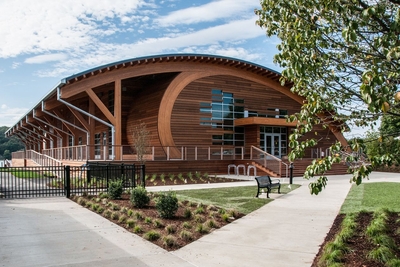 Mystic's New Exhibition Building
Apparently, they are. In October, "J.M.W. Turner: Watercolors from Tate" will open at this small museum in Connecticut known for its large collection of ships. The exhibition will be on loan from Tate Britain in London, a national museum that usually partners with world-famous art temples like the Metropolitan Museum.
The Turner show, which is made up of nearly 100 works, is Mystic's splashiest move in its attempt to become an arts destination. It is not, however, its only one.
On Aug. 10, the museum will open "Ocean as Commons," an exhibition by Brooklyn-based environmental artist Mary Mattingly. Drawn from Mystic's permanent collection of more than two million objects, the exhibition will use 330 chronometers hung from the ceiling, salt cod boxes, salmon can labels and whale bones, among other things, to show how humanity depends on the high seas. Next year, a suite of galleries at the museum will be filled with a vast, sculpted salt installation by the Japanese artist Motoi Yamamoto.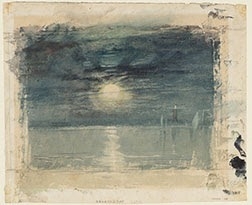 Turner watercolor
These ambitious displays are all part of what Mystic's president, Stephen C. White, is calling the Era of Exhibitions—a reimagining of the museum born of necessity.
Like other maritime and history museums, Mystic has experienced a precipitous drop in visitors over past decades. In 1976, the year of the American Bicentennial, about 500,000 people passed through Mystic's doors each year. That figure has now dropped to about 270,000 visitors a year. Although Mystic breaks even or posts a small profit in some years, in others it runs in the red.
Faced with this tough financial reality, Mystic cut back on staff numbers and reduced its budget. But that wasn't enough. "We realized we had to change the perception of the museum," says Mr. White, adding that the goal is to give the public more reasons to visit the museum more often, without compromising its commitment to maritime heritage and public history.
The key to solving this conundrum lay in looking at the museum's collections—which include folk art, maps, paintings, tools, vessel parts and uniforms—with fresh eyes. In 2016, Mystic hired Nicholas R. Bell, a specialist in material culture, as senior vice president for curatorial affairs. In his previous job, Mr. Bell had rejuvenated the Renwick Gallery of the Smithsonian American Art Museum in Washington, D.C., boosting crowds to record levels with critically acclaimed exhibitions.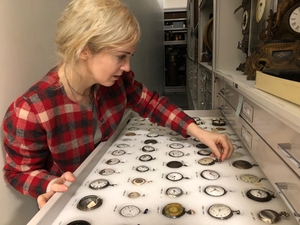 Mattingly
It was Mr. Bell who decided to travel to Tate Britain, where he told the officials he met how the new galleries were designed specifically to display great art like Turner's.
He also invited Teresa A. Carbone, the program director for American art at the Henry Luce Foundation in New York, to visit. Like so many others, Ms. Carbone had been to Mystic as a child but had only returned once since. As she walked through its vast storerooms with Mr. Bell, "I was bowled over by the extent of their collections," she says.
Luce helped finance a day of discussions where artists, humanities scholars and Mystic staff brainstormed new ways to use the collections. It then provided a $735,000 grant to fund three innovative exhibitions. One was Ms. Mattingly's, which Mr. Bell says gives the permanent collection a new sense of meaning. "She takes all these collections and marries them into a narrative that shows how we are all touched by the high seas," he says. Examples: trade, food, immigration, various resources.
"Ocean as Commons" will be followed next year by "The Sea as Studio," showcasing folk art and artifacts created by American sailors over the decades. Some, like ship models and scrimshaw, may be expected, but these self-taught artists also made fanciful canes, sewing boxes, pie crimpers, toys, paintings and other objects. In 2021, "The Sea as Muse" will display yachting trophies, but not, as is usual, as totems of yachting achievement, but as the highest level of artistic silversmithing.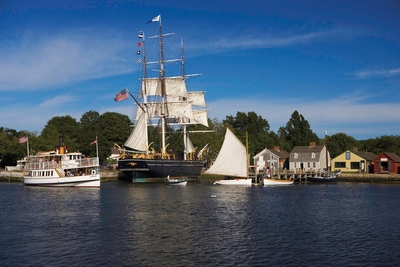 Mystic's vessels
"Part of what's exciting about Mystic is that they're not changing the nature of their collections—they're just digging deeper into them," says Ms. Carbone.
The schedule is filling up with other exhibits, too. "Discovering Antartica" will tell the story of man's interaction with the white continent, "The Panorama" will display a room-sized whaling painting, and "Debris/Vortex" will deal with ocean trash.
Attracting more visitors won't solve all of Mystic's problems, though, and Mr. White acknowledges the need for more donors. He hopes the exhibitions will drum up more support, especially for the endowment. Success, after all, breeds success. "We are half-way though the new model," he says.