In a large gallery of the soon-to-reopen Museum of Modern Art, surrealism reigns. Among its 44 works are Picasso's "Girl Before a Mirror" (1917), paintings by Dalí and Magritte, and two acquired in the last year by important but under-recognized female surrealists: "And Then We Saw the Daughter of the Minotaur" (1953) by British-born Mexican artist Leonora Carrington and "The Juggler" (1956) by Remedios Varo, a Spaniard whose style evokes magic and the occult. With them, 11 works in this gallery were created by women, whose role in surrealism was once largely ignored.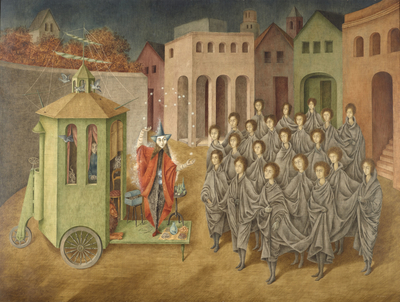 "The Juggler"
In the bigger, reimagined Modern, which cost $450 million to expand and renovate and opens to the public on Oct. 21, visitors will still see van Gogh's "The Starry Night" as they enter the permanent collection galleries. They will still traverse rooms occupied solely, or mostly, by Picasso, Matisse, Brancusi as well as Monet's "Water Lilies." They will also encounter many works not only new to them but also to the museum.
When MoMA decided to expand—partly to showcase more of its permanent collection—it was already rethinking its outdated history of modern art, which elevated white, male Americans and Western Europeans above all other artists. Yet as curators drafted a history of art since about 1880 that is more comprehensive in gender, geography, background and medium, they realized they had to make acquisitions—particularly by women who had been overlooked or marginalized. "We had to add important new voices that would be critical to the new presentation," said Ann Temkin, chief curator of painting and sculpture and one of six curators devised a broader vision for MoMA.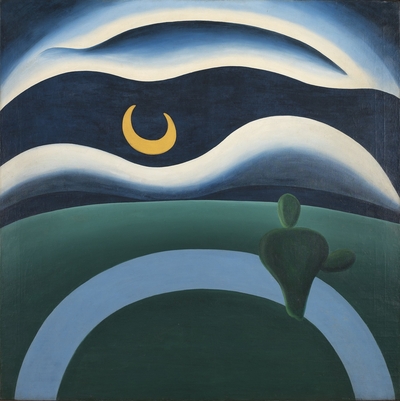 "The Moon"
And so they have. MoMA won't reveal the amount it spent on art—or the gifts it sought. But the number cannot be small: about 27% of the works on view in the new MoMA were acquired within the last five years.
Just this year, the museum bought "The Moon" (1928), a painting by Tarsila do Amaral (1886-1973), who pioneered modernism in Brazil, merging French avant-garde styles with her native Latin aesthetic. She finally got a solo exhibition at MoMA in 2018 and will hang alongside Picasso, Fernand Léger and Stuart Davis. "I don't know how we missed her," Ms. Temkin said.
Last year, the museum purchased a wooden sculpture, "Poem" (1963-65), by Saloua Raouda Choucair, the late Lebanese abstract artist "discovered" when the Tate Modern gave her a retrospective in 2013, at age 97. In 2017, MoMA co-purchased, with the Neue Galerie, German artist Paula Modersohn-Becker's "Self-Portrait with Two Flowers Raised in Her Left Hand" (1907). Picturing a pregnant Modersohn-Becker, poignantly painted the year she died of an embolism, it hangs near Gustav Klimt's idealized portrait of pregnancy, "Hope, II" (1907-08). And in the gallery displaying Warhol's "Campbell's Soup Cans" (1962), nearly a third of the art is by women, including four works new to the collection in the past three years.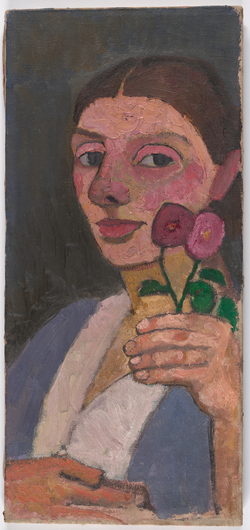 "Self-Portrait With Two Flowers..."
All told, at least 28% of the artists on view in the new MoMA, in both permanent-collection galleries and special exhibitions drawn from the collection, are women—about five times the proportion in recent years. About 59% are male artists and the rest have "no applicable gender," MoMA says.
Not all the new pieces are by women. MoMA also sought out works by Latin American, Japanese, Southeast Asian and Eastern European artists. "There was great pleasure in finding artists beyond the well-known," said Christophe Cherix, chief curator of drawings and prints. Across the building now, about 44% of the artists are American or Canadian; 25% are Western European; 11%, Latin American and Caribbean; 5%, Eastern European; 4% Asian, and 1% African or Middle Eastern. Of the remaining 10%, some are unknown artists, others are collectives or corporations.
These new works won't edge out old standbys, partly because MoMA has increased gallery space by 40,000 square feet to 175,000. But some icons will be missing for another reason. The museum has promised to rotate about a third of the works on view every six months. This time, Andrew Wyeth's "Christina's World," Edward Hopper's "House by the Railroad" and Robert Rauschenberg's "Rebus" were left out, for example.
The new presentation breaks ground in other ways, too. Medium-specific galleries are largely gone: Curators worked collaboratively and now painting, sculpture, works on paper, photography, design, media, performance, film and architecture are presented side-by-side. Even in the first gallery, with van Gogh, Cézanne, Cassatt, Gauguin and other early innovators, six earthenware vessels by the self-proclaimed "mad potter of Biloxi," George Ohr (1857-1918), have found a place.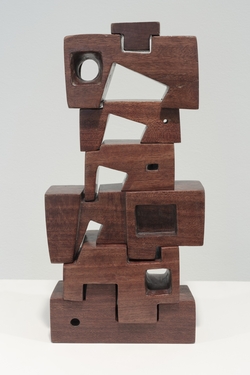 "Poem"
While the galleries are generally arranged chronologically, curators no longer attempted to choose canonical artists who tell a linear story, which is increasingly viewed by scholars as simplistic. Each gallery now has a theme exploring an aspect of the collection. "We asked all the curators for rooms they'd like to see," Ms. Temkin said. "We had hundreds," each illustrated by eight to ten artworks, which were pinned around a conference room for consideration.
In this installation, the chosen themes include "City as Stage," "From Soup Cans to Flying Saucers," "Print, Fold, Send" and "Before and After Tiananmen." The history of modernism, Ms. Temkin said, now reads like a book of short stories, rather than a novel. And that book makes MoMA's point: "Nothing is presented as definitive history," Mr. Cherix said.
This approach, which might have sparked controversy years ago, now is seen as a way to engage visitors. "The big thing MoMA has done is created a constant pull between the art world as we know it—traditionally insular and self-referential—and the everyday world that is its context," said Matthew Teitelbaum, director of the Museum of Fine Arts in Boston. "You get pulled in and out of traditional art histories, and that's an energizing, good thing."
Sidebar: New On The Roster
Picasso, Warhol and other long-time inhabitants of the Museum of Modern art have new neighbors. MoMA 2.0 has no canon of masters. It has a more global lineup and a more female one, especially women born before 1950. Here's a sampling: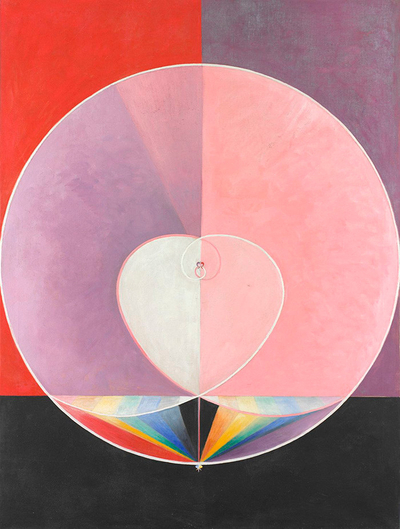 "The Dove, No. 2"

Hilma af Klint (Swedish, 1862-1944): Barely known in the U.S. until the Solomon R. Guggenheim Museum recently gave her an exhibition—its most-attended show ever—af Klint painted mysterious abstract works that predate those by the men credited with inventing pure abstraction. The Hilma af Klint Foundation, which owns most of her work, has lent "The Dove, No. 2/Series UW, Group IX" (1915) to MoMA.
Gabriele Münter (German, 1877-1962): A well-known Expressionist, she painted landscapes and still lifes, but fell out of the limelight after parting from her lover, Russian artist Vasily Kandinsky. MoMA has brought out her "Interior" (1908) from storage.
Suzanne Duchamp (French, 1889–1963): The sister of three artists, including Marcel Duchamp, she painted and made collages in the Dadaist mode, expressing concern about modern society. Calling her work, "significantly influential," MoMA recently acquired her collage, "Solitude-Funnel" (1921).
Alma Thomas (American, 1891–1978): An art teacher who turned professional only after retirement, Thomas merited a solo exhibition at the Whitney Museum just a dozen years later, in 1972. She created abstract paintings of what she saw, often through her window. MoMA bought her "Fiery Sunset" (1973)—its first work by her—in 2015 and now is displaying it in a gallery dominated and inspired by Henri Matisse.
Sonja Sekula (Swiss, 1918–1963): Connected to many well-known artists—she moved to New York and exhibited in the 1951 Ninth Street exhibit along with Helen Frankenthaler, Joan Mitchell and others—Sekula was largely forgotten after committing suicide. She made surrealistic art exemplified by "The Town of the Poor" (1951), which MoMA bought in 2018.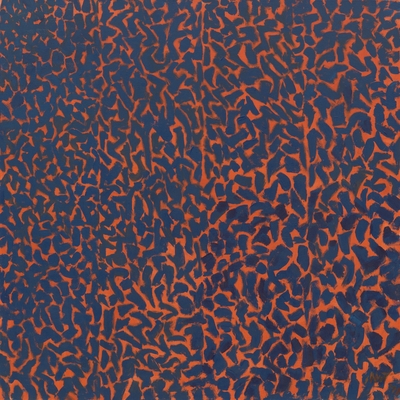 "Fiery Sunset"

Ketty La Rocca (Italian, 1938–1976): Known for her body art and visual poetry, she was also one of many artists who took up the subject of consumer culture in the 1950s and '60s, which became pop art. In 2017, MoMA bought two works on paper by her: "It Is Easy to Have Top Brand Gifts" (1964–65) and "Us and Those Who" (1964-65), both on view with Warhol and Lichtenstein, among others.
Mrinalini Mukherjee (Indian, 1949-2015): A master of fiber art and ceramics, Mukherjee wove together figurative and abstract styles, merging them with her Indian sensibilities to make innovative, organic forms about womanhood, often referencing sexuality. MoMA's 2017 purchase, of an eight-foot-tall dyed hemp sculpture, "Yakshi" (1984), fits in a gallery featuring art about the female form made by women.
Amanda Williams (American, born 1974): Seven inkjet prints of small American buildings (all dated 2014-16) by Ms. Williams, who trained as an architect, fill a gallery titled "Building Citizens." All acquired in 2018, they comment on the role of architecture in shaping communities.