What could be more Italian than a cook? Food in Italy is, after all, a source of national pride, nearly as celebrated as its broad, deep, virtuosic artistic achievements. Yet when Bernardo Strozzi (c. 1581-1644) combined the two in his painting "The Cook" (c. 1625), he ignited a conflagration.
Born poor in Genoa, and trained there in the Mannerist style emanating from Rome and Florence, Strozzi became a Capuchin monk in 1598. In the friary, he painted devotional subjects such as the Holy Family and St. Francis. But when his father died around 1608 or 1609—several dates in Strozzi's life are unclear—he received permission to leave the monastery to support his aged mother. He never returned, but he never left the priesthood either, as his nicknames attest ("Il Cappuccino" and "Il Prete Genovese, " or the Genoese priest).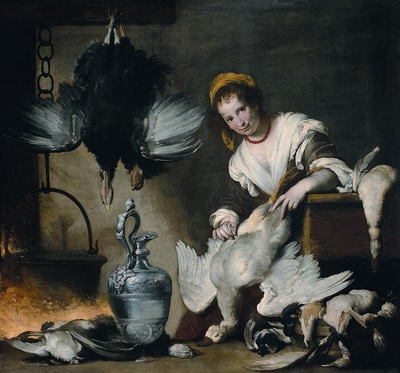 Freed from the cloister, Strozzi took a job as an engineer at Genoa's port and returned to painting, making many fine religious works. His style evolved, as he took cues from Peter Paul Rubens, who spent time in Genoa around 1604-06 painting naturalistic portraits and making architectural drawings, and from other Northern European artists, like Pieter Aertsen, whose still lifes and genre paintings had been collected by wealthy Genoese families for decades.
Strozzi continued to paint religious pictures—which dominated Italian art—but by the 1620s, he was ready to stray and to innovate. With "The Cook," he dared to create one of the first important secular pictures in the Genoese school of painting and a seminal work of 17th-century Italian art. Painted loosely but realistically, it combines elements of still life, genre painting and kitchen scenes and, according to art historian Anna Orlando, who curated an exhibit of Strozzi's works that just opened at Genoa's Palazzo Nicolosio Lomellino, was "revolutionary."
Strozzi's rebellion begins with his choice of protagonist. "The Cook" puts a humble kitchen maid (not even a cook, despite the title) at its center. She is tackling the lowly job of plucking a goose, with other dead birds all around her. But, wearing a shy smile and a coral necklace (Genoese families dominated the coral trade), she makes direct eye contact with the viewer. She is self-possessed and very human, not remote like a saint or an aristocrat—the usual subjects for Genoese artists at the time.
To the left of the maid sits a shiny, oversize silver pitcher intended to contain water for washing. A naked, busty woman forms its handle (not terribly lifelike, but then again the artist was a priest). Here Strozzi is signaling that the painting's owner can afford the luxuries that rich, business-oriented Genoa—ever in a rivalry with Venice—offered. The brilliant fire burning nearby, which heats a sturdy cauldron, might be said to reinforce the message of wealth and civic abundance, even as it echoes the light Strozzi cast on the cook's upper body.
And those birds! The one hanging above the silver pitcher is almost as big as the cook, and appears to be a turkey from the New World—possibly an allusion to Genoa's trading dominance. Mostly black, it acts as a counterpoint to the white goose being plucked diagonally across the canvas. There, especially, with this beautiful bird, Strozzi lets loose with his paint, using fluid brush strokes to create soft, downy feathers. Their touchable texture contrasts with the smooth skin of the cook, executed with more controlled brushwork, and the glow of the fire. Strozzi painted right on the canvas, with no underdrawings, giving the work a certain energy.
Tellingly, "The Cook" occupies a large canvas, about six feet square—stressing that Strozzi saw this scene of everyday life as equally important as the grand, eloquent Baroque art of the times. Still, the work was probably too novel to sell into the free market, and experts speculate that it was a commission. Provenance records show that it passed through the hands of a few Genoese families at various points in the late 17th, 18th and 19th centuries—and was given to Genoa in 1874. Today it is displayed at the Palazzo Rosso on Genoa's famed La Strada Nuova. (Strozzi later made a less accomplished copy of "The Cook," which was purchased by the National Galleries of Scotland in 2004, shortly after it was rediscovered.)
For Strozzi, however, "The Cook" brought that firestorm: The Capuchins were not happy. They denounced Strozzi for choosing a subject unbecoming a friar, as well as for the possible erotic undertones in the ewer handle, the cook's direct gaze and the shapely birds. When his mother died a few years later, they pressured him to return to the order. Instead, Strozzi fled to Venice, where he continued to paint even as he was promoted to monsignor.
But "The Cook" brought Strozzi a blaze of glory, too. It helped anoint him as an artist of influence, attracting followers and students. It may have encouraged greater experimentation on his part—in Venice, for example, inspired by Veronese, he began to use brighter, bolder colors. There, his success and his influence only grew as he became one of the most important Italian painters of the early 17th century.