One, as Museum of Modern Art director Glenn Lowry has said, is "a building within the building" designated solely for live and experimental art; the other, a glass-walled "Creativity Lab" that is highly visible from the lobby, invites visitors to join conversations about art, interact with artists and try a little art-making themselves.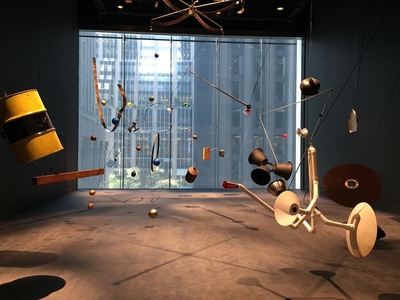 The Studio
It is not only MoMA's rehang and collection strategies that have been so dramatically transformed with the completion of its major expansion project. The museum has embraced live and experimental art with a new performance space called the Studio, and created a immersive space that gives visitors a window on the creative process of artists. And, unusually for museums, both new spaces promise programming whenever the museum is open.
Painted black, the double-height Studio—with a glass wall overlooking West 53rd Street—sits on the fourth floor, tucked among permanent collection galleries that explore Fluxus, street art and other works from the 1960s. MoMA's point is that dance, poetry and other art based on sound and time are just as important as paintings, sculptures and photographs. "This goes back to the beginning of Modernism, and we're committed to the whole history of Modernism," says Stuart Comer, chief curator of media and performance art. "We are committed to putting this on everyone's radar."
The Studio can be open to the adjacent galleries—as it is now for composer/pianist David Tudor's immersive sound installation Rainforest V (Variation 1) (1973-2015), realised by Composers Inside Electronics. Or it can be sealed off from other sounds and light and reconfigured as a 170-seat theatre.
Comer promises new commissions as well as restagings of historical works such as Rainforest V (Variation 1). The first two commissions will simultaneously occupy the Studio: Shahryar Nashat will exhibit three works combining sculpture and video that explore the interaction between bodies, images and objects, while the Australian choreographer Adam Linder will deploy six performers in a piece commenting on everyday movements. They will be followed by a re-creation of a 1969 immersive, 360-degree "cinematic environment", with music created by Shuzo Azuchi Gulliver.
Some after-hours studio performances will be ticketed and involve a $10 fee, Comer says. "We'll always try to have an installation element, so this is never empty" (except to permit the placement of a new installation).
Matthew Teitelbaum, the director of the Museum of Fine Arts in Boston, applauds MoMA's new space. "It activates the rest of the collection," he says. He admits "the sheer commitment to production and the pressure to sustain at a high level" is a risk but thinks it is one worth taking. "It may do as much to diversify MoMA audiences as anything they do."
The Creativity Lab also promises to offer drop-in programmes during all museum hours. At the opening, there were spaces for learning about weaving, map-making and mail art, plus drawing desks. The lab has scheduled discussions and workshops led by museum educators, curators and conservators as well as working artists. Amanda Williams, an architect whose photographs hang in a second-floor gallery, is on tap to lead sessions on colour-mixing, while artist Kris Harzinski explains the art of hand-drawn maps. And a conversation series called Six Degrees is intended to explore unexpected stories and connections between objects in the collection.
"What this will do is create an environment to reflect, explore and learn about art-making," says Wendy Woon, MoMA's deputy director for education, who supervises the Creativity Lab. The museum hopes that a stop at the lab will prompt visitors to move through the galleries more slowly, giving the works on view much closer consideration. It is a tall order for such a small space.
When MoMA tested the concept in 2007, around 10% of the museum's visitors entered the creativity space, although few knew about it in advance; virtually all said the drop-in enriched their visit. "This is front and centre," Woon says, and the stakes are now higher.