Naples in the early 1600s was a bustling metropolis, governed by Spain and second in population in Europe only to Paris. Yet unlike other Italian localities, it lacked a strong visual art style of its own or even a trailblazing painter. Caravaggio had twice spent time there, attracting followers to his dramatic chiaroscuro lighting technique, but Neapolitan art remained largely unremarkable.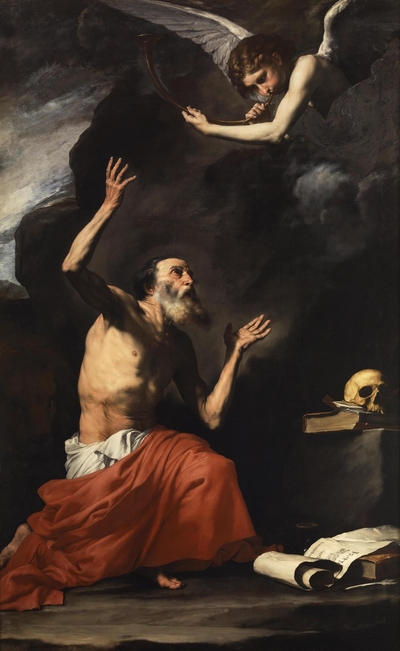 Arriving in mid-1616, Jusepe de Ribera (1591-1652) changed that. A Spaniard by birth, he had spent time in Parma and Rome before settling in Naples. Before long, he became the "undisputed protagonist of Neapolitan painting," "envied by everyone," and "the first Spanish artist to achieve a European reputation," according to the catalog of the Metropolitan Museum of Art's 1992 Ribera exhibition. And although Ribera spent the rest of his life in Naples, many of his patrons brought his paintings to Spain, where they influenced Zurbarán and Velázquez, among others, helping to ignite the Golden Age of Spanish painting.
What made Ribera such a master? He, too, adopted some aspects of Caravaggio's style, like theatrical lighting and intensely naturalistic rendering of his subjects. But, unlike the roguish Caravaggio, he didn't slight beauty (he cited Raphael as an influence, for example, and studied classical sculpture) or play down traditional iconography. And by the 1630s, Ribera retreated from pronounced chiaroscuro and began to use more color, establishing a local style others would follow.
Created as Ribera was evolving to this mature style, "St. Jerome" (1626) provides a perfect example of the artist at his best. Also known as "Saint Jerome and the Angel of Judgment," the large painting is visiting the U.S. from Naples, on loan to the Seattle Art Museum now, and in March to the Kimbell Art Museum in Fort Worth, Texas, as part of the exhibition "Flesh and Blood: Italian Masterpieces From the Capodimonte Museum."
St. Jerome was a popular subject for Renaissance and Baroque artists. A fourth century scholar who converted to Christianity and became a Doctor of the Church, he's often portrayed at his desk, studying or working on his translation of the Bible from Hebrew, Greek and Old Latin into vernacular Latin. Other times, he is alone in a desert wilderness, living in a cave, repenting for sins (in his youth, he led something of a promiscuous life).
Ribera's composition—a variation on the desert scene—is striking. St. Jerome is caught in a moment of surprise, his prayer or meditation interrupted by the appearance of an angel holding a horn to its mouth. The angel's softly muscled other arm gracefully echoes the instrument's curve. Below, a startled, bare-chested Jerome raises his arms in sharp right angles and opens his hands in shock—directing the viewer's eyes to the angel.
Between the two figures, Ribera has sliced the canvas with a diagonal, a cloudy, indistinct void, which to Seattle museum curator Chiyo Ishikawa suggests the separation between heaven and earth.
Jerome practiced asceticism, and his body is so thin that his stomach is concave beneath visible ribs. His aged skin, which seems palpable, sags around his neck and from his arms, and his eyes sit deep in their sockets. The wrinkles on his face, his palms and his right heel are visible, as are the toenails on his forward foot. His setting may be remote, but this Jerome is a real human being.
Ribera efficiently encapsulates Jerome's life story with just a few symbols. Jerome wears a white loincloth draped by a red robe, like a cardinal's (technically, cardinals did not exist during Jerome's lifetime, but the color signifies his senior position in the church). At his feet are a rolled scroll, a quill pen and a book bearing a few Hebrew letters: This little still life refers to Jerome's standard-setting translation of the Bible, still the basis for most editions of the Catholic Bible. On the left edge of the painting, a lion's head—faint now from age—is visible, recalling the legend that Jerome tamed a lion by removing a thorn from his paw.
The skull on a stone on the painting's right edge, signifying the fleetingness of life, suggests that Jerome's end may be near, and Ribera uses another diagonal, from Jerome's right foot to his left knee, to point to this theme, which is reinforced by the hourglass below.
The painting's setting is spare: just a flat, gray rocky ledge beneath Jerome and the suggestion of bare rocks behind him. But Ribera creates drama with his cloudy, blustery sky. He gives the painting energy with those sharp angles. And he heightens the intensity of the moment with his bright lighting, coming from the heavens, targeted on Jerome's torso, the angel's arm, the skull and the scroll.
Ribera drew extensively, painted from live models, often from the lower classes, and used vigorous but controlled brushwork to make his marks. One stroke here, another there, put glints on the hourglass, for example. He was prolific, especially in painting half-length portraits of saints and gruesomely realistic portrayals of martyrs at their moment of torture and death. This ambitious portrayal of St. Jerome is far more magisterial. Theatrically charged, it delivers a sense of immediacy, but not stridency.